So, Lenovo is officially back to this netbooks/tablets game after freezing its high-end U1 Hybrid project for a while in order to do some serious thinking. And as we've said, they are back again, appear ready and able to kick some real ass with what's now being called the IdeaPad U1 Hybrid with LePad tablet. So what has changed, you're asking? The new skin version is now powered by Google's Android 2.2 version (called LeOS) instead of the sluggish Linux Skylight platform. Additionally, you'll be getting even more powerful processors inside, as the U1 base unit is now equipped with a 1.2GHz Intel Core i5-540UM (optional i7) and the LePad tablet boasts a 1.3GHz Snapdragon flavor. Design wise, the netbook station now has a nice and more efficient chiclet keyboard within, along with a dimpled trackpad at the bottom and an overall sense of high and lavish style. Other than that, we're glad to see substantial improvements in the LePad screen as well. The 10.1-incher is much more responsive than its sluggish and resistive predecessor, and seems to have a 1280 x 800 capacitive multitouch panel on board. Switching between Windows (base unit) to Android (tablet) is as simple as docking and undocking the LePad unit from its U1 platform. The process for itself often seems super fast when it comes to disconnecting between the two devices, while a bit slower the other way around. As for pricing and availability, the LePad is coming at ya (in case you live in China) sometime this quarter with a base price of $520, while the full package, including both the tablet and the U1 unit will run you for a whopping $1300. Expensive! Regretfully, there's no further info about US availability at the moment, but you can take a look at. Engadget's Joanna Stern hands-on video or read the full PR after the break.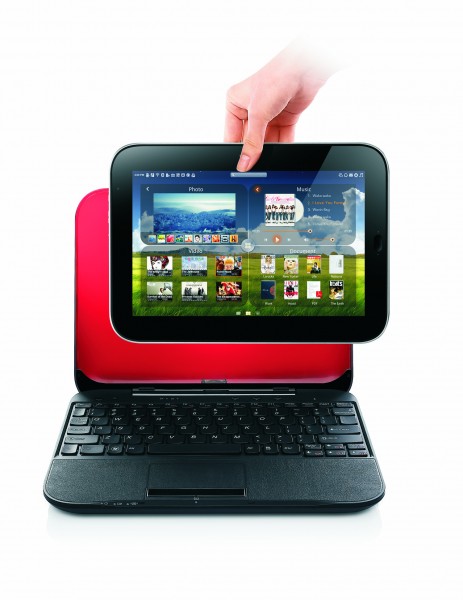 [youtube]http://www.youtube.com/watch?v=sg9aRN2IJ6k[/youtube]
Best of Both Worlds: Lenovo's Dual Mode Hybrid System Embraces Android Slate
LePad Multi-touch Android slate for mobility & U1 laptop base for full Windows 7 experience
RESEARCH TRIANGLE PARK, NC – January 5, 2011: Lenovo today announced the IdeaPad U1 hybrid with LePad slate, a unique two-in-one device that combines the mobility of a media rich HD slate with access to Android applications and a keyboard base that provides a full Windows 7 computing experience. Offering great performance, both separately and together for a unique Hybrid Switch dual mode capability, Lenovo delivers consumers an uncompromised mobile and computing experience.
"Our IdeaPad U1 and LePad truly fits the mobile lifestyle," said Liu Jun, senior vice president, Idea Product Group, Lenovo. "Use the light-weight slate when you're mobile, and then simply slide it into the U1 base when you need to do content creation. Consumers shouldn't have to adapt their lifestyle to technology, and this product definitely gives them the best of both worlds."
LePad Slate – Light, Long-Lasting and Application Rich
At under two pounds and only half an inch in thickness the extremely portable LePad, powered by Qualcomm's SnapdragonTM processor, keeps users incredibly mobile all day with up to eight hours of battery life. LePad is available in four stylish colors with two different textures: scarlet, white, brown leather textured and black leather textured. The 10.1-inch widescreen and rich high definition LePad slate runs in landscape and portrait modes, giving users the ability to consume content such as video, surf the Internet, access social networks from their fingertips, as well as tap out messages and email. It also has a front camera for taking pictures or video chat.
"We are excited that Lenovo has chosen our Snapdragon processor to power the LePad slate," said Luis Pineda, senior vice president of marketing and product management for Qualcomm CDMA Technologies. "Lenovo's innovative 3G connected slate, powered by our Snapdragon platform, enables a high performance, always connected experience for consumers on the go."
Built upon Android 2.2., Lenovo customized the LePad slate with an optimized Android media experience on LePad's larger screen size, starting with an attractive 4-pane easy to use interface and a distinctive Lenovo developed push service that gives you your email, news, and other content in real time, eliminating the need to constantly open a browser and log in. LePad leverages the Android ecosystem Lenovo has already established in China for the LePhone Smartphone. LePad users, in addition to enjoying many preloaded applications, also have access to thousands of custom Android apps from China's top content partners that are optimized uniquely for its large screen. Lenovo plans for LePad to support Adobe Flash Player 10.1 to provide users an uncompromised web browsing experience
IdeaPad U1 for a Complete Laptop
For users who need the full functionality of a mainstream laptop for doing content creation with Windows based productivity applications, the LePad can slide into the U1 Base. The IdeaPad U1 hybrid transforms the user interface on LePad into a Windows 7 laptop with a full keyboard. The base features a Windows 7 Home Premium operating system and an Intel CULV processor. With Hybrid Switch feature, users can seamlessly change operating systems to support continuous web browsing experience.
Pricing and Availability
The Lenovo IdeaPad U1 with LePad will be available beginning in China in Q1. The LePad slate can be purchased separately from the U1 Base. The LePad slate starts at approximately RMB 3,499 (approximately US$ 520), and the U1 hybrid laptop starts at approximately RMB 8,888
(approximately US$ 1,300). Detailed pricing and availability for other markets, please contact your Lenovo representative.