We haven't heard much from Cowon lately. In fact, we've heard nothing from them since last December. But that as a fact doesn't mean the Korean corp wasn't active at all – look, they just rolled out a MID (sigh) – and it's a 4.8-inch with 1024 x 600 touchscreen LCD, running a Windows 7 platform, powered by a 1.3GHz Intel Atom processor. It's a bit bulky, and a thick bezel surrounds the frame. The chassis is made of silver brushed metal, housing four buttons, two on each side. There are stereo speakers bundled within, along Ethernet port and single TV output – but that's about what the company was willing to share at this point. Stay tuned for more.
Update1: Turns out Cowon's W2 MID will eventually make official debut on January 25th with that 4.8-inc WSVGA screen, along a 1.3GHz Intel Atom Z520, 1GB RAM, WiFi, Bluetooth, 2 x USB ports Battery at 10/7 hours (audio/video) and either 60GB or 80GB capacities at your choice. Retail price is at 599,000 to 739,000KRW, respectively (about $530 to $660).
Update2: Apparently, AVING guys have managed to catch some quality time with the new Atom-powered Cowon W2 MID, in one of those  trading shows in Asia. And although it feels thick and bulky at first impression, you have to admit the front looks awesome, both portrait and landscape modes. In addition, it seems to have an optional USB QWERTY keyboard  that can be attached into the left side of the chassis. No word about US release or prices, but 'till then, two more image are placed after the break.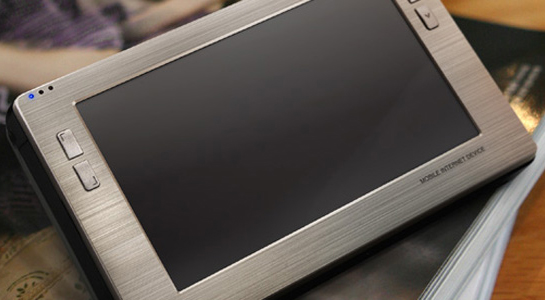 [via DAP Review]