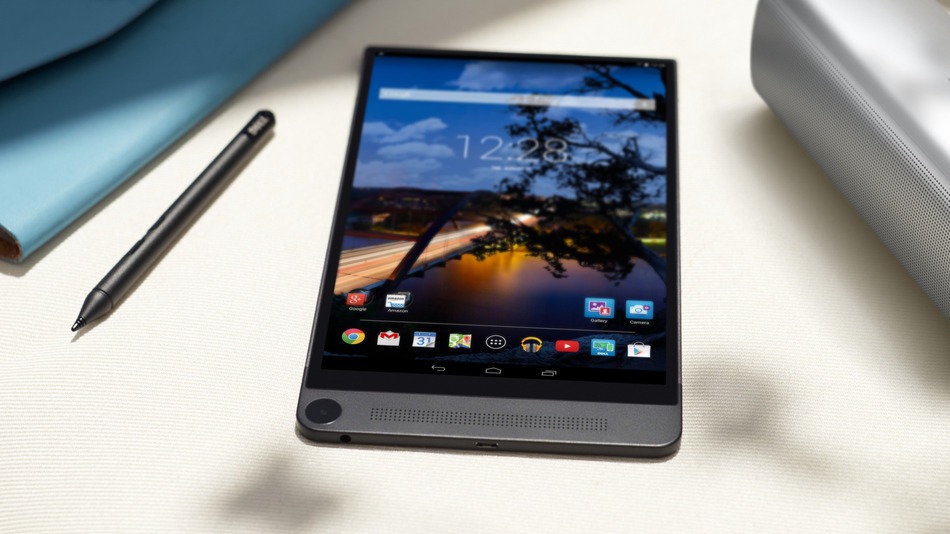 We've already got the chance to see Dell's ultra thin Venue 8 7000 slate when it was first unveiled back in September but now, at CES 2015 the 8.4-inch slab, powered by a 2.3GHz Intel Atom quad-core processor, is finally set to make a debut. And while not as cheap as some other mid-range Android devices available on  the market right now, it is reassuring to know that your money is going to be well spent and not wasted on some ordinary specs. In that concern, the Venue 8 7000 device is well equipped with a stunning QHD 2,560 x 1,600 OLED edge-to-edge display, alongside Intel's state-of-the-art Real Sense Snapshot 3D camera. That's right, the tablet houses an in-depth rear 8MP camera at the bottom as well as duo 720p stereoscopic sensors atop. The Venue 7000 is definitely one of the first tablets to incorporate Intel's latest 3D technology, hence the reason it arouses a lot of curiosity among the geeksters around the world.
Measuring in only 6mm thin (thinner than the iPad Air 2 and iPad mini 3) the Venue 8 7000 is said to include 2GB of RAM under the lid, along with your choice of WiFi or LTE connectivity options, an Android 4.4 KitKat for the OS and an internal memory of 16GB which can be further expanded via a microSDXC memory card.
The Dell Venue 8 7000 is now available on Dell's website both in the US and in Canada for $399.99 and will complete global release in different countries like Australia, New Zealand, China, Hong Kong, Japan, Singapore, India, Germany, and the UK by early 2015.
[youtube id="A8HGZWZXQGg"]
Video courtesy of Liliputing