Apple's annual Worldwide Developers Conference officially kicked off with the main opening keynote event for WWDC 2021, featuring tons of new software updates we've been waiting for.
iOS 15
iOS 15 is packed with new features that help you connect with others, be more present and in the moment, explore the world, and use powerful intelligence to do more with iPhone than ever before.

Coming this fall
FaceTime
Spatial Audio coming
Voice isolation
Wide Spectrum
Portrait Mode
FaceTime links, including with Android and Windows users
SharePlay – Watch and listen together with friends, share screen and more
Notifications
Quickly catch up with a helpful collection of your notifications delivered daily, based on a schedule you set. The summary is intelligently ordered by priority, with the most relevant notifications at the top.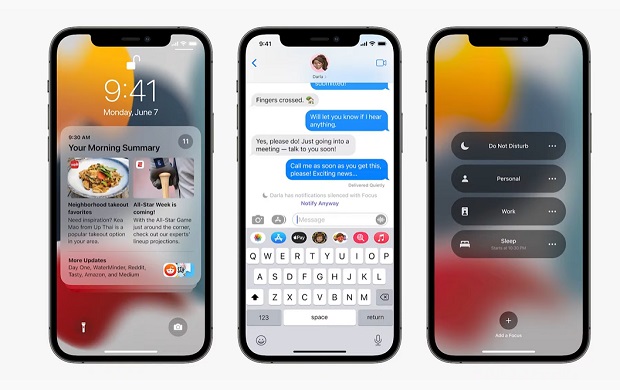 Live Text, Focus, Maps, Photos
Maps: Immersive walking instructions with step-by-step directions you can view in augmented reality.
Live Text: Live Text sophistically unlocks rich and useful information inside your images, so you can make a call, send an email, or look up directions with just a tap on the inserted text in a photo
Photos: Memories introduces a new interactive interface, along with new Memory mixes that let you personalize the look and feel of your story and include a song and vibe to match.
Focus: Focus helps you stay in the "zone" when you need to concentrate on something. Choose a Focus that allows only the notifications you want to show up — free of any distraction. You have aa choice to pick from a list of suggested Focus options or create your very own.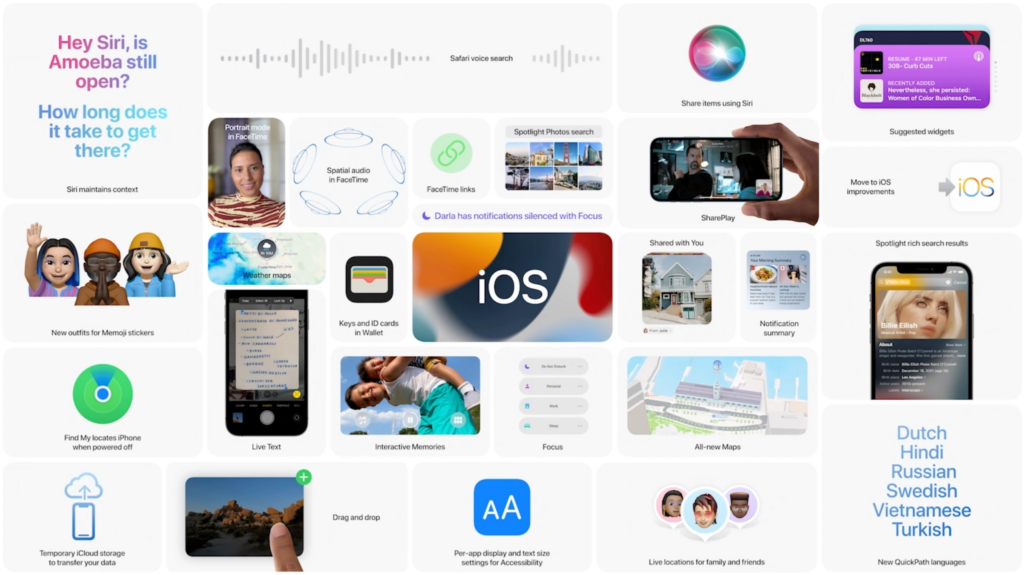 iPadOS
iPad enables you to do so much, so easily. iPadOS 15 takes this versatility further, making it easier to get things done, find and organize information, and make iPad even more capable.

Coming this fall
Multitasking – The iPad screen is great for working with multiple apps, taking your productivity to a whole new level. And now with iPadOS 15, multitasking is a lot more easier to discover, use, and view.
Widgets – Now you can place widgets alongside the Apple apps on your iPad, and  take full advantage of the iPad canvas.
App library – The App Library will automatically organize your apps into helpful categories like Productivity and Games, for quick access.
Notes – Notes goes system-wide with Quick Note, a fast and easy way to get to a note no matter what you're doing. Add @mention, #tags and more.
Translate – The Translate app is now available on iPadOS. System-wide translation lets you translate text anywhere on your device.
Swift Playground – Swift Playgrounds brings a new level of productivity to iPad, and now its capabilities go even further. Learn code, build real apps with Swift UI, and see your ideas come to life on the App Store.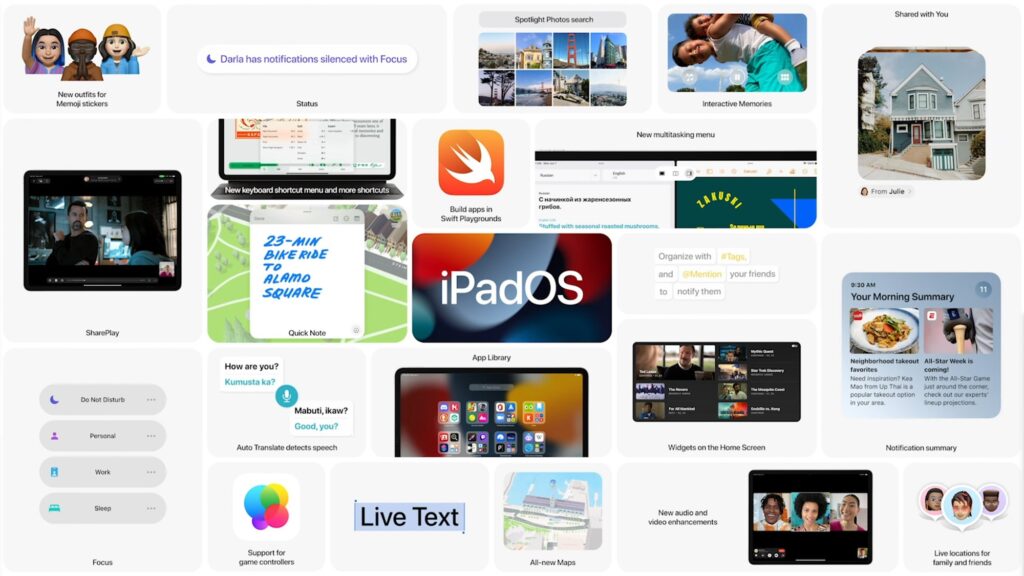 watchOS 8
watchOS 8 helps you stay connected, active, and healthy like never before. Share your favorite memories with the enhanced Photos app. Put more fun into your texts. Find new ways to center yourself and be present. And that's just the start.

Coming this fall
Photos & Portrait watch face: Put your favorite photos of friends and family front and center in your watch face, to give the people you care about a lot more attention; now with a dynamic, multilayered effect.
Health – The Breathe feature has been refreshed with new graphics and visualizations alongside new tips that help you focus, center, and connect as you breathe.
Fitness – New guest trainer and Artist Spotlight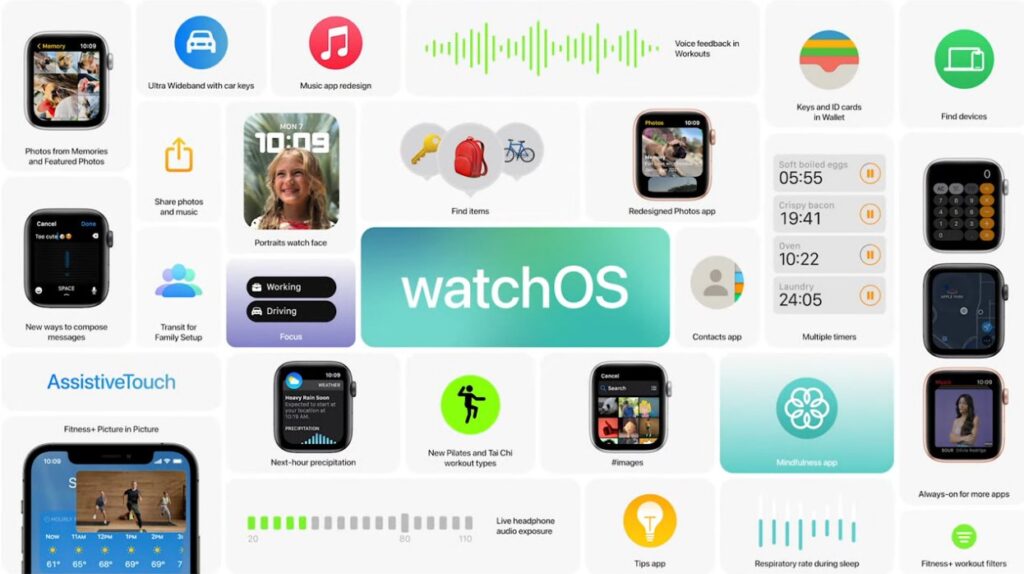 macOS Monterey
SharePlay – Keep FaceTime conversations going as you watch TV shows and movies, listen to music, or share your screen with SharePlay.
Shortcuts – Pre-built shortcuts to get the word done, faster
Safari – The new tab bar design takes up less space on the page and takes on the color of the site you're on. More menu, enables you the access to powerful Safari features .
Universal control – A single keyboard and mouse or trackpad now work seamlessly between your Mac, iPad and other Apple devices. You can even drag and drop content from one Mac to the other device.
AirPlay to Mac – The power of AirPlay comes to Mac. You will be able to share, play, or present content from another Apple device to the big, screen. You can also mirror or extend your display to enhance productivity.
Shortcuts – Automate the things you do most often. Save time by turning something that would take multiple steps into just one.