So Google has finally launched the most anticipated Nexus One, and if you happen to live in one of the following 4 countries – the US, UK, Singapore or Hong Kong – you can get it right away from Google's website, priced at $529.99 without a contract or merely $179 including a T-Mobile two year plan (in the US). Other people will have to wait at least until Spring 2010, when it believes that Google will be adding more countries to its smartphone lineup. The phone itself is an HTC brand, coming with a 3.7-inch 800×480 AMOLED display, which regretfully doesn't support multi-touch at the moment, although Google says it's not an hardware issue but a software tweak and it'd consider adding screen gestures capabilities in the future. Besides that, you get a fast 1GHz Qualcomm Snapdragon processor,paired with a 5 megapixels camera including an integrated LED flash that can shoot MPEG-4 video and have it uploaded directly to Youtube. Additionally, this 11.5mm thick device has a built-in compass, GPS, WiFi, A2DP stereo Bluetooth, 3.5mm headphone jack, a multicolored LED under the trackball, an accelerometer for landscape view and two mics, positioned on front, for complete noise cancellation. It runs all common frequencies and compatible with HSDPA 7.2Mbps, UMTS Band 1/4/8 (2100/AWS/900), HSUPA 2Mbps and of course, GSM/EDGE (850, 900, 1800, 1900 MHz). The 1400mAH battery inside is claimed to provide 5 hours of 3G browsing and 7 hours of 3G talk time, while storage wise, you receive only 512MB of internal flash along with a 4GB micro SD card, expandable up to 32GB. See the full specs here.
Moving forward with the details, the Nexus One packs Google's "latest greatest" Android 2.1 platform – also known as Eclair – which crams some nifty stuff inside, like the voice recognition feature that works throughout the entire UI and activates almost any feature in the phone. That way, you can use your voice to write SMS messages and notes (speech-to-text), or tell the Google Earth search engine where should it go. Other than that, Google has implemented a Cooliris technology into the Nexus One gallery app, so you get 3D visualization whenever looking at images in landscape mode. It has a lot of widgets to offer, such as weather and news RSS, and the smartphone's homescreen customization is interactive and houses 5 panels to store your apps and shortcuts. Stay tuned. Video is right after the break.
Update1: And looks like Adobe is now jumping on Google's bandwagon by demoing its Flash 10.1 beta on a Nexus One superphone. Check it out after the break.
Update2: Well, what do you know, the European version of Nexus One, apparently supports multitouch capabilities out-of-the-box, while US devices don't. We're not so sure why, but as someone suggested, the trigger for the abyssal differences might be the fact that Apple has a US Patent on multitouch which doesn't apply on European countries. Maybe. Google says it's carefully reviewing this issue at the moment.
Update3: Different from what has been reported, Google's Nexus One seems to be incompatible with "n" draft wireless connectivityand official specs state it supports only 802.11b/g WiFi frequencies. We'll have more about this soon.
Update4: You knew it had to happen sooner or later, did you? No? then get this – iFixit guys have taken Google's Nexus One on a mission and disassembled it into small pieces of technology craft. See the results here and after the break.
Update5: We've added two more stunning videos right after the break, in which you can watch Nexus One's manufacturing process with stress tests such as bending, slamming, dropping, and cracking, all over the place. A must see creation!
Update6: Turns out Google now has live person phone support in case your Nexus One has problems that need to be solved. It's 888-48NEXUS (63987) and said to work from 07:00am to 10:00pm PST. Right now the line will handle only status and shipping issues while tech problems can find answer via Google's support forums, FAQs pages, email support and HTC/ T-Mobile customer care departments.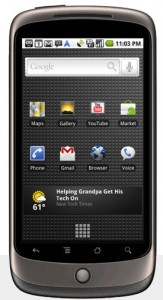 [youtube]http://www.youtube.com/watch?v=I6COwgigJ-g[/youtube]
[youtube]http://www.youtube.com/watch?v=vlWOocHwcLo[/youtube]
[youtube]http://www.youtube.com/watch?v=R1sz5c-R9h0[/youtube]
[youtube]http://www.youtube.com/watch?v=W9qeN42KAc0[/youtube]