TikTok is one of the most popular social media platforms in the world, with over 2 billion downloads and 1 billion monthly active users. If you are a content creator, influencer, or entrepreneur, you might be wondering how you can monetize your TikTok account and earn money from your videos. In this blog post, we will share some tips and strategies on how to make money on TikTok in 2023.
There are several ways to make money on TikTok, depending on your goals, niche, and audience. Here are some of the most common and effective methods:
TikTok Creator Fund:
The TikTok Creator Fund is a program that allows eligible creators to earn money from their videos on the platform. The fund was launched in July 2020 with an initial $200 million and has since grown to over $1 billion. The fund aims to support diverse and creative content on TikTok and reward the creators for their efforts and engagement. To apply for the fund, creators need to meet certain criteria, such as having at least 10,000 followers, 10,000 video views in the last 30 days, and being 18 years or older. The amount of money that creators can earn from the fund depends on various factors, such as the number of views, the level of engagement, and the quality of the content.
UPDATE: TikTok is ending its $2 billion creator fund
Sponsored posts:
This is when a brand pays you to promote their product or service in your TikTok video. You can charge a fee based on your number of followers, views, engagement, and niche. To find sponsors, you can either reach out to them directly or join an influencer marketing platform that connects you with relevant brands.
Affiliate marketing:
TikTok affiliate marketing is a strategy that involves promoting products or services on TikTok and earning commissions for each sale or action. TikTok affiliate marketing can be a lucrative way to monetize your TikTok account, but it requires some planning and creativity. Here are some tips on how to get started with TikTok affiliate marketing:
Choose a niche that matches your TikTok content and audience. You want to promote products or services that are relevant and useful to your followers, and that align with your personal brand and style.
Find affiliate programs or networks that offer products or services in your niche. You can use platforms like ShareASale, ClickBank, or Amazon Associates to find affiliate offers, or you can reach out to brands directly and ask if they have an affiliate program.
Create engaging and authentic TikTok videos that showcase the benefits and features of the products or services you are promoting. You can use hashtags, captions, stickers, filters, and music to make your videos more appealing and catchy.
Include a clear call to action in your videos, such as "Swipe up to buy", "Click the link in my bio", or "Use my code for a discount". You want to make it easy for your viewers to take the next step and purchase the product or service you are recommending.
Track and optimize your performance. You can use analytics tools like Google Analytics, Bitly, or TikTok's own dashboard to measure your traffic, conversions, and commissions. You can also test different products, offers, videos, and strategies to see what works best for your TikTok affiliate marketing campaign.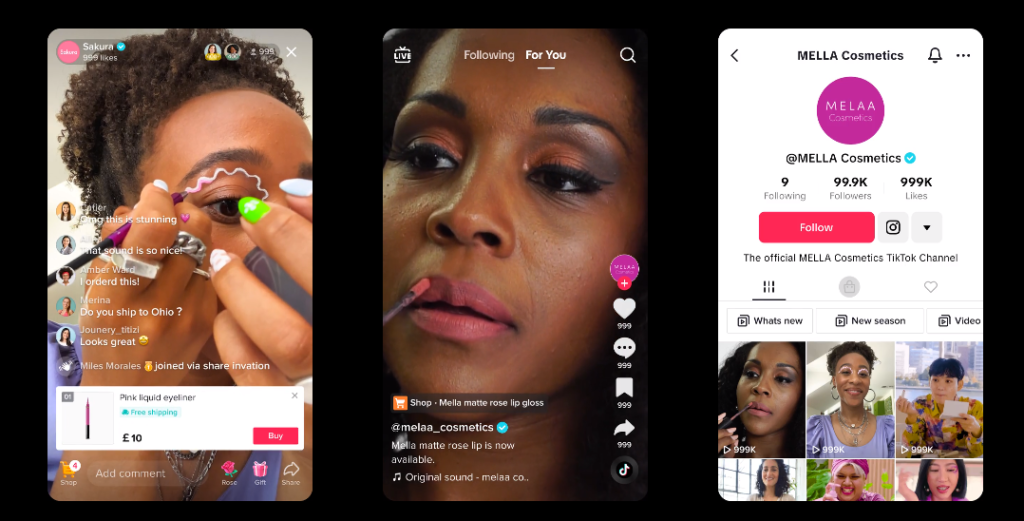 —
Live streaming:
TikTok Live Streaming is a feature that allows users to broadcast live videos to their followers and interact with them in real time. Live streaming can be used for various purposes, such as showcasing talents, sharing opinions, hosting events, or promoting products. To start a live stream, users need to have at least 1,000 followers, comply with the community guidelines and terms of service and be at least 16 years old. Live streaming can help users grow their audience, earn gifts from fans, and monetize their content.
Managing multiple social media platforms can be time-consuming and overwhelming. That's why you need a social media management tool that can help you plan, create, publish, monitor, and analyze your social media content. Whether you are a small business owner, a marketer, or an influencer, you will find a tool that suits your needs and budget. Read more: https://technologer.net/best-social-media-management-tools
—
Selling Merchandise:
This is when you sell your own products or services to your followers, such as clothing, accessories, ebooks, courses, coaching, etc. You can create your own online store or use a third-party platform like Shopify or Teespring. You can also use TikTok's Shop Now feature, which allows you to link your products directly from your video.
Some of the benefits of selling TikTok merchandise are:
It can increase brand awareness and loyalty among your followers.
It can help you express your personality and style through your products.
It can provide a source of passive income that does not depend on views or likes.
It can give you an opportunity to collaborate with other creators or brands.
If you are interested in selling TikTok merchandise, you will need to consider some factors such as:
What kind of products do you want to sell and how do they relate to your content?
How will you design, produce, and ship your products?
How will you promote your products and drive traffic to your store?
How will you handle customer service and feedback?
Selling TikTok merchandise can be a rewarding and fun way to grow your online presence and business. However, it also requires planning, research, and dedication. You should always follow the TikTok community guidelines and respect the intellectual property rights of others when creating and selling your merchandise.
Donations:
This is when you ask your followers to support your content creation by sending you money via PayPal, Venmo, Patreon, or other platforms. You can also use TikTok's Donation Stickers feature, which lets you add a sticker to your video that prompts viewers to donate to a charity of your choice.
Users can buy virtual coins with real money and use them to send gifts to their favorite creators or to support various campaigns. TikTok then converts the gifts into diamonds, which can be exchanged for cash by the creators or donated to charities. This way, TikTok enables its users to show appreciation and support for the content they enjoy or the causes they care about.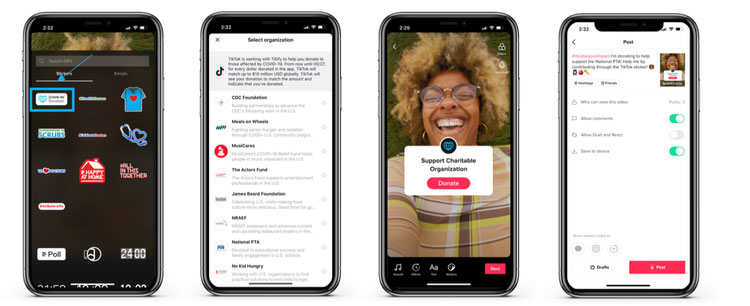 —
Ads:
This is when you earn money from displaying ads on your TikTok videos. You can join TikTok's Creator Fund, which pays you based on the number of views and engagement of your videos. To be eligible for the Creator Fund, you need to have at least 10,000 followers, 10,000 views in the last 30 days, and be at least 18 years old. You can also use other ad networks like Google Adsense or Mediavine to monetize your TikTok website or blog.
These are some of the best ways to make money on TikTok in 2023. However, before you start monetizing your account, you need to focus on creating high-quality content that attracts and engages your target audience. You also need to follow the TikTok community guidelines and terms of service, and avoid any content that is illegal, harmful, hateful, or misleading. By doing so, you can build a loyal fan base and a profitable business on TikTok.
Offering consulting or coaching services:
If you have expertise in a particular area, you can offer consulting or coaching services to your followers. For example, if you're a fitness expert, you could offer personal training sessions.
—
No matter which method you choose, the key to making money on TikTok is to create engaging and popular content. Your videos should be well-edited, informative, and entertaining. You should also be consistent with posting new videos.
Here are some additional tips for making money on TikTok:
Identify your niche: What are you passionate about? What do you know a lot about? Once you know your niche, you can start creating content that is relevant to your target audience.
Use trending hashtags: Trending hashtags are a great way to get your videos seen by more people. When you use trending hashtags, your videos will show up in the search results for those hashtags.
Collaborate with other creators: Collaborating with other creators is a great way to cross-promote your content and reach a new audience.
Promote your TikTok account on other social media platforms: Share your TikTok videos on your other social media accounts, such as Instagram, Twitter, and Facebook. This will help you to reach a wider audience.
Making money on TikTok takes time and effort, but it is possible. By following the tips above, you can increase your chances of success.