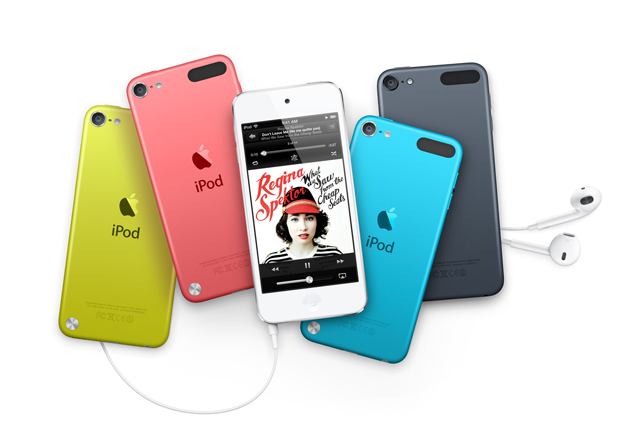 At San Francisco California, Apple has just introduced a new line of iPod devices, including a powerful iPod Touch, a redesigned iPod Nano and a new version of the tiny iPod Shuffle.
iPod Touch:
The fifth-gen iPod touch player appears to be one of the most impressive products that has ever hit the market.
This new iteration boasts that same gorgeous4-inch display (326 ppi panel) the new iphone 5 packs, while the structure itself is nothing but amazing. Only 88 grams (3.1 ounces) of heft behind it and it just 6.1mm thin. As far as architecture goes, the new Touch will sport an A5 chip inside, that is guaranteed to give you roughly seven times the graphics performance (compared to Apple's previous model).
The built-in battery was also upgraded. When fully charged, it seems to last at least 8 hours of video broadcast or 40 hours of music playback.
The rear camera has been bumped up to 5 megapixels, alongside a backside-illuminated sensor and an f/2.4 lens aperture. There's also support for 1080p video playback / recording, in addition to the new and highly efficient image stabilization factor. The front facing camera of the Touch holds the 720p resolution.
We've also learned that the one strange silver button on the back of the Touch was added in order to hook up a safety lanyard onto the body. OK, whatever. Fortunately, there are some positive news for us software aficionados, as the new player said to support Siri personal assistant, out of the box, and claimed to be shipped along with Apple's latest and greatest iOS 6 platform.
Finally, the iPod Touch will be offered in a variety of colors, including raw aluminum, black, blue, yellow,and red. We're also told that the rest of the system's configuration is pretty respectable, with the new ipod Touch models to run you $299 and $399, housing either 32GB and 64GB, respectively.
More about the new lineup after the break.
Update: Looks like Apple's new iPod touch, shuffle and nano players just went up on Amazon, so you can place your orders right away, with shipping to start in about 2 – 5 weeks.
iPod Shuffle:
A new version of the iPod shuffle was also recently announced. And while most of the the changes to this new iPod flavor are basically minor, we still thought they're worth a mention. Well, as a matter of fact there is only one major change, and if you haven't guessed by now, we're talking about the colors. The new iPod shuffle will come in eight different colors. That three additional hues from the latest line of shuffles.
iPod Nano:
Apple says it wanted to "reinvent" the nano lineup for quite some time now, and that's exactly what they've done. The new iPod nano (seventh-gen if you're counting), like the Shuffle, will come in seven different colors. But if the colors weren't enough, Apple was looking to give it a large display, some nice controls, a thin design and that same small 8-pin lightning connector. The results are pretty impressive, to say the least. The new and entirely revamped nano device holds a few physical controls along the chassis, while the 2.5-inch screen, on top of the DAP, is the biggest display the company ever put in a nano, and it's covered with a multitouch interface. Oh, and there's a home button, can you believe it? And it's widescreen too. That's nice and all, but at the end it's the inner parts of the product that make it so special, and in this case, there is a bluetooth connection for pairing wireless headsets or cellphones, along with an FM radio tuner and a fitness pedometer. The average battery life is rated at about 30 hours for audio, with the standard capacity to sell for $149 and 16GB of storage.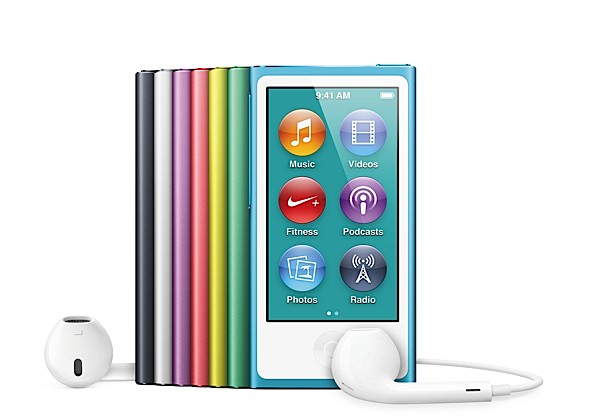 [Apple]