In today's computer market, it's hard to disrupt an entire industry. Laptops may get faster, the visuals will get sharper, but at its core, the product is the same.
That was until two days ago, when Huawei shook up the laptop market. On Tuesday, the Chinese tech company launched their new MateBook series and changed everything. Huawei did it with one simple design change- the power button!
For years, the industry viewed the power button as serving one function. Within the limited real estate of a laptop, why is there one button for power and another for finger scanner?
Ever think of that? Me either.
Well, that's what Huawei was thinking when they launched their MateBook.
A few years ago, I would have expected that Apple might have attempted such a bold redesign. With their eyes laser focused on beating Apple and Microsoft, Huawei simply disrupted the laptop market. They merged two functions and upgraded the power button.
Simple and convenient.
Clearly, this new power button/ finger scanner isn't where Huawei stopped. All of the other aspects of MateBook X's hardware are similarly impressive.
In their product launch, Huawei boldly showed who their competition in the laptop market is. Apple. In fact, the MateBook X and MacBook are so similar that Endgaget could barely distinguish between the two.
Huawei took them to task and clearly stated their position.
The MateBook X comes in rose gold.
Sound familiar?
In typical Huawei fashion, they focused on the user. What do all laptops users want? A powerful device, that's simple and has a long lasting battery.
So, that's exactly what Huawei created in the MateBook.
https://www.instagram.com/p/BUeOe3nB0af/
The MateBook X is a 13-inch Windows 10 ultra-portable is designed as a  traditional aluminum clamshell, instead of the original MateBook 2-in-1 configuration. Customers can choose from either an Intel "Kaby Lake" Core i5 or i7 processors instead of the less powerful Core m series. The MateBook visuals are super strong too by offering a 3:2 aspect ratio at 2K resolution with a 4.4mm bezel, which is pushing the bezel to the max.
Storage
The Huawei MateBook comes in either 256GB or 512GB SSD options. Sure, the RAM could be a point of contention since the laptop will only come in either 4GB or 8GB options.  I'm rather certain that most laptop users will be forgiving considering that the device is so light, thin, and portable. Honestly, to the average user, 8GB will suffice.
Battery
At the launch event, Huawei claimed that the MateBook can run 1080p video for 10 hours on a single charge. That's serious.
It's also not surprising.
Huawei has been improving battery life on all of their devices, like their Mate 9. In my review of this AI infused device,  the phone lasts almost an entire day.
Once again, like their phones, the Huawei MateBook X has a unibody aluminum design, which is optimal design for making the laptop super thin and super light.
At its thickest point, the Huawei MateBook X measures 0.49 inches- thinner than the MacBook (0.52 inches) and the MBP (0.59 inches). In terms of weight, once again, Huawei out-designed the competition by scaling down the MateBook X to only weighs 2.31 pounds compared to the MacBook Pro's 3.02 pounds.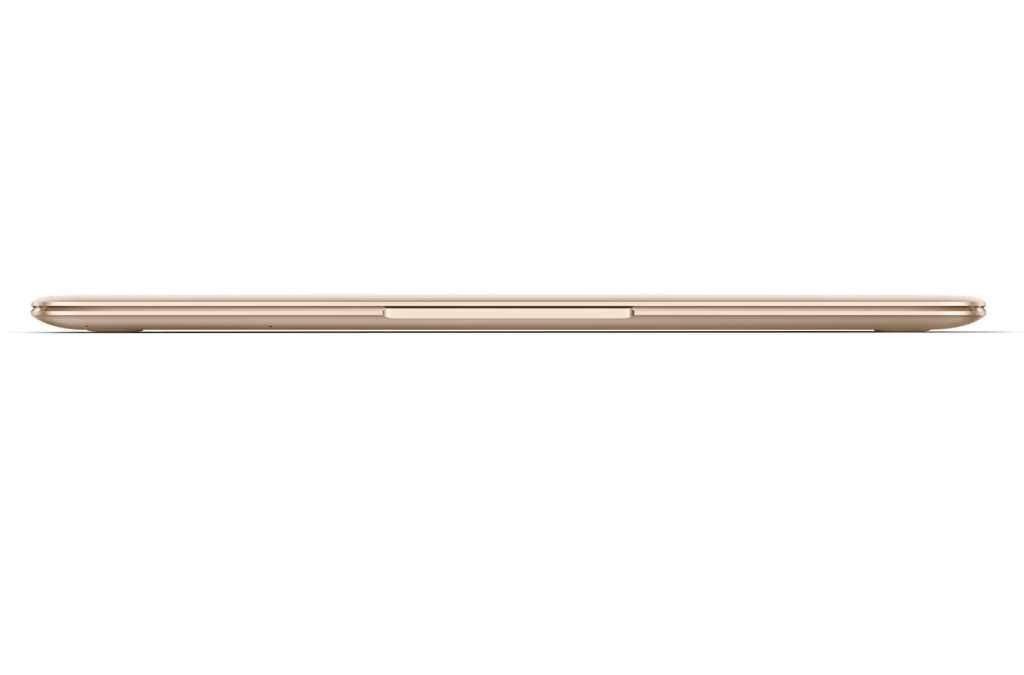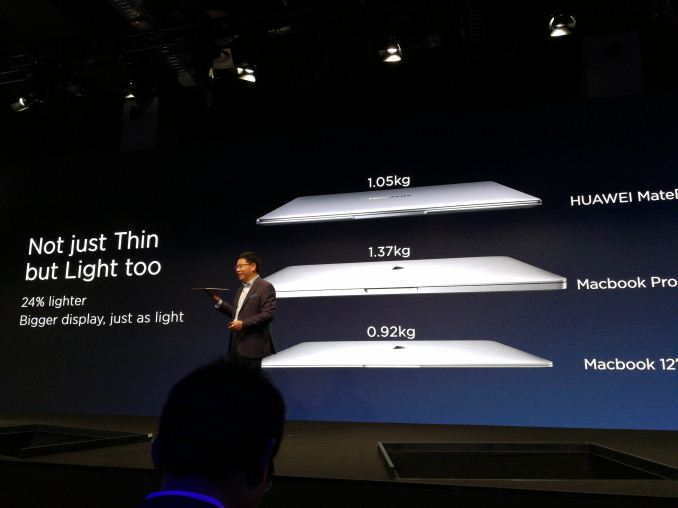 Untouchable?
With all of these impressive improvements and features, there's some talk about the MateBook X not coming with a touchscreen. Personally, I don't think it will deter users. When asked, Huawei responded that "they wanted to put their best foot forward…" I think that most users are still acclimating to the touch screen feature on a laptop. Keep the laptop simple. Don't confuse the user.
Fanless?
Under the hood, the Huawei MateBook X is going fanless. That should insure that customers won't worry about their device overheating.
Sound
In their ongoing focus on outperforming their competition, Huawei announced their partnership with Dolby. The MateBook comes with Dolby Atmos Sound inside. While many devices have Dolby Atmos software, Huawei is the first to integrate both software and hardware solutions. By placing the speakers above the keyboard and including software that optimizes the quality of the sound for movies and music, the MateBook will give users a true listening experience that offers quality both via headphones and speakers.
Ports
The MateBook went minimal on the ports. With only two USB C slots, one for power one for everything else, this may be an issue. Hopefully, most users will appreciate the dock offering HDMI, USB A, USB C and VGA that comes with the MateBook. A microSD card reader could have been a valuable addition.
Huawei's first real attempt in launching a sleek, powerful, practical laptop seems to be a solid competitor in the market. With the MateBook series, Huawei is clearly boasting their ambitions to play with the big boys in the laptop market.