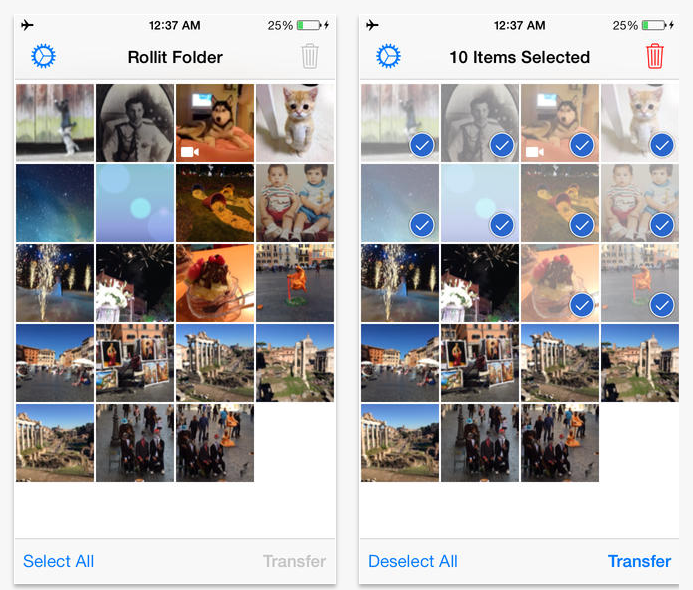 Yesterday, a friend of mine was asking for my help. He was going through a simple iphone restoring process (from his iTunes backup) but, alas! when he finished the update he was surprised to realize that all of his photos had gone missing. Thankfully, he had a second backup of the iTunes backup, and all he had wanted was to upload those pictures back onto the Camera Roll.
Sounds very easy, right? Well, not exactly. When you sync your iDevice with iTunes, you can easily add or remove your photo albums back and forth. However, it does not export directly to the Camera Roll. iTunes just doesn't let you transfer your photos in there, but in whatever album you had organized them into.
Camera Roll is like your temporary portable SD card, which needs to be cleaned up and wiped off from time to time. You can easily import photos from the Camera Roll directly to your desktop or laptop computers, whether via Apple's iTunes or some other popular software solutions such as the iPhoto for Mac. Normally, it would let you sync in one direction, then you make a backup of your personal media libraries from your desktop to external hard drive storage.
But what if you insist to get your photos back to the Camera Roll? Well, that's where you may have a problem. If your iTunes backup simply doesn't work, you'll need to find a different third-party solution. And that's where the Rollit app can come to your help. It would clean up the mess of transferring photos or videos from your average desktop onto your personal iPhone, iPad or even your iPod — All of that in a matter of seconds (the total time taken may depend on the size of your album)
How does it work?
The app works through a regular USB connection which is 3x faster than your average WiFi connectivity. Simply connect your USB compatible device to your personal computer (no third-party software is required), fire up your iTunes, pick up your iDevice from the top menu bar , then choose the "Apps" tab page and scroll all the way down to the File Sharing area. Now, click on the Rollit icon to your left, hit the "add" button and choose any photo or video that you are interested in adding to your iOS device. At this point you need to mark them all (there's no limit of size or number of transferred items and the app supports a wide range of multimedia formats, including jpg, gif, png, tif, tiff, bmp, bmpf, ico, cur, xbm, mov, mp4, m4v). Now that you have chosen the files, you can easily add them to the Rollit area where it will auto-sync with your Cupertino gadget. Select the items that you'd like to transfer to the Camera Roll, click the "Transfer" button aannd DONE! Your items will immediately show up again in your iphone/ipad/ipod's Camera Roll. That easy. The app retains all the data, including metadata like Exif information or geo-location, and the media will be transferred in its full quality.
The app is $1.99 U.S., but here are 12 promo codes to the Technologer community. Enjoy!
[toggle title="Promo Codes"]
KRREFJ7XY7K6
PMAJLXN3TMXA
6XJE4JWLPMKK
Y9TLKP69EL49
JW9L39HJMRE4
7LWEHNAY3FET
YWFKPE3FWN4W
77KLE6M47XEW
7NXJT6YNE9JE
FMHA9PRP33NT
NPYXHPFAAMME
9WXLW4JKRKNP
[/toggle]
iTunes Link : http://bit.ly/1j4dXXy
[youtube id="vJ76glTEKcc"]
Video courtesy of chamanchlach