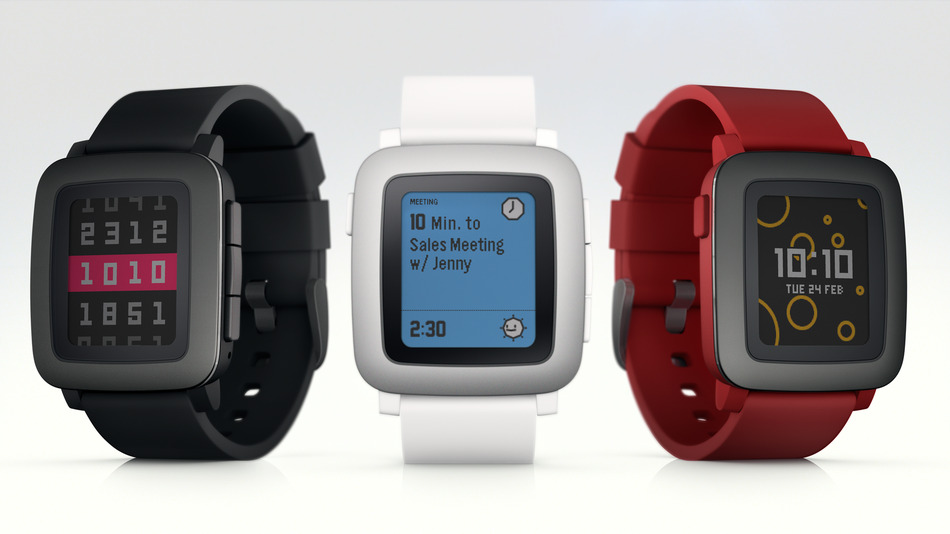 Pebble, a company that has earned a name in the market for developing wearable technology solutions and became very famous after nabbing more than $10 million for its revolutionary smartwatch on the popular crowdfunding site Kickstarter, is now rumored to be working on the next-generation of its smartwatch, featuring a whole new design, based on a thinner and clean watch elements. The kicker is a 2/2.5-inch color display on top, operating under a revamped OS.
According to an image which was reportedly pulled from Pebble's own asset servers, by 9to5google, it looks like the US-based wearable company will probably release or announce a slimmer Pebble watch with a color e-paper-like display (which appears to be limited to Black, White and Yellow production) sometime between tomorrow and next month. Mind you, there's a countdown timer on its website for tomorrow 10AM ET. A new watch? Perhaps.
Meanwhile, the new alleged smartwatch, which you can see walled up, boasts a slightly bigger bezel with merely four different buttons on both of the sides. The watch reportedly won't include a touchscreen support, but the battery will hold up for a couple of days of off-and-on usage without charging, just as previous models.
The hardware should include a Cortex M4 processor under the hood while software wise, the operating system has been completely revamped by former people who previously worked on the great webOS, and is now said to be close to stock Android Wear more than ever.
As for price, it is likely to remain around the $199 range.
[kickstarter id="597507018/pebble-time-awesome-smartwatch-no-compromises"]
Update1: Pebble has officially returned to Kickstarter and launched a second crowdfunding campaign to raise money for its latest and greatest Pebble Time watch with a new timeline interface. As for this moment the goal of raising $500,000 has been reached in just a few moments and the company already hit the $1 million mark in less that 20 minutes(!) and $2 million mark in less than an hour(!).
As we've already mentioned, the next-generation of Pebble's smartwatches are going to be about 20% thinner than previous models, with a colorful screen atop and a new user interface.
Here are some key facts that you should know about Pebble
Pebble Time features a new color e-paper display and microphone for responding to notifications.
No compromises on what you love about Pebble: up to 7 days of battery life, water resistance and customizability.
Pebble Time is fully compatible with all 6,500+ existing Pebble apps and watchfaces.
Three colors available exclusively on Kickstarter. Pebble Time starts shipping in May.
Extra special engraving for our original Kickstarter backers who support us again.
Pebble Time comes in three colors:
Black watch case and silicone band with black PVD stainless steel bezel
White watch case and silicone band with silver PVD stainless steel bezel
Red watch case and silicone band with black PVD stainless steel bezel
Update2: $4,000,000 in less than three hours.
In less than 3 hours, more than 20,000 people have backed @Pebble Time: https://t.co/bUWViWal6a

— Kickstarter (@kickstarter) February 24, 2015