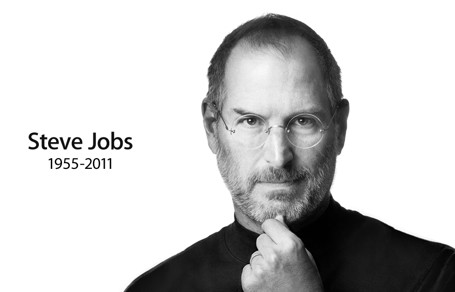 Today, the world mourns the loss of a true visionary and a tech legend. Steve Jobs passes away at the age of 56, only few weeks after stepping down from Apple's CEO position, leaving 317 Apple patents listed under his name and an amazing cultural experience we will all remember for the rest of our lives. Here are some of the tributes from those who knew him:
President Obama:
Michelle and I are saddened to learn of the passing of Steve Jobs. Steve was among the greatest of American innovators – brave enough to think differently, bold enough to believe he could change the world, and talented enough to do it.

By building one of the planet's most successful companies from his garage, he exemplified the spirit of American ingenuity.  By making computers personal and putting the internet in our pockets, he made the information revolution not only accessible, but intuitive and fun.  And by turning his talents to storytelling, he has brought joy to millions of children and grownups alike. Steve was fond of saying that he lived every day like it was his last.  Because he did, he transformed our lives, redefined entire industries, and achieved one of the rarest feats in human history: he changed the way each of us sees the world.

The world has lost a visionary. And there may be no greater tribute to Steve's success than the fact that much of the world learned of his passing on a device he invented. Michelle and I send our thoughts and prayers to Steve's wife Laurene, his family, and all those who loved him.
Apple CEO, Tim Cook:
Team,

I have some very sad news to share with all of you. Steve passed away earlier today.

Apple has lost a visionary and creative genius, and the world has lost an amazing human being. Those of us who have been fortunate enough to know and work with Steve have lost a dear friend and an inspiring mentor. Steve leaves behind a company that only he could have built, and his spirit will forever be the foundation of Apple.

We are planning a celebration of Steve's extraordinary life for Apple employees that will take place soon. If you would like to share your thoughts, memories and condolences in the interim, you can simply email rememberingsteve@apple.com.

No words can adequately express our sadness at Steve's death or our gratitude for the opportunity to work with him. We will honor his memory by dedicating ourselves to continuing the work he loved so much.
Please hit the break to read even more tributes, along with Steve Jobs' 2005 Stanford Commencement Address video that would truly inspire and motivate one and all.
[Apple]
Steve Jobs' family:
Steve died peacefully today surrounded by his family.

In his public life, Steve was known as a visionary; in his private life, he cherished his family. We are thankful to the many people who have shared their wishes and prayers during the last year of Steve's illness; a website will be provided for those who wish to offer tributes and memories.

We are grateful for the support and kindness of those who share our feelings for Steve. We know many of you will mourn with us, and we ask that you respect our privacy during our time of grief.
Bill Gates: 
I'm truly saddened to learn of Steve Jobs' death. Melinda and I extend our sincere condolences to his family and friends, and to everyone Steve has touched through his work.Steve and I first met nearly 30 years ago, and have been colleagues, competitors and friends over the course of more than half our lives.The world rarely sees someone who has had the profound impact Steve has had, the effects of which will be felt for many generations to come.For those of us lucky enough to get to work with him, it's been an insanely great honor. I will miss Steve immensely.
Google Co-Founder, Sergey Brin:
From the earliest days of Google, whenever Larry and I sought inspiration for vision and leadership, we needed to look no farther than Cupertino. Steve, your passion for excellence is felt by anyone who has ever touched an Apple product (including the macbook I am writing this on right now). And I have witnessed it in person the few times we have met.

On behalf of all of us at Google and more broadly in technology, you will be missed very much. My condolences to family, friends, and colleagues at Apple.
Facebook Founder, Mark Zuckerberg:
Steve, thank you for being a mentor and a friend. Thanks for showing that what you build can change the world. I will miss you.
Apple co-founder, Steve Wozniak:
[youtube]http://www.youtube.com/watch?v=dK_XEGrzHUo[/youtube]
[youtube]http://www.youtube.com/watch?v=UF8uR6Z6KLc[/youtube]