What do the tech companies of today and digital-born organizations all have in common?  
Yes, Amazon, Google, and Alibaba all had a keen understanding of the sheer power of digital technologies. Dig a bit deeper.  Many of the digital companies of today disrupting legacy industries are based on platforms. 
The success of these unicorn companies are based on some core elements: the technology platforms they've built, and perhaps more importantly, the innovative business models these platforms enable.
As digital businesses shift away from the traditional business models towards interconnected ecosystems, technology is responding in a similar manner by progressing from siloed technical infrastructure to an ecosystem of enabling platforms.
Platform Takes Center Stage
Digital is increasingly the agent of disruption to the old commercial order and in the hyper-competitive digital economy; enterprises that excel are those that are harnessing the power of platform economics. Google, Apple, Amazon, and Airbnb are all platform companies. In fact, in its 2018 report, Gartner ranks digitalized ecosystems among its top five trends. So, as emerging technologies continue to develop, they will require support from more dynamic ecosystems that are based on new business strategies and platform-based business models.  
These platform-based business models are quickly becoming the foundation of business innovation, with emerging technologies providing the means to develop increased value and create new business models performing at optimal levels of efficiency.
While all of these companies have thrived, the challenge has been to define the platform.  Third-party analysts give various descriptions of the platform. Traditional and ICT manufacturers have launched a variety of "platform" models, but the industry, as a whole, lacks a clear definition.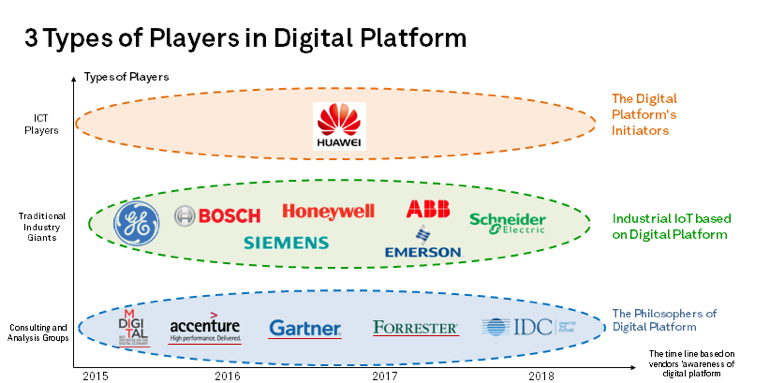 In an effort to define and enable a clearer model of successful transformation, Huawei Technologies recently presented the company's "power of the platform" approach at Huawei Connect 2018 in Shanghai. Huawei's new digital platform strategy will enable governments and enterprises to accelerate digital transformation and achieve new levels of innovation and growth.
The X Factor in Digital Platform
Digital transformation cannot be achieved with any one single technology, and the value of the cloud cannot be realized without other technologies. To capitalize on the value of the cloud, terminals need to collect vast amounts of data and utilize networks for transmission. For Huawei, it is this collaboration that is dependent on its cloud-pipes-devices collaboration ability. It also represents the company's most powerful capability.
With the goal of offering customers a long-term strategy to accelerate digital transformation, Huawei offers a "Digital Platform + X + Ecosystem" approach. This unique method puts the digital platform as the foundation, with new capabilities (the "X") such as AI, IoT, Big Data, security, ICP, and videos.
Lu Qi, President of the Marketing & Solution Sales Department of Huawei's Enterprise Business Group, stated at the event that the company's digital platform offers three core advantages. "It is full-stack, open, and supports enterprises across multiple industries; our digital platform can be used in a wide range of scenarios, as it supports both private cloud and public cloud."
By incorporating their products and solutions with those from other providers, Huawei is actually able to create an open, win-win ecosystem that offers customers the freedom to use the best solutions for their unique requirements.
Huawei's Digital Platform Enabling Growth
At Huawei Connect, Yan Lida, President of Huawei Enterprise Business Group, said: "Digital transformation is a complex process which requires a systematic approach and convergence of various technologies to integrate the physical and digital worlds. Huawei is committed to enabling our customers' platform-based businesses with an ICT platform that allows partners to integrate industry-specific applications. In this way, Huawei's platform serves as the 'fertile soil,' enabling the growth of the industry ecosystem, and promoting digital transformation of various industries with our ecosystem partners."
Partnerships and Design Thinking
For several years, Huawei has been at the forefront of digital transformation. Huawei is committed to working with customers in the long term and takes a future-oriented approach to drive enterprise digital transformation through the power of the platform. So far, 211 of the Fortune Global 500 companies (including 48 Fortune Global 100 companies) have selected Huawei as their digital transformation partner. This list includes SAP, Accenture, Deutsche Telekom, Volkswagen, Oracle, Honeywell, GM, ABB, Intel, Sony, the Russian Federal Savings Bank, and more.
In the digital transformation journey, Huawei has embraced the vision that partnership and collaboration will be a bigger driving force than the technology itself. By partnering and guiding its customers in their digital transformation journeys, Huawei is strategically guiding each enterprise to their destination. The goal is to be connected, intelligent and cloud-based. Huawei is uniquely positioned to take enterprises on this journey because the company is able to provide a holistic suite of solutions from devices, to infrastructure, to services based in the cloud equipped with artificial intelligence capabilities.
Huawei teams up with customers and partners to create a vibrant ecosystem, meeting customers' requirements in increasingly complex application scenarios, creating value for customers, and achieving a win-win situation for continuous growth.
Customer-Driven Digital Platform
Achieving positive digital experiences serve as the foundation for successful transformation. Customer experiences serve as the impetus for businesses to innovate, create and measure its overall digital platform strategy.
Designing a successful digital business needs to focus on innovating and attaining new business value, aimed at creating an optimal user experience. Consumers today, demand a faster, simpler, and enhanced digital experience that provides the best product and combines it with stellar service and most advanced technologies. These are all digital platforms that can provide enterprises for agile innovations.
Conclusion
In the next three decades, digitization will reshape every industry, and intelligence will have a profound impact on every enterprise. Digital transformation constantly impacts the way in which companies approach and operate their business. The speed and agility that attract many companies to shift towards digital platforms – which Huawei has done – have spawned new business models that have disrupted the way companies approach the consumer, delivering consistent value to the customer, inspiring enterprises to see beyond short-term gain, opting for long-term value.
In the coming years, the digital platform will continue to revolutionize traditional businesses models. While the digital platform model is still young, it is forcing enterprises to make strategic decisions that will undoubtedly impact the future success and viability of their business.
Disclosure: The author is a Huawei Key Opinion Leader and has benefited from their products and services. The opinions of this article, however, are completely his own based on experience.