Top 200 Free iPad Games
At last… The new iPad is here, it's HERE! Steve Jobs calls it 'magical'; Apple fans report they're excited, the detractors between us claim it's just a big iPod player, another wireless digital frame, a toy, a brick, a fancy tray, expensive mirror, babies' surfboard or electronic sun cover – stop it, STOP IT! Lets face it guys, If you're a gamer, not a fake but a REAL gamer, the kind that can sit like 48 hours in front of the tele and burn those long and curvy high speed race tracks all the way to the victory, or feel that you're the only true mighty fighter on earth that can easily save his planet while busting those mudda fucka ugly aliens that invaded from out of space a few hours ago – if you're that guy/gal – then you should know. A strong and portable gaming machine, with built in accelerometer that can act as a steering wheel, a shooting gun or anything else that would literally lead your way to the top, in this case the iPad, can definitely be the ultimate machine. And for portable gaming machine like that, one need games – fun, exciting, sports, or board, shooting or arcade it really doesn't matter, as long as you can play FOREVE! Check out some of the free games on Apple App Store, available to download right away (Google). But hurry up, because some of them are free for a very limited time only.
1. Rush Hour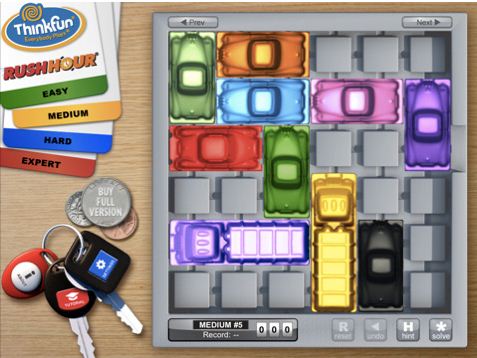 Description
The original sliding block Traffic Jam puzzle
2. Shanghai Mahjong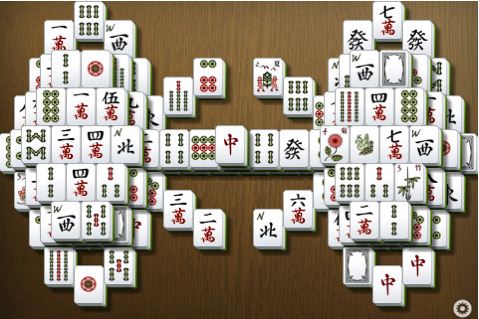 Description
Best Mahjong game, with solid controls, varies game modes and endless customizable boards.
3. Air Hockey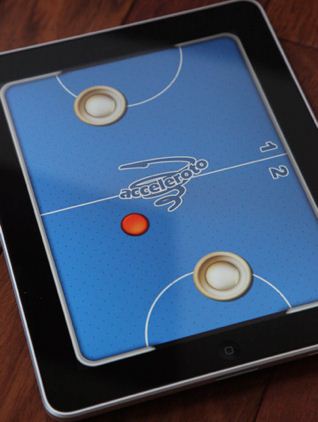 Description
Play with friends Air Hockey on your iPad, it's fun and interactive.
4. 10 PIN Shuffle Bowling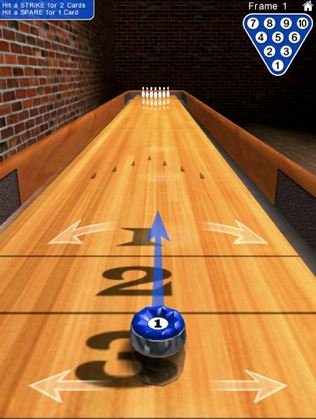 Description
Play Bowling on your iPad, it supports 3D interfaces and considered highly addictive.
5. Newton's Cradle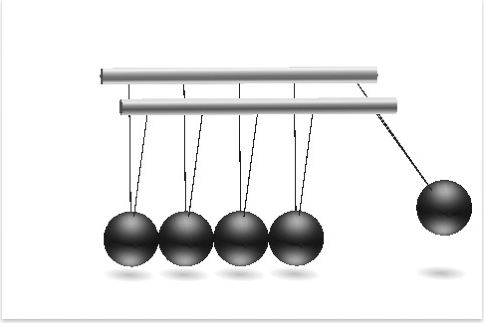 Description
The ultimate managers toy, now available on your iPad, using real physics engine built on kinematics and momentum equations. Deliver superior physics simulation.
6. Hit Tennis 2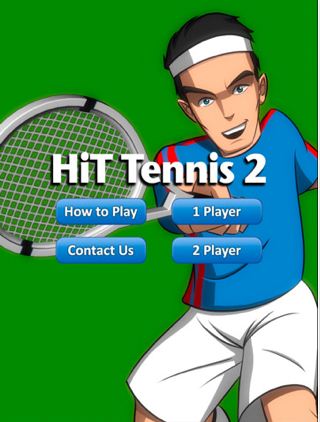 Description
A unique 1 and 2 player 3D tennis game. You hit with your fingers like you swing a real racket!
7. Table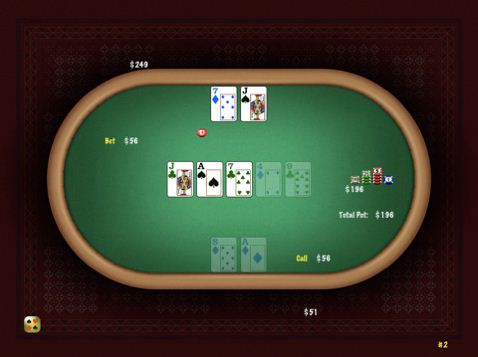 Description
Play the game and enjoy the stunning graphics and realistic animation.
8. Manic Marble 2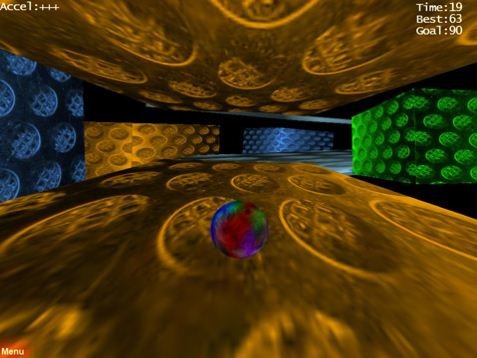 Description
Move the ball through amazing 3D worlds.
9. Karate Kid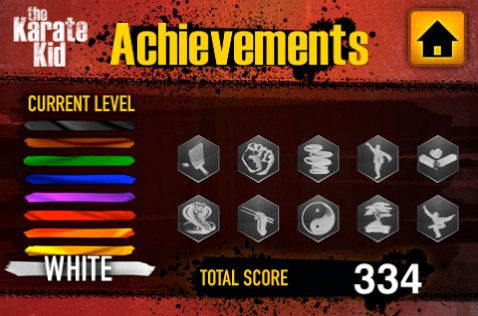 Description
Play and exercise martial arts, earn experience points and become a master.
10. Sudoku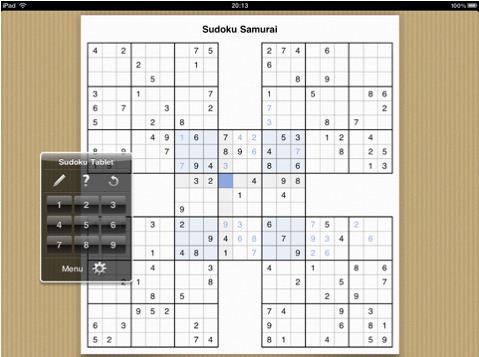 Description
Play Sudoku on your tablet with a great and overwhelming user interface.
11. Checkers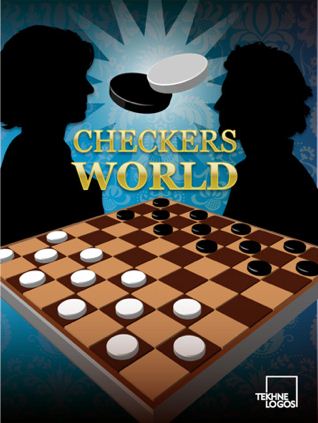 Description
The popular checkers game, now on your ipad touchscreen which turns into a fun game board.
12. Chess Borda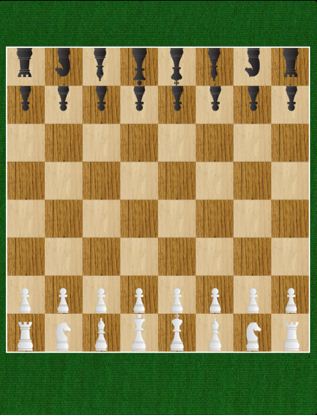 Description
Experience realistic virtual chess with your friends.
13. Clickomania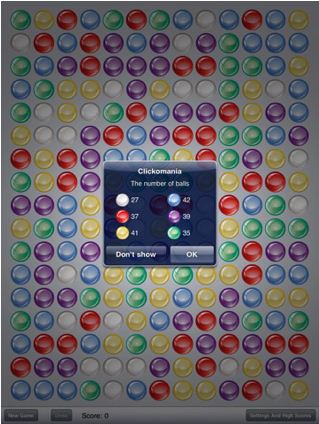 Description
The most popular iconic logic game, now available on your iPad.
14. Jirbo Says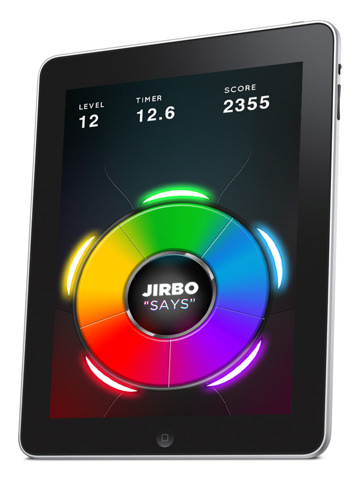 Description
An awesome brain test, now available on your iPad. Take it with you and test yourselves wherever you go.
15. Pukk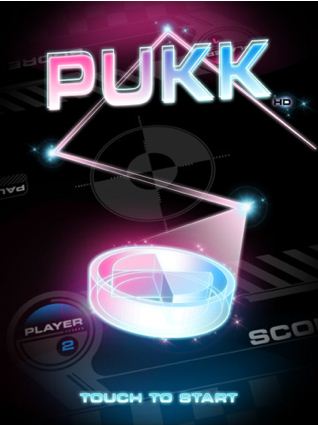 Description
The best 2 players fun you can have on your iPa. It's simple and fun.
16. GodFinger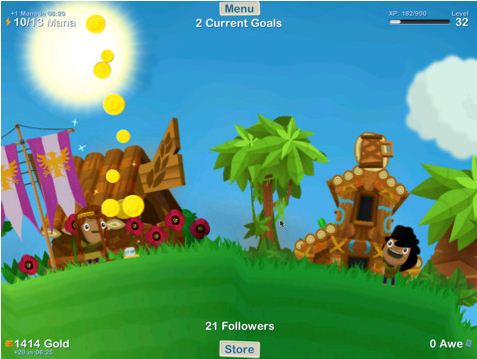 Description
Everyone gets the Finger, now on your iPad. It's fun, enjoyable and very cool!
17. Tic Tac Toe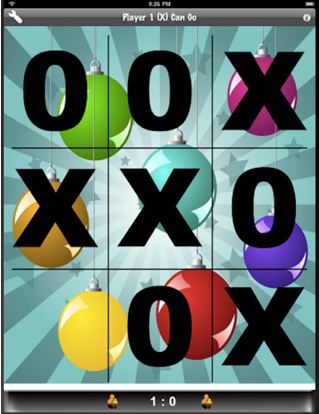 Description
The famous Tic Tac Toe, it's simple yet interesting. Play against human beings or against the machine.
18. Break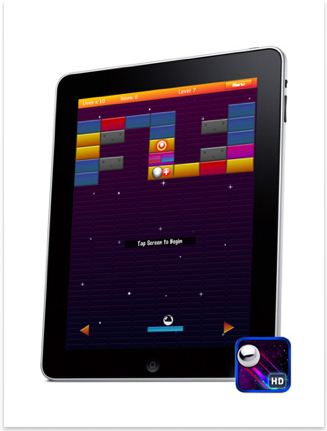 Description
The popular wall breaker game, now available on your iPad. Fun and playable.
19. Big Mountain Snowboarding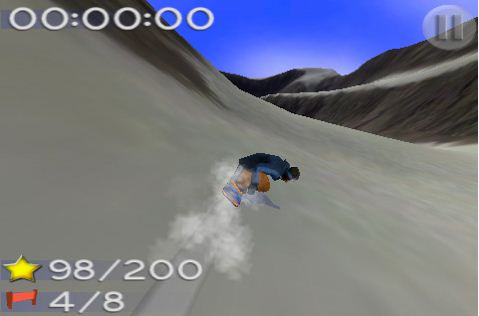 Description
A unique and realistic snowboarding game, with tons of air tricks, slaloms and unexpected challenges.
20. Teragati – Rocks In Space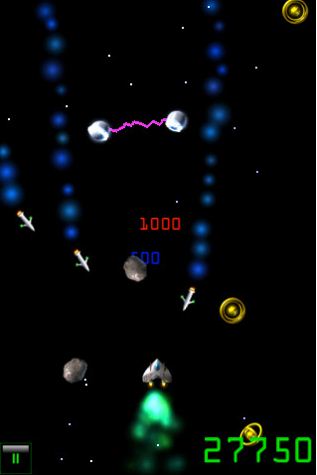 Description
An amazing space arcade game that will blow your minds, with an easy tilt mechanism
21. Bubble Snap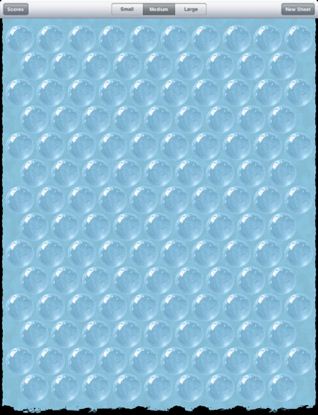 Description
The most addictive buble wrap simulator, now on your iPad!
22. Tap-Fish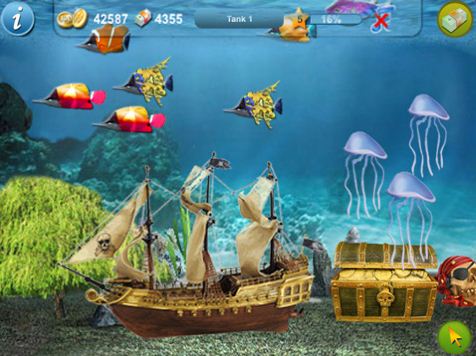 Description
The very popular aquarium app, now available in all its glory on the iPad.
23. We Rule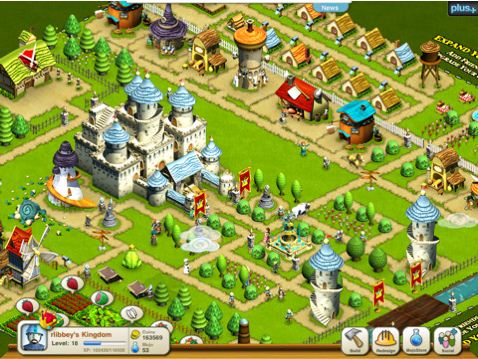 Description
Welcome to a fanciful world of kingdoms where you and your friends rule! Farm, Build and Rule!
24. Tunes Attack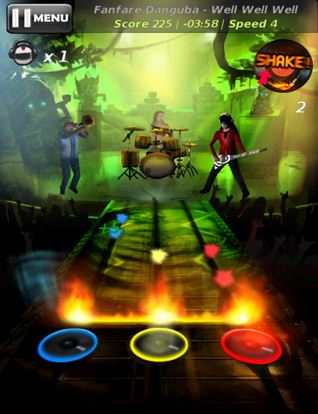 Description
Guitar Hero action game now available on your iPad, so get into the rhythm and start beating your tunes!
25. Paper Football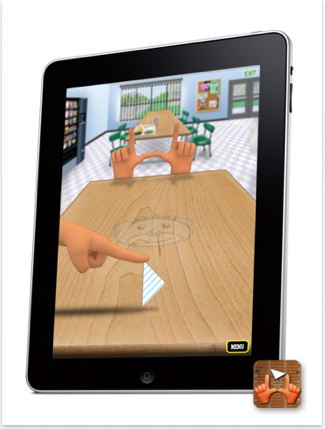 Description
Play the worldwide hit, Paper Football, as featured in ESPN The Magazine.
26. Doons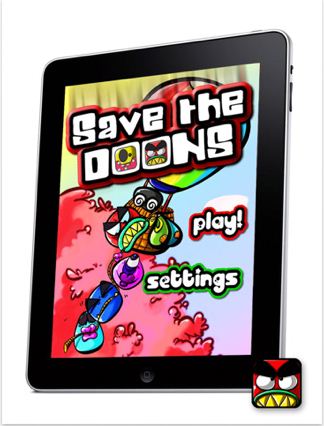 Description
Be a part of the amazing adventure world of the Doons, and save them with your iPad.
27. Cogs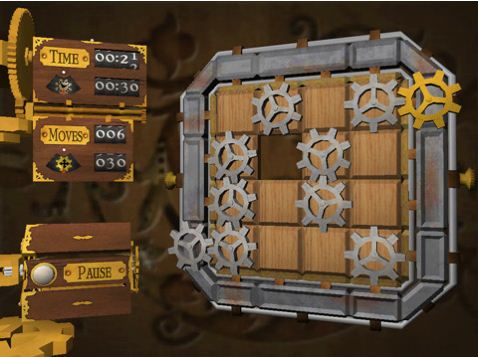 Description
Award-winning 3D game, where players build machines from sliding titles. Unlock new stages and make it to the top.
28. Chicktionary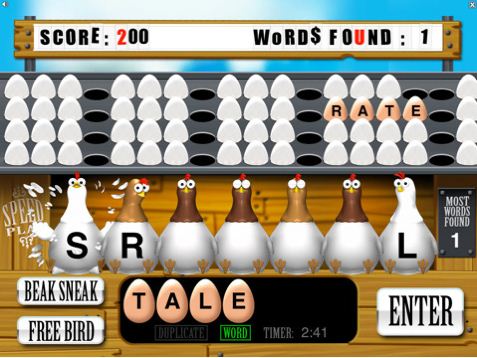 Description
Get ready for an egg-citing word game, create as much words as possible and win points.
29. Harbor Master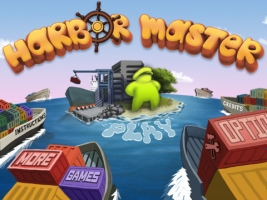 Description
Enjoy the best selling game Harbor Master on the beautiful big screen of the iPad. With completely new content and gorgeous high resolution graphics, Harbor Master HD will blow you away.
30. Battle Zone HD – Desert Eagle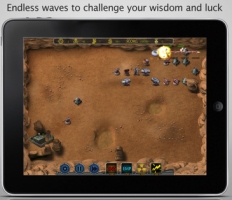 Description
In battle zone, the main purpose of the game is to keep your base alive as long as you can by building mazes using defense units. There are 10 kinds of defense units. Choose where and which one to build to block both air and land enemies away from your base. Once the base health comes to zero, the battle is lost. Destroying your enemy gives the defense units EXP points; the more damage a unit will inflict, the higher its ranking will be. As its ranking and medal count increases,defense units gain more abilities such as stun, teleportation, money steal, life steal, heavy damage, fast speed, wide range, critical hit, additionally more medals will results in more exp points. Enemies come in waves from all directions. The combat duration on battle zone will solely depends on your wisdom!
31. Moto X Mayhem Lite

Description
Race, jump, and crash your way through a variety of treacherous terrain in the best mobile bike game, Moto X Mayhem! Use accelerometer technology to balance your motorbike as you climb and fly over huge jumps! Enjoy realistic physics as your shocks recoil when you land or your rider bounces around when you crash. Compete to be the fastest motocross rider with Moto X Mayhem's online scoreboard.
32. WarChess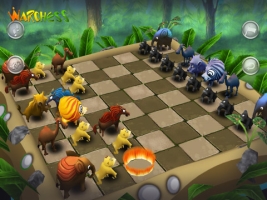 Description
WarChess is an action packed 3D interpretation of the game of chess, with the use of animation and special fx to visualize the battle of various chess pieces. Combining powerful 3D graphics, animated battle sequences, multiple themes and a speed chess mode, it promises to deliver the ultimate interactive chess experience. War Chess brings the game of chess to your iPad with a complete 3D interpretation featuring original innovative fantasy chess pieces, captivating visual effects and animations to visualize the battle of the chess pieces.
33. PAC-MAN Lite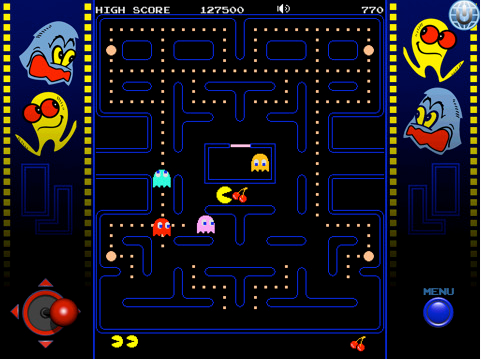 Description
Guide PAC-MAN with three new control modes. Dodge pesky ghosts by tilting or rotating your iPad in Accelerometer Mode. Navigate through the mazes by touching the onscreen Directional Pad in D-Pad Mode. Chomp on dots with the swipe of a finger in Swipe Mode. Munch fruits and other items for big points! Gobble blinking Power Pellets to weaken ghosts temporarily and eat them up before they change back. Avoid Blinky, the leader of the ghosts, and his fellow ghosts Pinky, Inky and Clyde, or you will lose a life. Get an extra life when you reach 10,000 points!
34. ENDI Tank Battle HD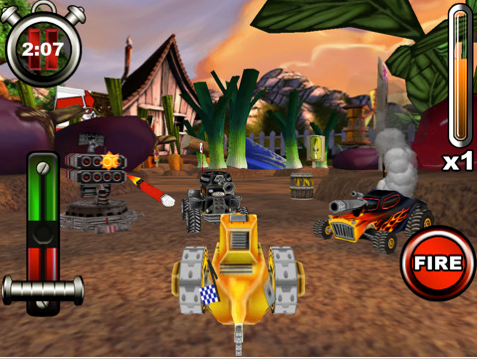 Description
Take the opportunity to play a funny arcade-oriented fighting game in a full toyish 3D environment. Drive various types of tanks in many surprising environments that will remind you of your childhood; fight enemies with various personalities, specific strengths and weaknesses; complete 15 missions with specific goals; publish your accomplishments on Facebook and challenge your friends.
35. Samurai II Dojo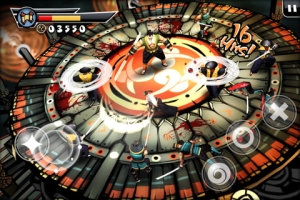 Description
Free survival mode pits the samurai against waves of enemies, giving players a score-attack mode to hone their skills. Battle hordes of on-screen enemies wielding new weapons and sporting unique abilities. Stay nimble and plan your attacks – roll out of harm's way and eliminate ranged enemies like the Samurai Archer before they can strike.
36. Warpgate HD Free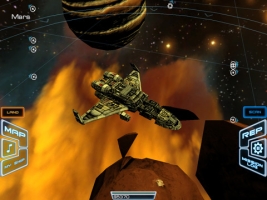 Description
Space, the last uncharted horizon, is wide open for those who have the power to take it. "Warpgate HD is great…. my favorite iPad Game." – Touch Arcade Get ready for one of the most anticipated games to hit the iTunes App Store. Warpgate, from studio Freeverse, is available now! Rule the universe. Dominate commodity markets – legal or illegal. Condemn your enemies and explore the vast reaches of the universe. Aliens and Pirates: will they be your allies or foes? Risk it all to explore expand exploit and exterminate throughout the galaxy! Warpgate offers a vast cosmos of over 35 star-systems to explore in 172 different starships with over 100 main quests. Groundbreaking galactic graphics, fluid controls, and endless non-quest missions mean there is no limit to your adventure! Warpgate is perfect for the Apple iPad's large, detailed screen and intuitive touch controls and promises an amazingly immersive experience.
37. LightBike 2

Description
As a sequel of earlier worldwide mega hit, LightBike2 has finally come back with juiced up updates. Drive through the cyber space as fast as the light, and have dead heat battles with opponents all over the world!
38. Dominoes!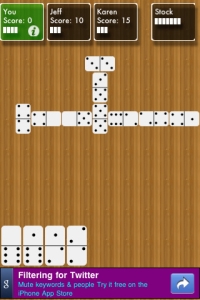 Description
Play 5 exciting Dominoes games on your iPad. Choose from the Blocking Game, Draw Game, Muggins, Fives and Threes and All Fives. Compete against two to four computer opponents to see who can become the domino master. To start the game, drag a domino to the top center until you get a yellow highlight around the domino.
38. Alpine Crawler HD

Description
Alpine Crawler HD is the HD version of the famous iPhone/iPod touch game Alpine Crawler. Alpine Crawler HD is a cross country vehicle simulator. You can prove your skills and bravery on the mountainsides of the Alps with a strong rear wheel drive SUV. Your car can be damaged and your driver hurt, if you are not carefully. If your health bar reaches zero, you lose the race on that level. You can control your car's speed with the gas and brake pedals and you can move forward or backward. Pay attention that your car doesn't roll over or get stuck.
39. Labyrinth 2 HD Lite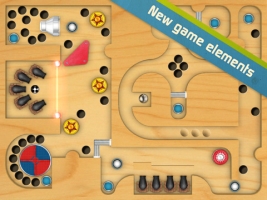 Description
The sequel to the original labyrinth game is available for your iPad, now with new levels fitted perfectly for the bigger screen. Labyrinth 2 HD Lite features include new game elements: Cannons, Bumpers, Multiple balls, Doors, Magnets, Fans, Re-sizers, Merry-Go-Rounds, Duplicators, Lasers and more. Create and play your own levels, browse levels created by the community, compete against yourself with a ghost ball showing your best run.
40. Manic Marble 3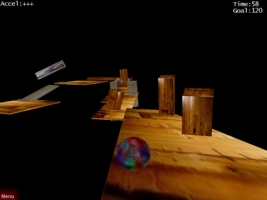 Description
Everything you love about Manic Marble is now on the iPad at 1024×768 resolution! Important Note: Some users have reported feeling "seasick" due to Manic Marble's combination of 3D graphics and motion-based control system. If you should in anyway feel ill during the use of Manic Marble, discontinue play immediately. Manic Marble is back more insane 3D levels! Fly over jumps and dodge moving obstacles by tilting and turning your device. Complete the current level by the goal time to unlock the next one.
41. Drift Mania Championship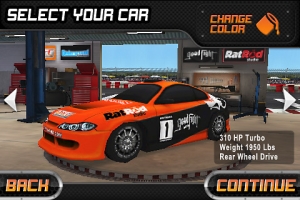 Description
Stunning 3D graphics using the multi-touch capabilities of your device to simulate an authentic drifting experience. Challenge your friends by submitting your high scores for each circuit and expose your achievements to the world. Play often to increase your overall career score and become the next Driftmania world champion. The top 100 positions are displayed on the official Driftmania game website.
42. Meteor Blitz HD Free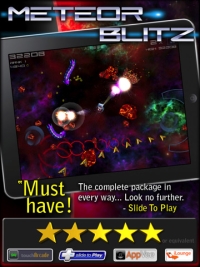 Description
Meteor Blitz has hurtled into the App Store to claim its place atop the mountain of dual-thumb shooters. With responsive controls that are unparalleled in the App Store, Meteor Blitz may well rival its progenitors. Pilot your ship through worlds that will demand the utmost in reaction time and weapon use. With a plasma gun, flamethrower, and ice cannon at your disposal, plus the unique and indispensable gravity gun, gather rings and purchase upgrades to become a formidable threat to any wandering enemy in your range. Compete in Arcade or Survival mode for the high score on our global leader-board that updates in-game, in real-time.
43. Guns'n'Glory FREE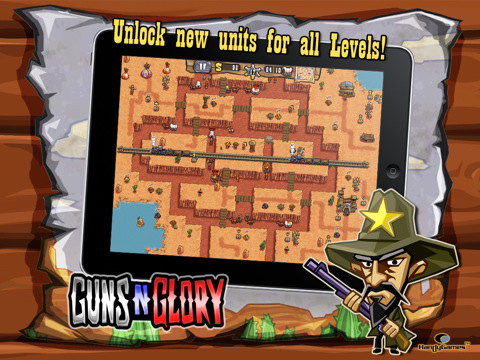 Description
Become the most fearsome and richest leader of all bandits in the Wild West! What would the Wild West have been without its charismatic villains? Boring! So take a walk in the cowboy boots of Billy the Kid, Jesse James or Butch Cassidy to become a real, low-down bad guy! Form your own gang by recruiting cool cowboys, crazy bandits and brave Indians. Take up a smart, strategic position and lie in wait at the canyon to ambush settlers, stagecoaches and the gold train. Rain bullets, lead and flaming arrows down on the pious pioneers! If your victims look like they might escape, set off in pursuit to stop them from alerting the Sheriff! Once you have bagged more than a fistful of dollars, you'll be able to afford cannons and even steam trains fitted with Gatling guns to completely wreak havoc on your victims!
44. Coin Push Frenzy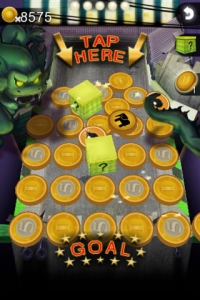 Description
Coin Push Frenzy! Win Gold Coins and Fabulous Prizes! Free Coins! Frenzy! You Won't Be Able To Stop Yourself! The classic quarter-eating arcade game comes to life with real physics, amazing graphics, and non-stop fun. Strategically drop coins on the shelf to force coins and Bonus Boxes forward into the collection area. Avoid the gutters, and push to win awesome power-ups and one-of-a-kind Collectibles! Fill your prize shelves with unique collectibles, and gather whole sets of prizes to unlock new gaming cabinets! Collect powerups that will earn you even more coins that will keep you pushing for more. So whether you buy your coins or earn the old-fashioned way, Coin Push Frenzy is the most addictive game available for the iPhone and iPod Touch!
45. FarmVille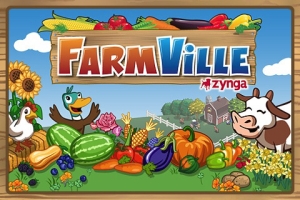 Description
Plow, plant and harvest on the go 24/7! FarmVille, the most popular game on the web, is now available on your iPhone and iPad. Current FarmVille players can access their existing Facebook farm, and new users can create a farm.
45. Doodle Find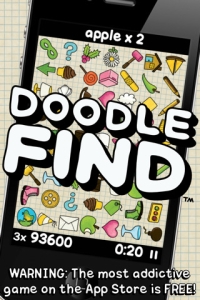 Description
Doodle Find is a social hidden object game. Compete against your friends – and the world – via online leaderboards powered by Facebook Connect. Each game takes only 90 seconds, so it's perfect for a spot of procrastination between tasks, or for when you know your train is just two minutes away. No more miniscule objects hidden in dark corners; instead bright colourful doodles fill the screen practically begging to be discovered. This is a game designed for the iPad from the ground up.
46. Lasers Free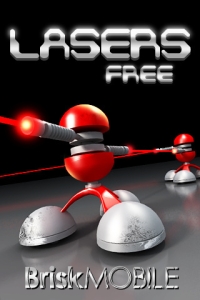 Description
Lasers Free is now the full Lasers game with all 50 levels! Lasers has been an Apple staff favorite and New and Noteworthy in a number of countries. Lasers has also been a Top 10 Puzzle Game in over 13 countries!
47. Trade Nations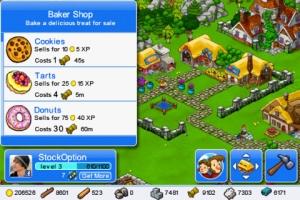 Description
Create your own small village and grow it into a sprawling city in Trade Nations! Harvest raw resources, refine them, and create goods to amass a fortune. Trade goods and services with your friends to grow even faster. With over 14 different jobs for your villagers to perform, you can fine-tune your village to become as efficient and productive as possible.
48. Eden's Quest Free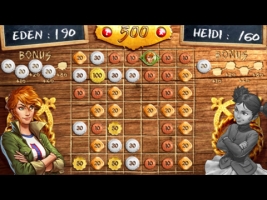 Description
Eden Hunt, a young adventurer, goes on a quest to find the inestimable statue of Akua. To locate the precious treasure, you must help her solve over 100 riddles, open strange locks and master the rules of a mysterious local game… However, Eden is not alone on this alluring treasure quest, and her journey will be filled with traps. This game offers a subtle mixture of adventure and challenges, interspersed with dozens of mini-games. Hidden objects, riddles, Tangram puzzles – discover all the games that make Eden's Quest a truly unique release.
49. Tap Reef HD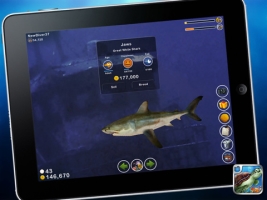 Description
Feast your eyes on Tap Reef by JIRBO, an astonishing 3D social aquatic experience for iPad!
50. Trundle HD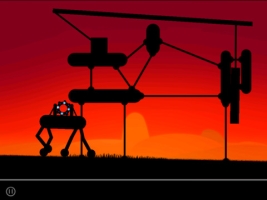 Description
Trundle is an adventure-puzzler that gives player ambient gameplay experiences while they travel different areas of each world solving physical puzzles in order to advance. Each area is beautifully hand-drawn chinese shadow art style landscapes, accompanied by a darkly ambient soundtrack for each world. Players are represented by a simple cog gear that is controlled by the accelerometer and can jump by tapping the screen. You will meet a multitude of creatures inhabiting the lands you explore, most will try to help you in your quest; especially if you give them what they want.. Trundle presents the player with multiple puzzles that often are required for the player to proceed, puzzles are arranged with physical shapes and constraints and sometimes have a few different ways to solve them. You will have to use wits, brains, and the occasional wheeled or legged vehicle… and remember you are yourself a gear an advantage that will prove useful.
51. Shadow Era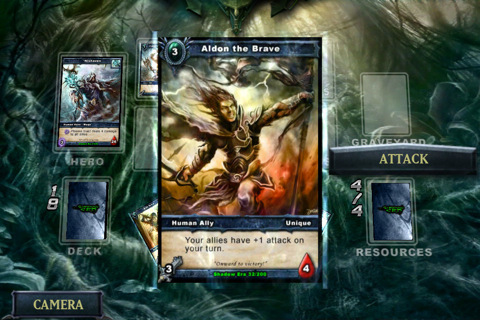 Description
Shadow Era is a full-scale, 'Magic' style, free to play collectible trading card game featuring gorgeous card art and deep strategy, while still being easy to learn and have quick battles on the go. Start your campaign by choosing your Human Hero, and get a free starter deck. Battle with AI opponents or other players to earn more cards, try out new classes, and even play as one of the evil Shadow Heroes. Your progress and cards will be saved on the server and can be accessed from any device or play on the web right in your browser!
52. Legendary Wars Free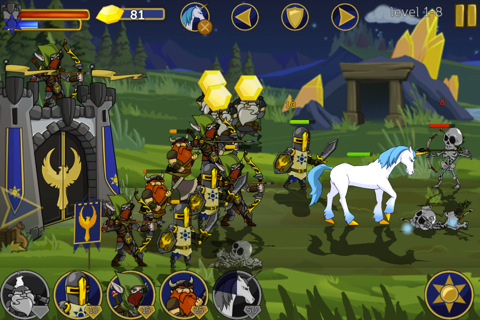 Description
Get ready to build up massive armies with seven unique heroes; including Elven Archers, Hulking Golems, Powerful Wizards, and Magical Unicorns. It falls to you to defeat undead forces of the Netherworld!
53. European War 2 Lite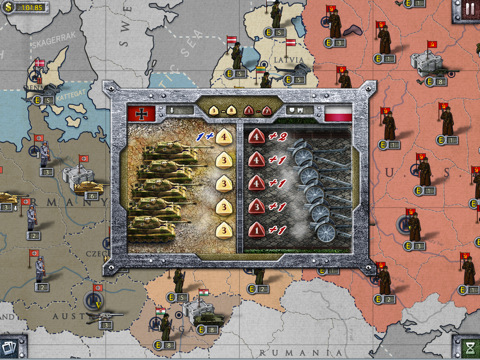 Description
European war 2 is a new style strategy game on the background of WWⅡ(Super Risk).In the game depending on troops you can compete for territories such as lands,cities and oceans,further for resources,develop economy and military,conquer enemies' capitals and destory the enemies.There are 28 European countries including more than 200 land and sea areas,you can choose 12 countries from the Axis Powers and the Allies while enjoying kinds of game modes.
54. Demolition Master HD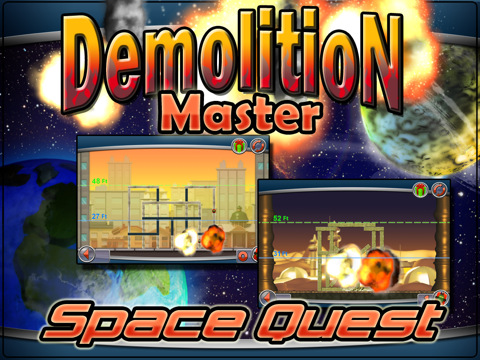 Description
Your goal in each mission is same as before, you need to demolish a construction. Dramatic explosions with vibration, curious locations worldwide together with charming music, adrenaline, and hunger for victory are among the feeling that the Demolition Master will create for you.
55. Carnivores Dinosaur Hunter LE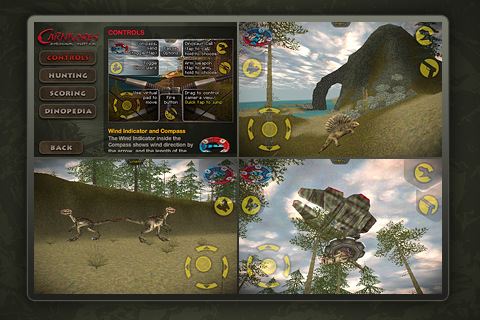 Description
Carnivores: Dinosaur Hunter LE is a free-to-play version of the popular dinosaur hunting game. In the Lite Edition, players can equip themselves with two of six weapons; choose either Tranquilizer or Radar as their hunting accessory; combat five waves of deadly beasts in Survival mode, and hunt two of the ten carnivorous dinosaurs available in the full version.
56. Rhythm Racer 2 HD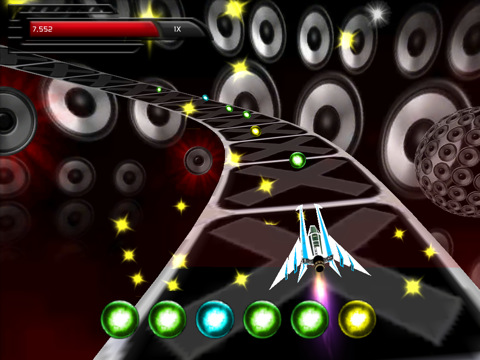 Description
Tilt your device left and right to steer, and ROCK! SUPER FAST racing combined with SUPER AWESOME interactive music!
57. Pocket Legends (3D MMO)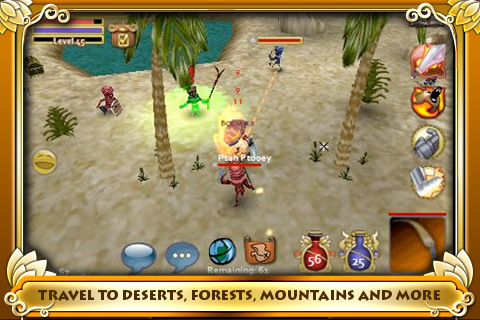 Description
Pocket Legends is a groundbreaking 3D Massively-Multiplayer Online Role Playing Game (MMORPG). In this vast online world, you'll join millions of players from around the world on wild adventures in creepy dungeons, frigid mountain peaks, and steamy swamps.
58. Modern Conflict HD Lite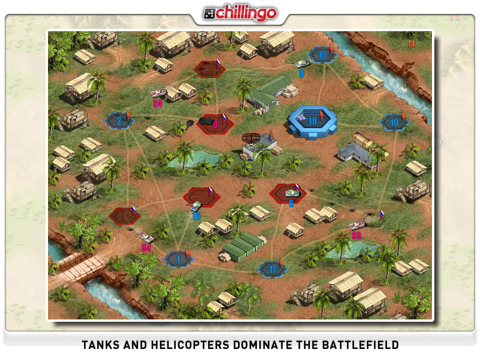 Description
Modern Conflict HD is simple but incredibly addictive. Tap to select units and then tap to send them into battle. Repeat until you win! If you lose, just rethink your strategy and try again. You'll keep coming back as it's so easy to have just one more go!
59. Azkend HD Lite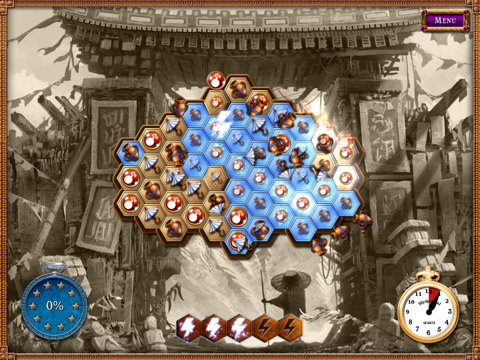 Description
Get a glimpse of the gorgeous visions from the mystical world of Azkend with this Lite version! The reviewers have said it's a puzzle game polished to near perfection and this is the most beautiful version of Azkend to date.
60. Cut The Rope HD Lite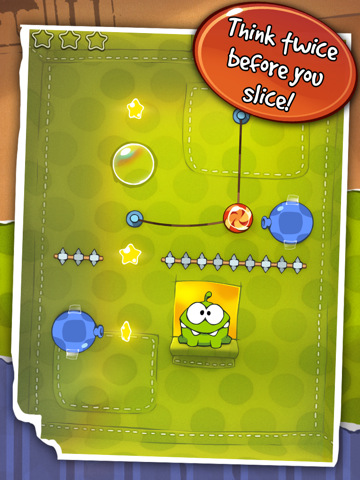 Description
A mysterious package has arrived, and the creature inside has only one request…CANDY! Get a taste of the highly innovative and addictive Cut the Rope. Try out 18 fun levels combining outstanding physics, devilishly tricky levels, and bright colorful visuals, Cut the Rope is one of the most original and fun-filled games on the App Store.
61. Shoot to Kill: Free as Hell

Description
You find yourself trapped inside the bowels of Hell. To escape you must fight off all manner of demons with bullets, lightning bolts and chainsaws as they come for you at an increasingly frenetic pace.
62. Mushroom Fantasy

Description
Mushroom Fantasy is a cool puzzle game. By using drag and drop, align a set of mushrooms (at least three of the same colored mushrooms) vertically or horizontally to make them disappear, play within a specified time and achieve the highest scores. Download
63. Empire Story

Description
Welcome to Empire Story™ where you and your friends can create the empire based on your imagination. Build and decorate your empire with arenas, Colosseum, temples, and wonders. Watch your population skyrocket as you create the most powerful and respected empire.
63. Isaac Newton's Gravity HD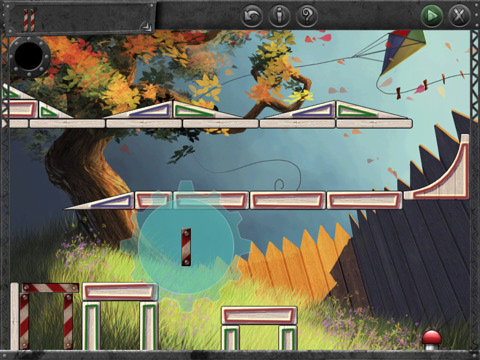 Description
Got Gravity? Challenge yourself with the amazing physics puzzles in Isaac Newton's Gravity HD! Arrange your objects to hit the trigger and win! Make as many attempts as you want, but cleverness and creativity are key.
64. Tilt to Live HD

Description
Would you enjoy unleashing a screaming flock of heat-seeking cluster missiles? A flash-freezing blast of glacial ice? Or transforming into a buzz saw of razor-sharp spikes? Then you're in luck. That stuff is in this game.
65. Aurora Feint 3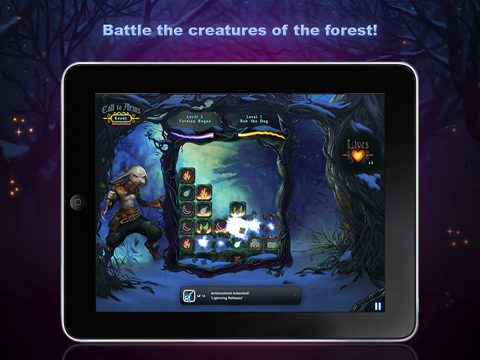 Description
Join the world of Aurora Feint, a series of match-3 puzzle games.
66. SLS AMG HD

Description
The SLS AMG from Mercedes-Benz completely redefines the meaning of a super sports car in terms of speed, driving dynamics and design. Like Michael Schumacher in the testimonial TV spot, the "SLS AMG HD" game allows you to experience unusual drives through different tunnels, even steering the car along the walls or briefly along the roof of the tunnel. The aim is to negotiate each tunnel within a set time in order to qualify for the next tunnel. In the new multi-player mode you can take on other players from all over the world. A showroom, sounds, a gallery, information on technical data and videos in HD quality additionally offer everything you'll ever need to know about this exceptional vehicle.
67. Cliffed: Norm's World XL

Description
Challenge your friends to the most addictive race to the bottom! IUGO presents its latest sensation in casual gaming with this frantic 2D scrolling racer. WARNING: This game will get your heart and fingers racing!
68. New York 3D Rollercoaster Rush HD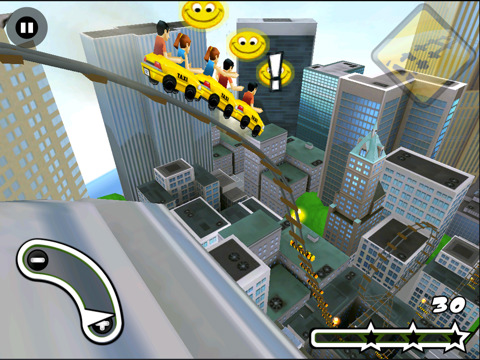 Description
Take a thrilling ride through the city that never sleeps with 3D Rollercoaster Rush NY! All new High Definition graphics exclusively for iPad; experience the thrill on the big screen.
69. Fly Smasher HD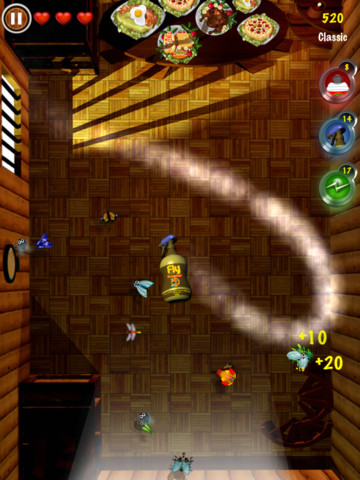 Description
Fly smasher offers you a completely new way of enjoying a game as well as testing your retorting capability. The game consists of mainly 2 kinds of characters that have to be smashed in order to win the game.
70. Super Laser Lite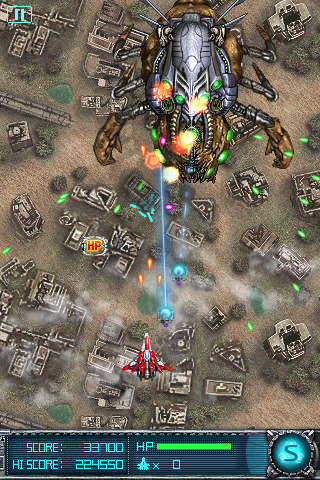 Description
Super Laser is a vertical shooter that recreates the true spirit of classic shooting games like iFighter! In Year 2036, the Earth's population has reduced to only 1.5 billions due to resources shortage and global climate warming. The bizarre climate is somehow suitable for the aliens to move in. These aliens can attach to any organism or machinery to evolve into new forms of life. The Earth has unfortunately become their second home. The human beings must act fast to destroy the aliens before they conquer the whole world. The Earth Alliance secretly sends a fighter equipped with the ultimate and most advanced weapon, called "Super Laser", to the aliens' stronghold…
71. Survival: Alien Invasion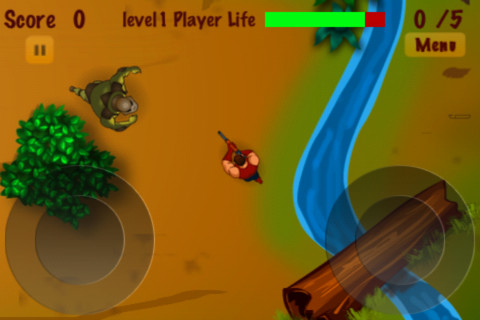 Description
A recent alien invasion has taken place. As one of the few survivors survive as long as you can.
72. Asphalt 6: Adrenaline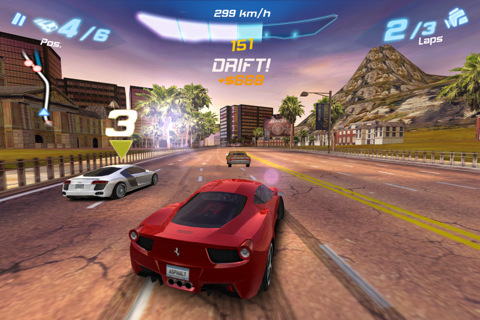 Description
Feel the thrill of racing like never before in the newest adrenaline-pumping edition of the Asphalt series.
73. Swat vs Zombies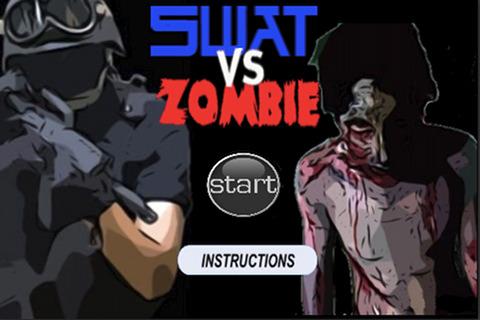 Description
You play as Jeremiah, a top ranked S.W.A.T. member. Your part is last defense! While your other team members complete their tasks, you must keep the zombie hordes at bay. Thus insuring your teams escape once the mission is complete. Reach the helipad in the final level to win.
74. Grand Defense – HD Battle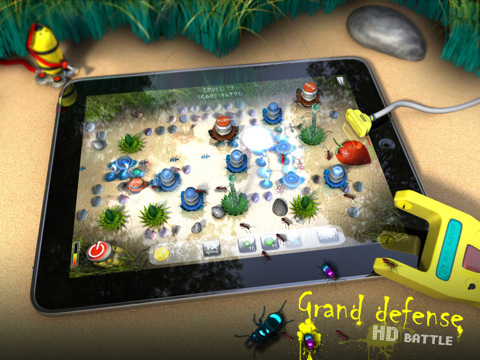 Description
Grand Defense is a free version of Antroad game with some changes and additions.
75. Drag Racing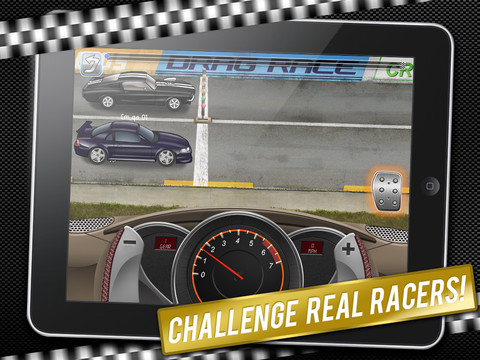 Description
Drive 50+ cars including the hot new 1200 bhp Hennessey Venom GT. Challenge other racers online! Race 1 on 1, drive your opponent's car, or participate in 10-player races in Pro League.
76. Extreme Road Trip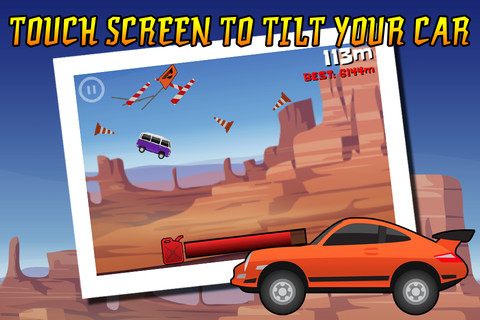 Description
our gas pedal is stuck! Tilt your car to keep it rolling and jumping. Do stunts to get nitro boost so you can do more stunts to get more nitro boost. It's fun, it's fast and it's free…
77. Backgammon – Deluxe HD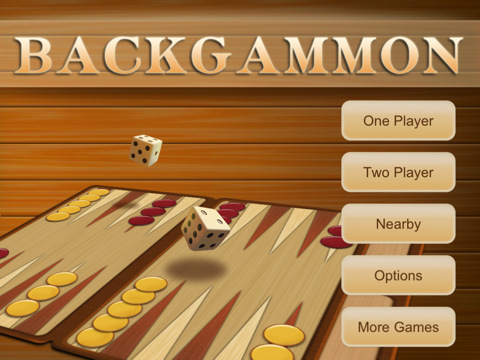 Description
Backgammon is one of the oldest board game for 1 or two players. To roll and move your pieces. The 1 player mode to play with 3 AI computer, 2 player mode to play with your friend on two devices .
78. Epic War TD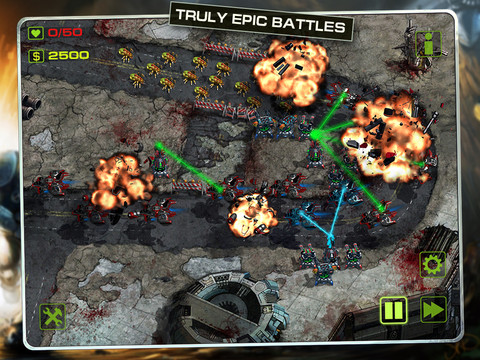 Description
Great Strategy game. FULL HD graphics, endless mode on each level, different types of enemies to annihilate and plenty of challenging levels.
79. Summer Games 3D Lite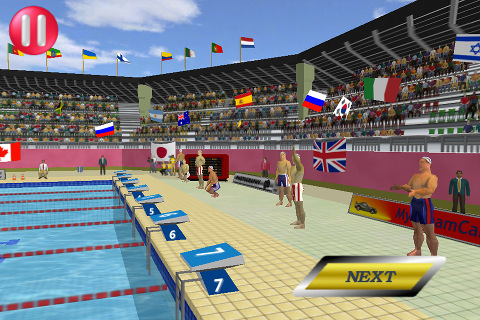 Description
Play Summer Games and challenge yourself with 20 different events.
80. Urban Ninja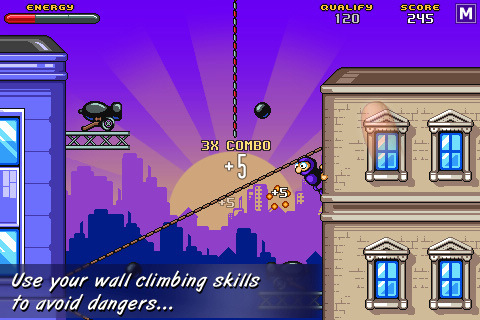 Description
Join Francois in a wall climbing, roof jumping adventure as a secret agent.
81. Flick Kick Football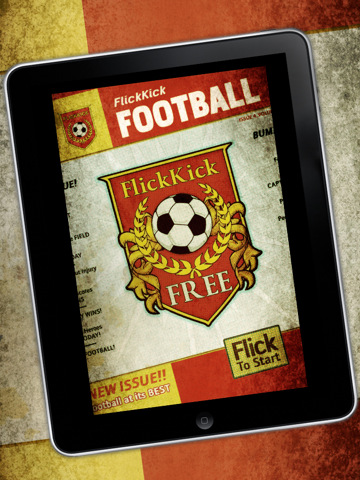 Description
Do you have what it takes to score the winning goal? Can you bend the ball around walls of defenders?
82. Racing Penguin, Flying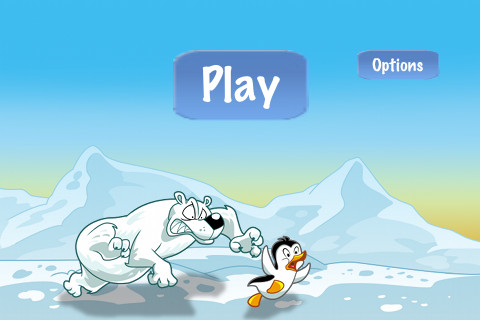 Description
Racing Penguin (or Flying Penguin) is a physics based slide and fly game! Slide down the mountains of Antarctica and flap your wings to fly.
83. Dark Galaxy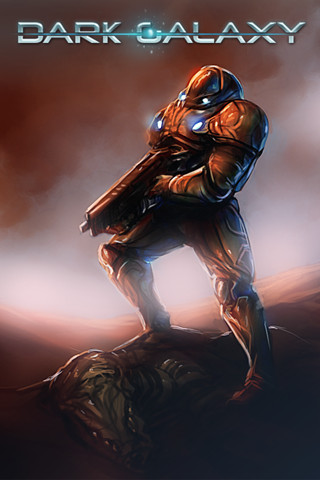 Description
Space: the only frontier. With the Earth's resources all but spent, humans have colonized planets in the outer rims of the galaxy. Divided as ever, they battle endlessly among themselves, each world they inhabit a barren war zone. With alliances broken as quickly as they are formed, it's every man for himself. Do you have the will to conquer the galaxy by any means necessary?
84. Skee-Ball HD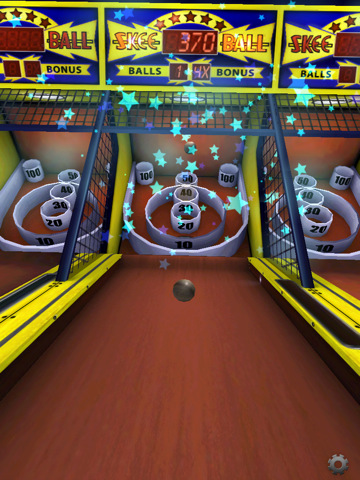 Description
Highly addictive and just as easy to pick up and play as the original, Skee-Ball HD by Graveck and released by Freeverse brings the fun of the boardwalk to life! Realistic, satisfying physics and amazing 3D graphics come to life in HD. With new Prize Packs, bigger loot shelves and new balls, you can experience your favorite App like never before!
85. Words With Friends HD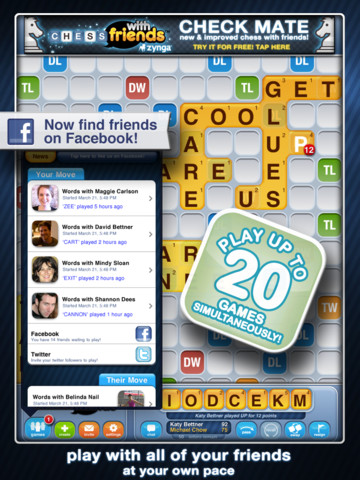 Description
Experience for yourself why more than 20 million people are addicted to the word building, triple score seeking, chat bubble sending goodness of Words With Friends.
86. Unblock Me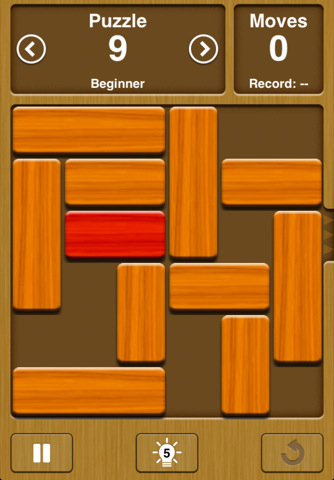 Description
The goal is to get the red block out of the board by sliding the other blocks out of the way. Unblock Me™ FREE comes with 4 difficult levels ranging from Beginner to Expert. There are 4200 puzzles in total worth hours of playing to keep you challenged.
87. Action Buggy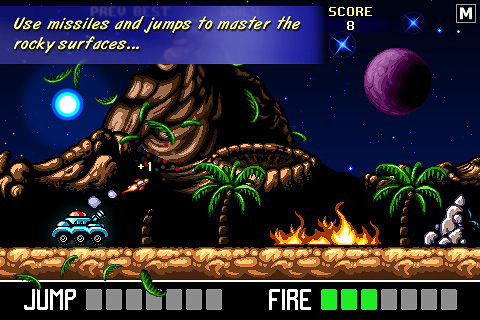 Description
Put yourself in the drivers seat of a moon buggy and MASTER THE ROCKY SURFACES of a distant moon. How far can you go? And what strategy do your prefer… blowing away every obstacle in front of you with your missile launcher, or simply jumping past them?
88. Big Time Gangsta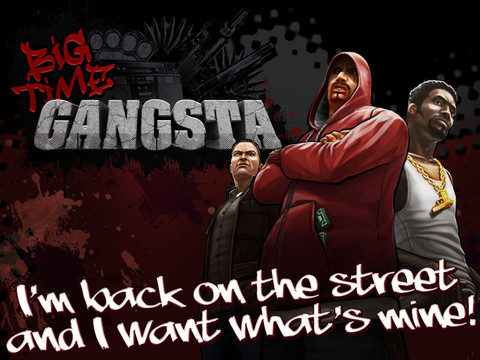 Description
The streets of Mission Hill are as deadly as it gets. Build up your gang from the toughest bunch of STREET SOLDIERS, ex-cons and wanted crooks roaming the blocks. To survive and thrive in these dangerous neighborhoods you need to TAKE OUT RIVAL GANGS before they get to you first. HUSTLING and dealing, SHOOTING and stealing is the only way to take these streets, earn COLD HARD CASH and OWN THE CITY.
89. Eternity Warriors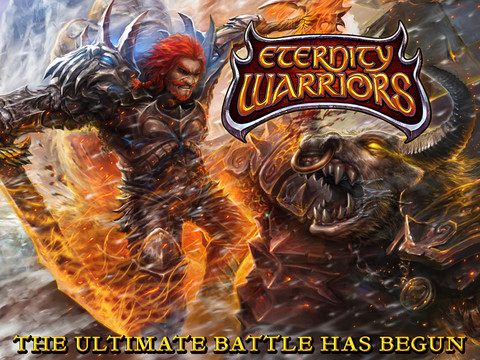 Description
3D fantasy world with fast-paced melee action gameplay: Experience an amazing variety of heavy and light attacks, devastating special moves and powerful combos to take out the hoards of demonic enemies. Magical array of swords, axes, armors and power-ups: To be a truly great warrior you need truly great weapons. Build your inventory with some of the biggest and most insanely powerful weapons imaginable!
90. Glass Tower 2 HD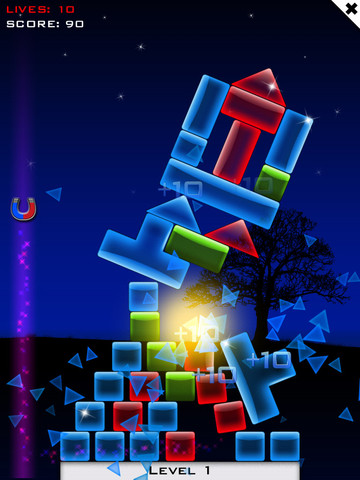 Description
Glass Tower 2 HD is a game with physical collisions and gravity simulation. The tower is constructed of blocks which are different in size, shape and color.Your aim is to break all blue blocks and to save as many red blocks as possible.Blue blocks add a score. Its amount depends on the size of the block. Red blocks subtract your score the same way.Also every broken red block subtract one "life". You have 20 lives at the beginning.Black blocks are undestructible and unmovable. Due to physical-based engine every level can be over in different ways.
91. Motorbike HD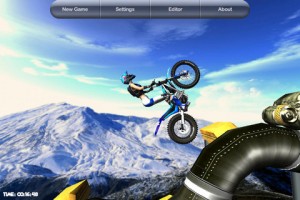 Description
A casual bike skills game full of action and real physics dynamics.
92. Dragon vs Goblins Lite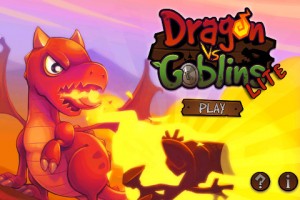 Description
Young angry dragons fighting against bad green goblins for their freedom. Your mission is to help the dragon spit fire balls and destroy all goblins in each level to save him.
93. Operation wow HD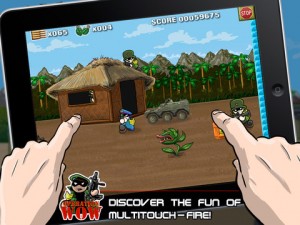 Description
Enjoy the first multi-touch shooter! 25 years later your mission continues. Are your fingers up for fight?
94. Kard Combat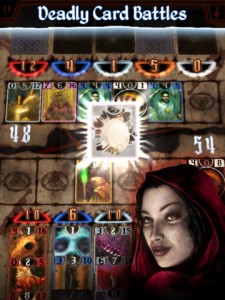 Description
Kard Combat is a FREE single and multiplayer card game where you confront one rival after another in exciting card duels.
95. Dragon vs Goblins Lite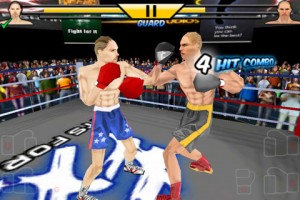 Description
Put gloves on and use his fists to achieve your goal. In Fx3 take the role of different fighters, each fighting for different reasons and giving everything of whether to beat all their opponents.
96. The Sims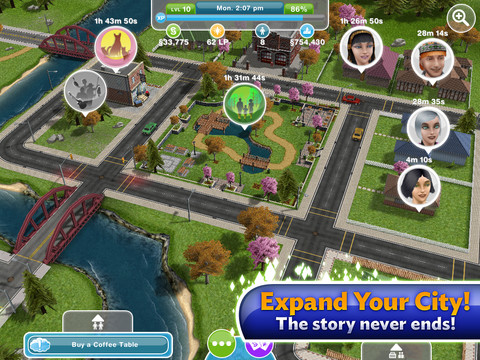 Description
Will your Sims be friends – or enemies? Form relationships with a slap, a high-five (or some Woohoo!). Make your town bustle with pet stores, car dealerships and supermarkets. Expand your city as you get more Sims.
97. Go Karting HD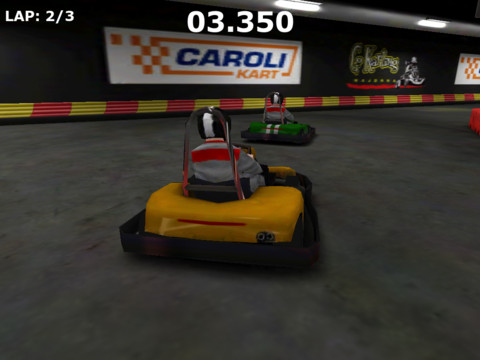 Description
Go Karting offers a taste of an unsurpassed go kart driving experience, on an astonishingly life like model of a real life indoors track.
98. Temple Run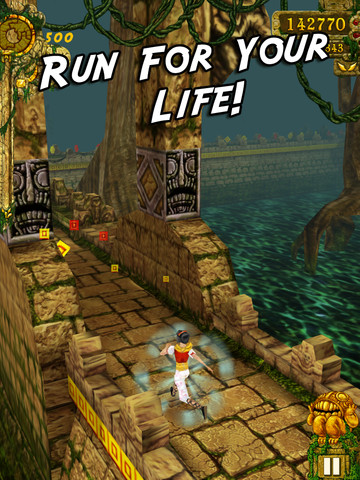 Description
From the makers of the award-winning best-seller Harbor Master comes the most exhilarating running game on the App Store. Test your reflexes as you race down ancient temple walls and along sheer cliffs. Swipe to turn, jump and slide to avoid obstacles, collect coins and buy power ups, and see how far you can run!
99. Angry Gran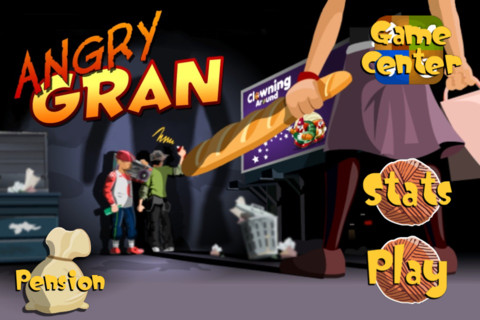 Description
Angry Gran is angry and needs money! Whack your enemies like piñatas until the cash comes flying out.With a plethora of crazy weapons including an inflatable hammer, a baguette and a rubber chicken, madness is sure to ensue.
100. Fruit Ninja HD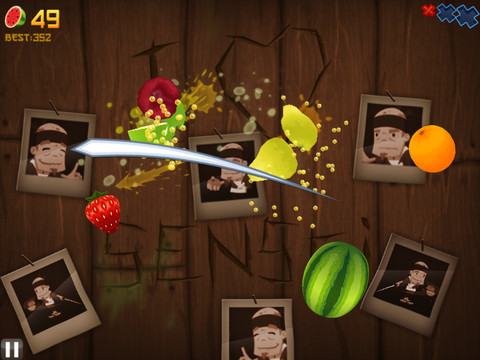 Description
Simply swipe the screen to deliciously slash and splatter fruit like a true ninja warrior – but be careful of bombs, which will put a swift end to your juicy adventure!
101. Virtual Table Tennis HD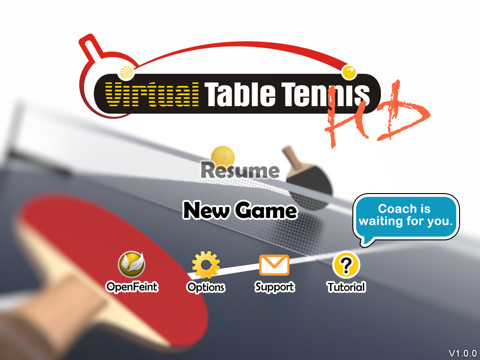 Description
Virtual Table Tennis is the only one based on 3D PHYSICS Table Tennis game series in the App Store. It possesses various behaviors such as reaction, speed, strength, endurance, defense, etc, and provides different kinds of game modes such as Animation tutorials, free practices, Arcade Mode and Tournament Modes, etc. You want to play your own music? No problem! If the game detects that the iTunes is playing music, the game music will close itself automatically.
102. BackStab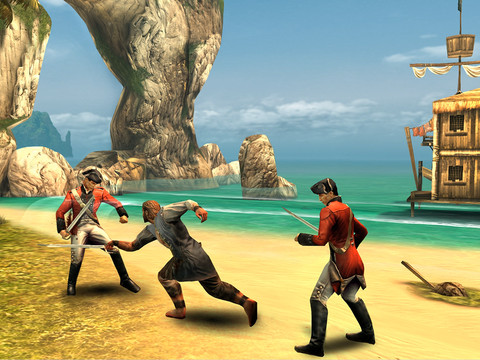 Description
Take on the role of Henry Blake, a broken man whose life was stripped away, and help in his quest for justice and revenge. Climb, jump and sneak your way through diverse settings to reach your target and strike down adversaries. Use your deadly fighting skills and the combo-based combat system to defeat your nemesis and anyone else who gets in your way
103. Big Time Gangsta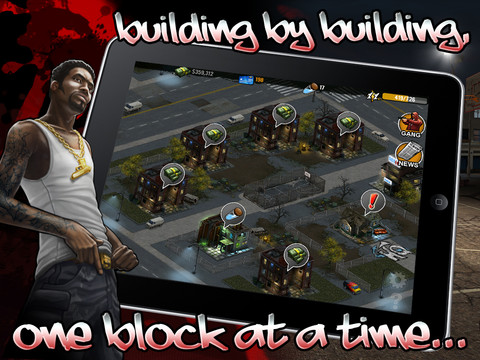 Description
The streets of Mission Hill are as deadly as it gets. Build up your gang from the toughest bunch of STREET SOLDIERS, ex-cons and wanted crooks roaming the blocks. To survive and thrive in these dangerous neighborhoods you need to TAKE OUT RIVAL GANGS before they get to you first. HUSTLING and dealing, SHOOTING and stealing is the only way to take these streets, earn COLD HARD CASH and OWN THE CITY
104. iSays HD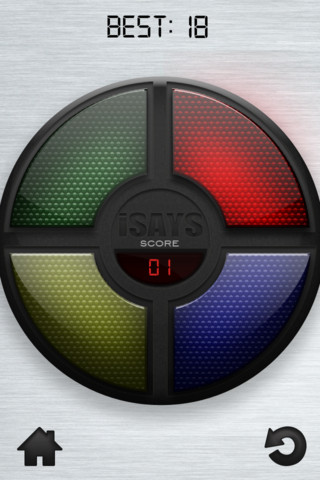 Description
iSays is a game of memory skill.The game has four colored buttons,each producing a particular tone. A round in the game consists of the device lighting up one or more buttons in a random order, after which the player must reproduce that order by pressing the buttons. As the game progresses, the number of buttons to be pressed increases.
105. Flick Tennis: College Wars HD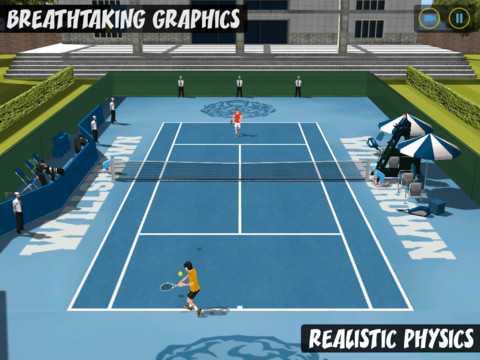 Description
The most realistic tennis simulation with a comic book adventure inside. Breathtaking 3D graphics, hyper-realistic physics and real-life animations takes the game to a whole new level.
106. Toyshop Adventures
Description
Help the shopkeeper find his special marbles and restore balance to this once peaceful toy store! Guide one of the shopkeeper's favorite toys through a variety of playful, platform puzzles. Collect all of the lost marbles, avoid the electrically-charged Nanobots, and discover secret areas hidden deep within the stacks of toys and games. Use
107. Speedway GP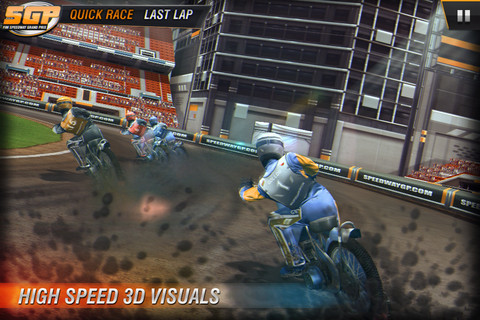 Description
Speedway GP delivers all the action, excitement and death-defying thrills of speedway motorcycle racing! Experience the breakneck adrenaline rush of hitting the dirt track at 80-MPH – with no brakes! but with beautifully detailed 3D visuals and exhilarating realism.
108. Billiards HD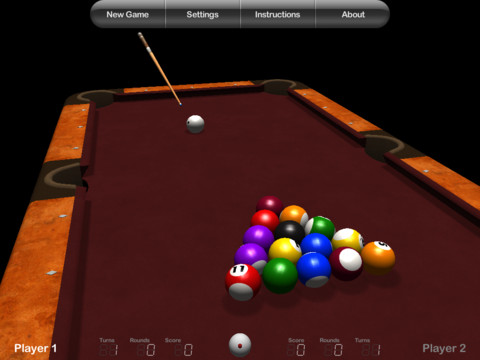 Description
Billiards in High Definition for iPad and Retina based iPhone or iPod Touch. Realistic and very easy to play billiards simulation with five different games. Choose from 9-Ball, 8-Ball, Straight, 3-Balls and Snooker, with customized table and cloth color for each.
109. Icebreaker Hockey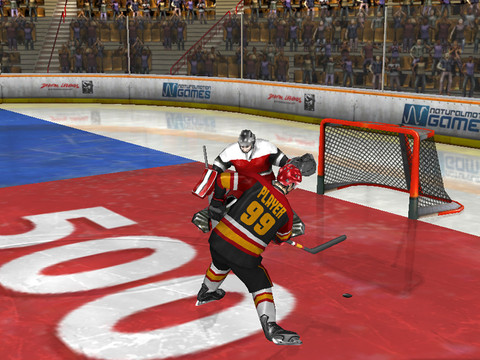 Description
Deke and spin your way towards the goal, dodging and skating past players on a mission to take you down. If you make it through, it's time to face the GOALTENDER: taunt him with your SHOWBOATING skills, and charge up a SUPER-SHOT to show him who's boss!
110. Real Football 2012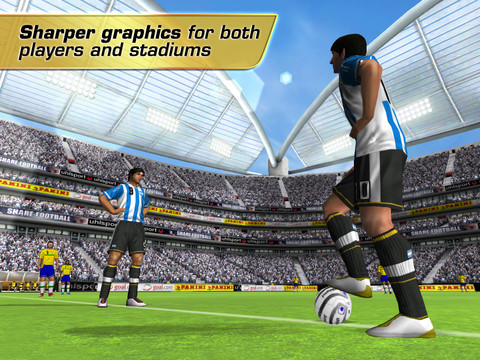 Description
Experience the ultimate football game with thousands of real players, teams and leagues. Create your own custom team jerseys, shorts and more using a detailed editor, then share it with the rest of community, or look for cool designs made by other players and use them yourself.
111. Men vs Machines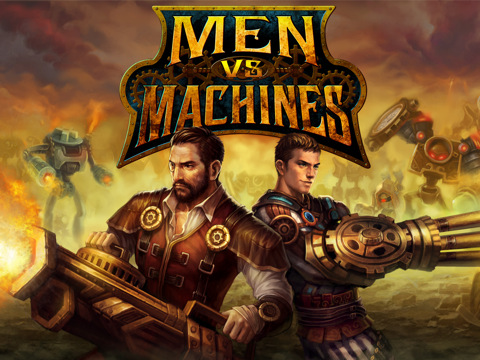 Description
The year is 240AD, but it's an era that we never knew existed. Here you must FIGHT FOR SURVIVAL in a revolution against the vicious robot army G.E.A.R, under the command of the evil dictator Eisenberg. You must fight alongside your fellow man, take down the machines with mechanically-powered weapons and secure humanity's fate.
112. Space Falcon Reloaded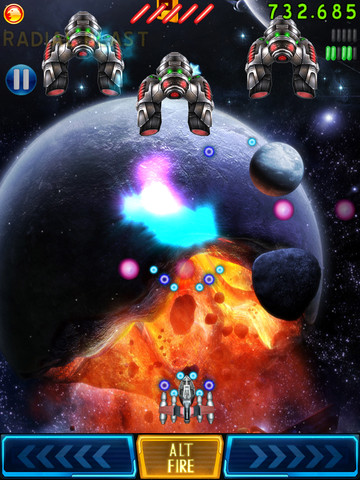 Description
Space Falcon Reloaded is an extraordinary piece of classic arcade symphony of action and sophisticated art of alien spaceships destruction! Get your space fighter ready and smell the gasoline being refueled into your spaceship.
113. Virtual Horse Racing 3D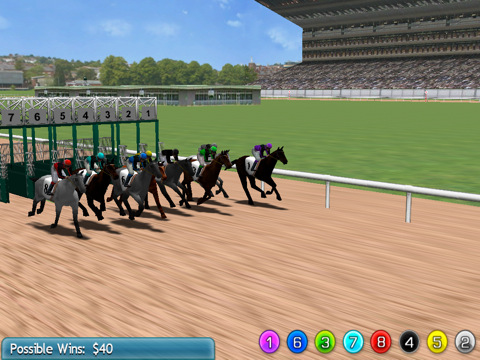 Description
Virtual Horse Racing 3D is the most realistic 3D horse racing game on iPhone, iPod Touch, and iPad. It's easy, exciting, fun, and highly addictive. Challenge yourself and see how much you can win!
114. Music Boom HD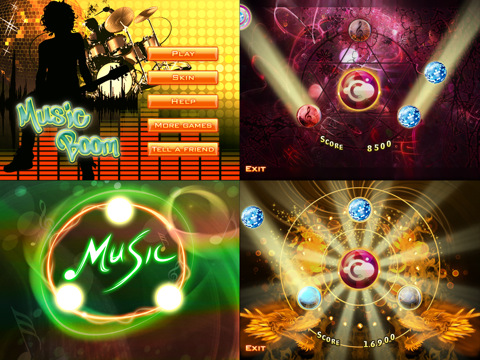 Description
You need to tap the rhythm-points on the screen according to the rhythm-points of music. And you can get extra scores through combo mode or boom mode. The difference from other music games is that you not only tap the screen but also sometimes slide on the screen with the music.
115. XARM F.U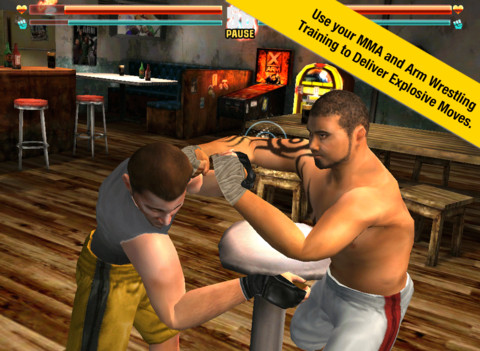 Description
XARM F.U. brings you to the table for "The Roughest 3 Minutes in Sports". Train with coaches who developed the official sport,and compete against athletes who fight in the real world league. Challenge opponents, earn credits and purchase advanced techniques & boosts to put you on top!
116. Pentaballs HD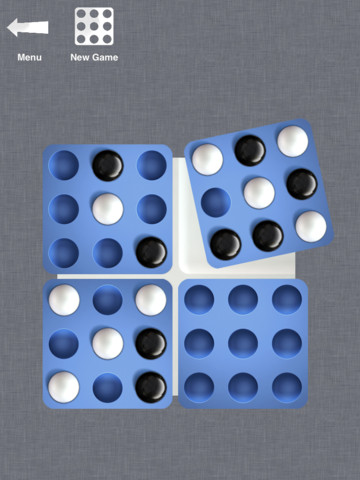 Description
Pentaballs is like noughts and crosses, but it's better! Try to line up 5 marbles of your color while thwarting the plans of your opponent. Each move consists of placing a marble and then twisting one of the four game blocks. Continuous rotation of the blocks changes the game board and the player's tactics. Be careful! Your movements could also be beneficial to your opponent!
117. Egg Punch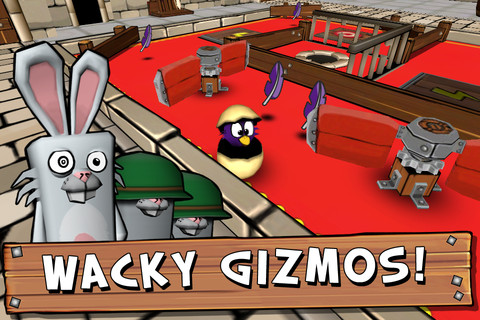 Description
Ack! Your feathers have been stolen by rascally rabbits!Put on your trusty old egg shell and roll out in pursuit of your feathers! Roll your way through a lush, wonderfully crafted 3D world of wacky gizmos, mazes and puzzles to reclaim your feather suit! Rack up big scores! Collect feathers, take shortcuts and bounce of rabbits with as few shots as possible to make the perfect play-through. Earn coins and unlock more levels and neat items to help you out or to dress you up!
118. Road Warrior Racing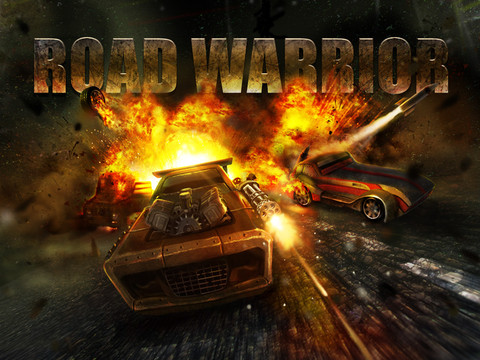 Description
Race against opponents and destroy them with your guns. Everything is allowed, but losing! Gain respect to be able to race against the bosses. Beat them and you will get their cars!
119. The Streetz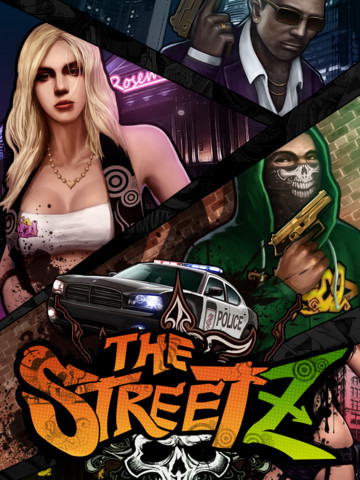 Description
So you want to be a gangsta? These streetz are gonna eat you alive. Your only chance is to start small, claim a corner, and then build up your crew. If you can survive, money, power and women will be yours.
120. Slam Dunk King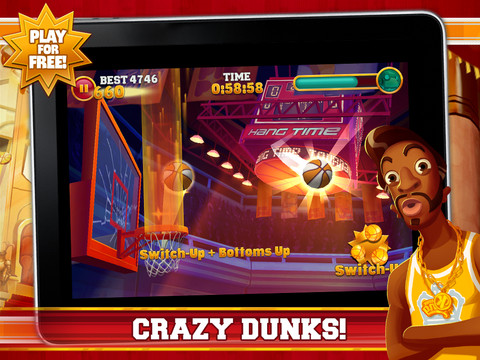 Description
Are you a good enough baller to become the Slam Dunk King?! Show your skills with trick dunks and smooth moves, harness unique mascot powerups, earn those coins and improve your rank! Master and chain together over a dozen tricks to prove you are the best and become the King.
121. RaOne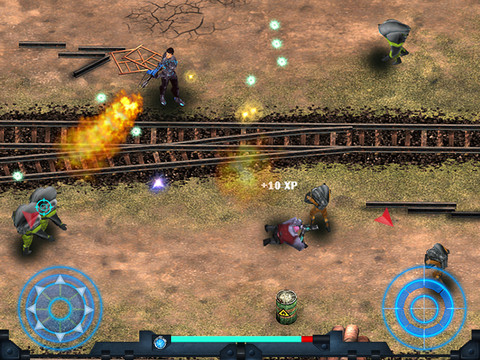 Description
You play as the mighty superhero 'G.One' who will stand to defend the world, against the wrath of a surreal creation, codename 'Ra.One' and his minions, who are all set to bring chaos and destruction.
122. Virtual City Playground HD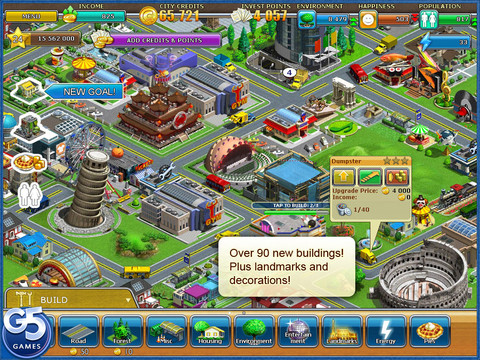 Description
Make even your most ambitious dreams a reality! Build the city of your dreams… and then run it. Build dwelling houses and industrial buildings. Produce goods and deliver them to the shopping malls. Set up mass-transit system to take your citizens to places like parks, cinemas and stadiums. Make your city a better place to live by recycling garbage, adding hospitals and fire stations, planting trees, and upgrading buildings to make them more eco-friendly. Make citizens happier by launching spectacular public events. Achieve balance between key parameters of your success: Time, Income, Environment, Population, and Happiness.
123. Army of Darkness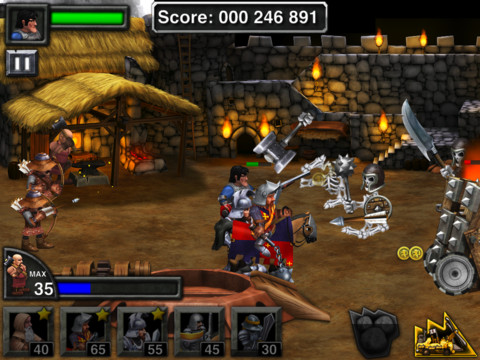 Description
In this tug-of-war, casual defense game based on the MGM classic movie, you play Ash, the time-traveling, evil-fighting, S-Mart sales clerk as you defend Lord Arthur's castle and the Necronomicon from the oncoming hordes of evil undead. Of course, you can't do it alone! Call upon multitudes of allies including Lord Arthur, Duke Henry the Red, the Wiseman, and many more to help you in your quest to defend the unholy book and use it to return to your own time.
124. Gun Bros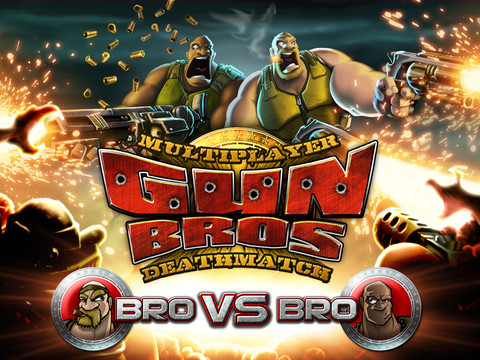 Description
The Freakishly Rugged Advanced Genetics Galactic Enforcement Division (AKA F.R.A.G.G.E.D) specializes in the development and deployment of superhuman special agents. Headed since its formation by the brilliant soldier-turned-scientist Mother Gun, its current roster consists of only two active field operatives, code-named Percy and Francis Gun. Their lifelong mission: to protect the cosmos from the Tyrannical Oppressors of Life known as T.O.O.L.
125. Crimson: Steam Pirates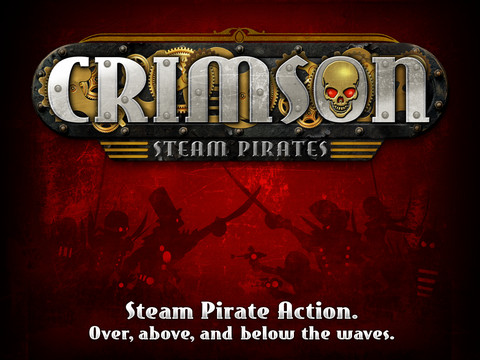 Description
In Crimson: Steam Pirates, plumes of black smoke fill the blue Caribbean sky as Thomas Blood's pirate fleet steams ahead—over, above, and below the waves. On the surface, ships bristle with swivel cannons and lightning guns. Above, zeppelins drip with incendiary bombs. And below, silent and deadly, submarines stalk their targets, torpedoes at the ready. Command your fleet and your Steampunk crew using an elegant action interface. Crimson: Steam Pirate's turn-based gameplay provides an addicting mixture of strategy and action as you anticipate your enemies' moves and counter them, luring them into a deadly hail of weapons fire while uncovering the mystery brewing in the Caribbean.
126. Pilot Winds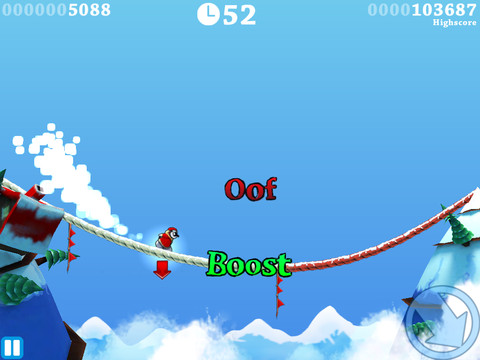 Description
Touch to fall. Fall for speed. Fly for score!
126. NinJump – HD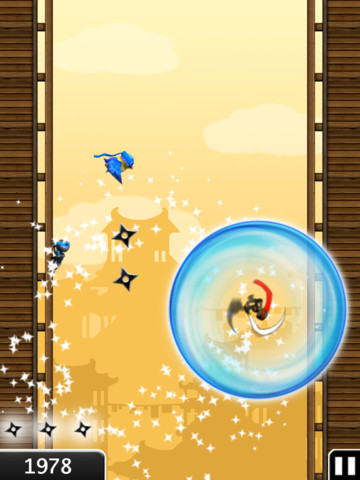 Description
In this fast paced ninja climbing game, your goal is to rise as high as you can while avoiding killer squirrels, angry birds, enemy ninjas, throwing stars and exploding bombs. With a simple tap you can jump from one wall to the other, knocking obstacles from the air as you do. Take down three enemies of the same kind to trigger mega-jump bonuses. Collect shields to plow through your opponents with. Just watch out for ledges and other ninjas because they will knock you off and send you to your doom!
127. TinkerBox HD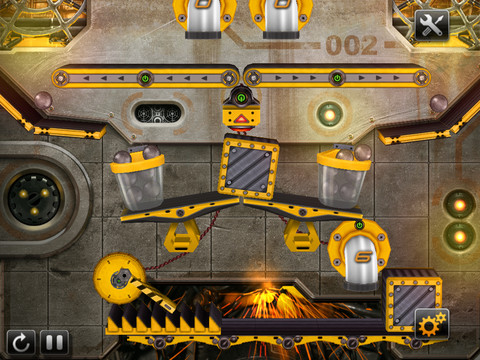 Description
TinkerBox is a fun, free-to-play physics puzzle game. While it is full of interesting science facts and teaches basic engineering concepts, TinkerBox is more than just educational! Take the tools in your hands to explore your creativity and imagination with Invent mode. Build outrageous machines, share them with your friends, or download popular inventions online. Stretch your brain through the devious Puzzle mode. Get immersed in physics-based puzzles and mechanical concepts, where your only hope for success is your creative problem solving.
128. Pinball HD Collection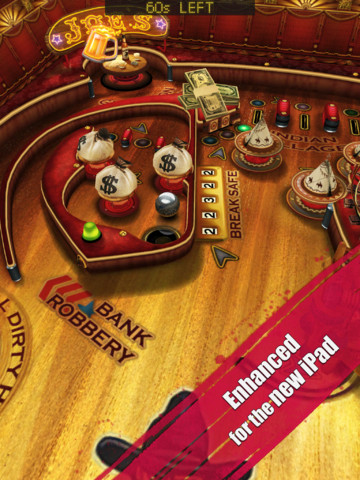 Description
Awesome Pinball collection. Endless hours of virtual fun!
129. Buddy Rush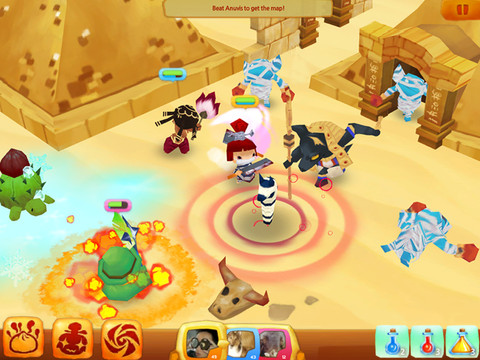 Description
Get ready for the best FREE dungeon crawler ever! Create a character, grab a Buddy (or two) from your friends' character lineup, and go forth on Missions as you thwack ugly Oblins and other creepy-crawlies!
130. Contract Killer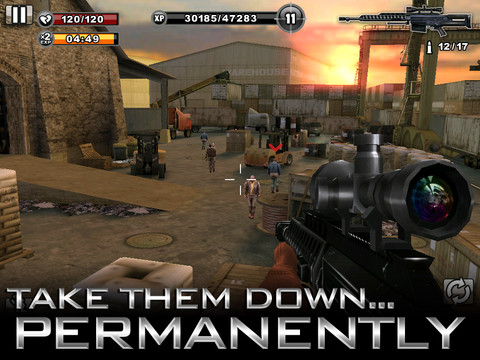 Description
Pulled into a world of bounty hunters, mobsters and criminals, you must check in with your contacts and accept SECRET MISSIONS that only you can handle. Select your WEAPON OF CHOICE from an inventory of sniper rifles, assault rifles and machine guns. Locate your target, zoom in, take aim and GO FOR THE HEADSHOT to earn cold hard cash. You might eliminate a crime boss and escape without being spotted, or you might walk straight into an AMBUSH…
131. Cool Race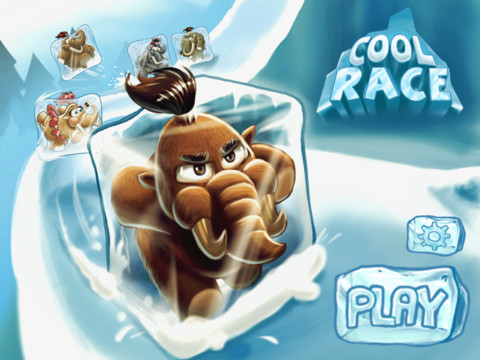 Description
Slide down the snow-covered mountains and try to beat the other mammoths in this simple and fast-paced physics-based game.
132. Frontline Commando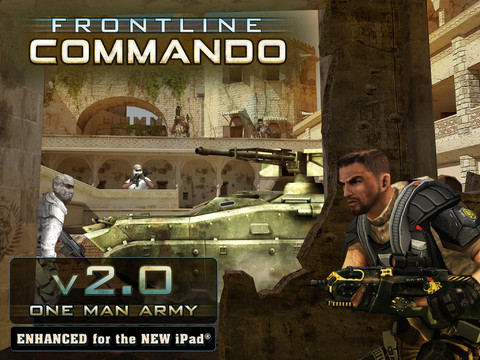 Description
As the sole surviving Commando of a renegade attack against a ruthless dictator, you are stranded on the frontline and hell-bent on payback. You must use all of your specialized skills to survive the onslaught of the enemy forces and avenge your fallen soldiers.
133. The Lord of the Rings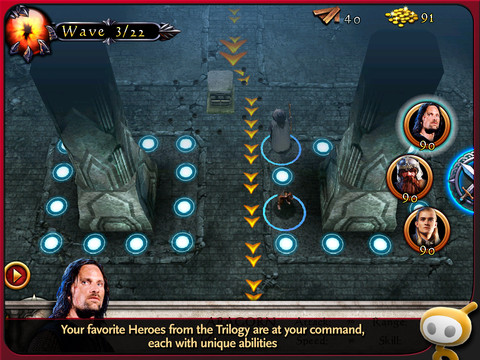 Description
From deep within the dark lands of Mordor, Sauron's power grows. Protect Middle-earth from his advancing ranks in The Lord of the Rings: Middle-earth Defense! Position your Heroes – Aragorn, Gandalf, Legolas and more – and deploy ally units such as Elven Archers or Hobbits to defend strongholds from relentless waves of attacking enemy forces. Upgrade your Heroes to specialize them in one of four categories: speed, attack, range and skill. The battle for Middle-earth has begun — stand and defend against the evil of the Dark Lord Sauron.
134. Cars And Guns 3D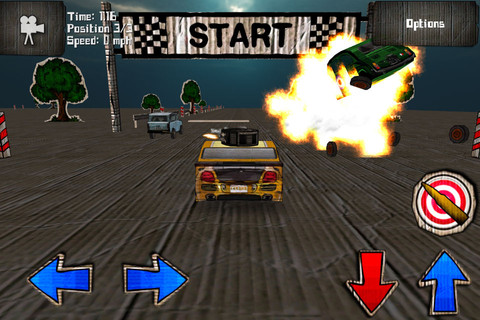 Description
Pure car shooting action in 3D! Try ski jumping, taxi driving, destroying enemies using weapons!
135. NBA 2K12 Lite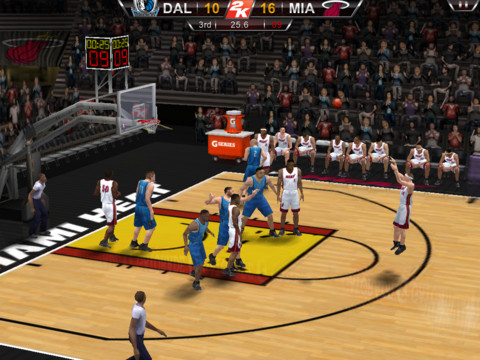 Description
Take the court in NBA 2K12 Lite. Jump into a game as either the Miami Heat or Dallas Mavericks in a rematch of last year's NBA Finals. The highest-rated NBA simulation 11 years running is now available on iOS for the first time ever. Built on the powerful and critically acclaimed NBA 2K engine, NBA 2K12 features stunning graphics and animations, as well as one-touch controls that are more comfortable on iOS and give players direct control of their actions with quick and natural motions.
136. The Dictator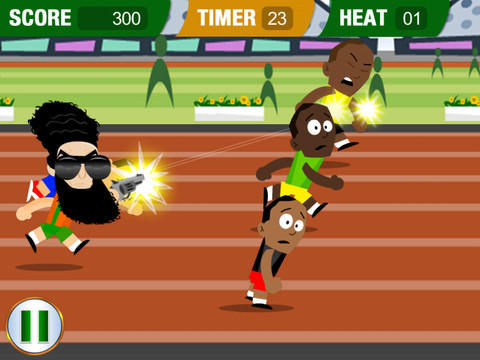 Description
The Dictator lets you step into the shoes of the General Aladeen and compete in his four favorite events – running, swimming, fencing and boxing. You can also upload a headshot and pose alongside the General Aladeen and share the picture on Facebook, Twitter and email! The game also features the ultimate finishing moves for each event. Additional sporting events and backdrops can be unlocked with in-app purchase.
137. TrialX2 Winter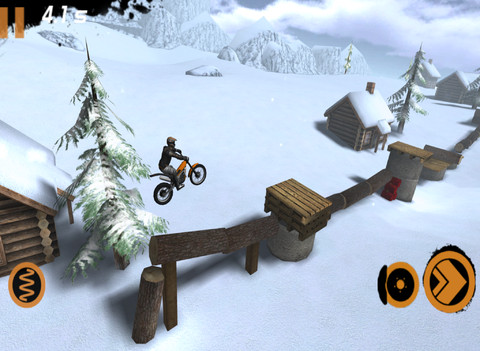 Description
Trial Xtreme Winter edition is the brand new sequel to Trial Xtreme series. Updated with amazing new levels, Improved graphics, realistic physics engine, intuitive tilt-based controls and stars grabbing that tests the user abilities and bike control. "Trial Xtreme Winter" is all about balance, skill and control as you guide your rider across the ramps, jumps, exploding barrels and obstacles and collect the stars in these brilliantly challenging new tracks.
138. Picnic Wars HD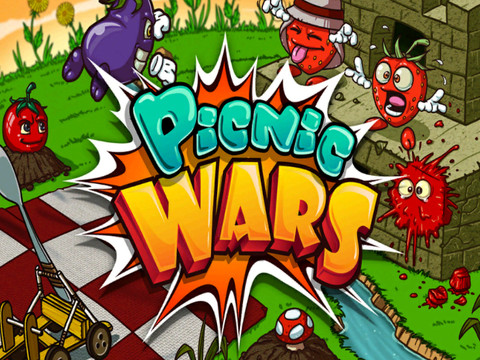 Description
It's a battle as old as time, fruit versus vegetable. Take the role of either edible army in this arcade fort destroying game with an appetising twist. Catapult your fruits or veggies into enemy fortresses and crush their defences to a pulp!
139. Family Feud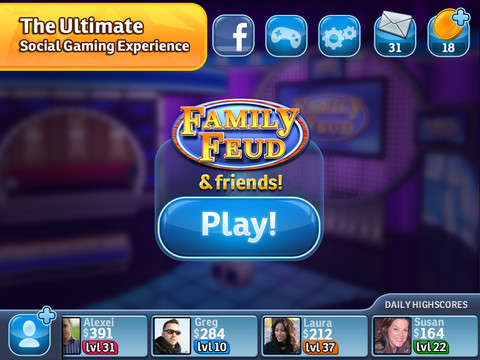 Description
You can now experience exciting Family Feud competition together with Facebook friends and other Family Feud & Friends players as you try to name the most popular answers to survey questions posed to 100 people. Challenge your friends, family, and the larger Family Feud & Friends community, with built-in social features that enhance the game experience for all players.
140. Frisbee Forever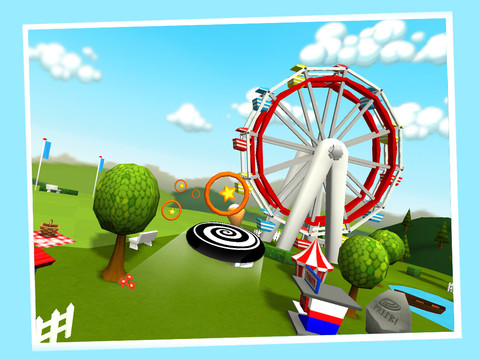 Description
Go wild in the worlds of Frisbee® Forever! An Universal App for iPod Touch, iPhone and iPad with super crisp HD and Retina 3D graphics. Get ready for blast-off. Fly at breathtaking speed across more than 100 crazy tracks. Twist and turn in the California Theme Park, climb the majestic mountains in the Wild West, send the waves blazing in the Pirate filled Caribbean oceans or prance through the snow in the new Winter wonderland. There's a level for everyone!
141. Imbroglio
Description
Welcome to the Ombelico Islands, a magical place where mystical stone cylinders, called Lithos, channel the Elemental Energy and maintain the harmony between Air, Water, Earth and Fire. Everything was fine, until a tsunami ravaged the islands leaving all the Lithos scrambled, thus wreaking havoc on the archipelago. It's up to you to solve this IMBROGLIO and save the Ombelico Island from total obliteration.
142. FlySmacker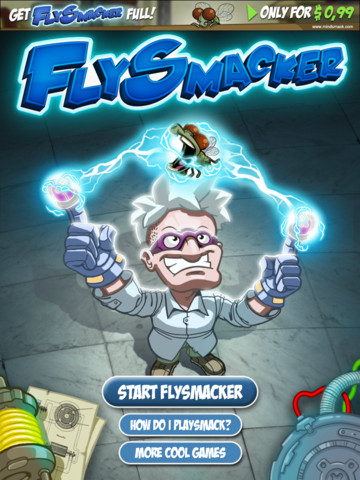 Description
FlySmack it up and kill all of the flies with your powerful electrifying glove and your awesome interactive flyswatter. Win the most amazing virtual trophies ever created and have some laughs by becoming the GREATEST FlySmacker of all time!
143. Tip-Off BasketBall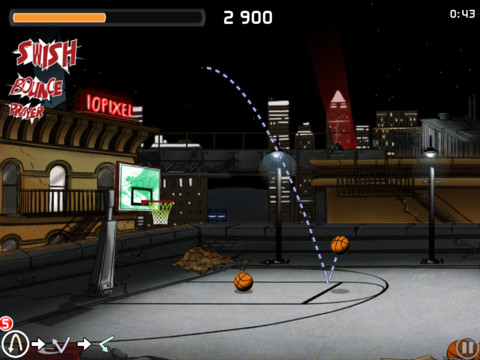 Description
Think you have played basketball games before? Play the most addictive game on the market arcade style with Tip-Off Basketball! Master the game in both career and network modes where you can compete with players from around the world! Are you up for the challenge?
144. Kick the Buddy: Like a Boss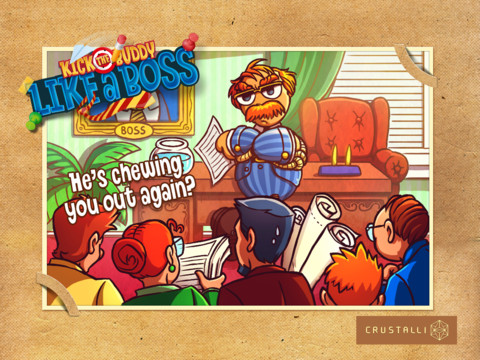 Description
Kick the Buddy™ goes to office! Now you can revenge on the annoying boss! Your arsenal includes all office elements: from a pen to dynamite! Show who is really the top dog here!
145. GTI EDITION 35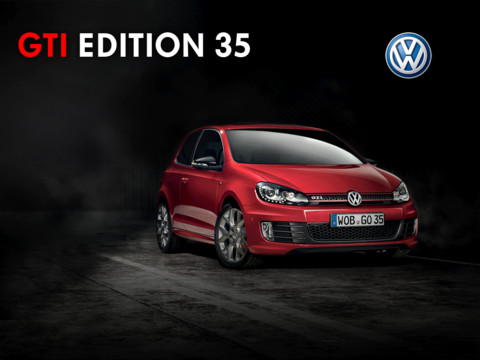 Description
With 7 GTI editions overall, the whole model-range of the Golf GTI and 35 years of GTI history are at your disposal: From the first 1976 edition via models 2-6 all the way to the current 2011 anniversary edition GTI EDITION 35. Experience the unique marrowy character of the GTI that has been writing automobile history for 35 years on various racetracks in career- and one-on-one mode, which mainly lead you through blocked off industrial areas on the outskirts of our cities. Prove your skills in career-mode and finish it with the most powerful GTI ever.
146. Shooting Showdown
Description
The world's first virtual reality shooting range! Match up against your friends, your enemies, or anyone in the world in a head-to-head showdown. Hyper-realistic muzzle flash, bullet tracers, and impact sounds make for a spectacular next-gen experience.
147. DRAKERIDER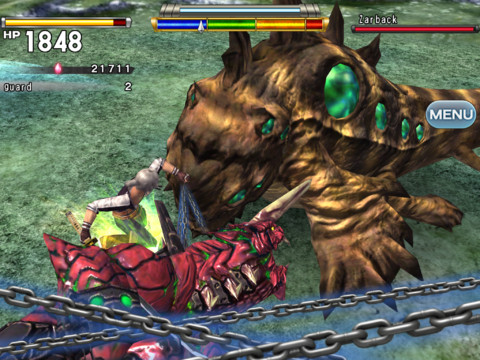 Description
The game lets you take the reins with a battle system like no other. Instead of entering commands, control the chains to execute your strategy. Easing off the reins will allow Eckhardt the freedom to unleash powerful attacks. Too much leeway, however, will trigger his primal instincts, endangering Aran. There are five chapters in total, the first of which may be enjoyed free of charge, so why not delve into an original and finely crafted RPG adventure?
148. Mafia Rush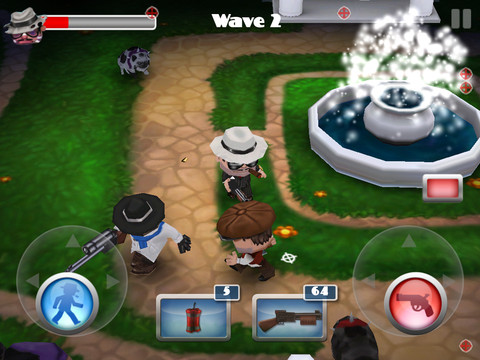 Description
Mafia Rush is the gangster game you have been waiting for. With unique visuals, deep and dynamic gameplay as well as a ton of items and weapons to unlock, Mafia Rush is the Don of the genre.
149. Virtua Tennis Challenge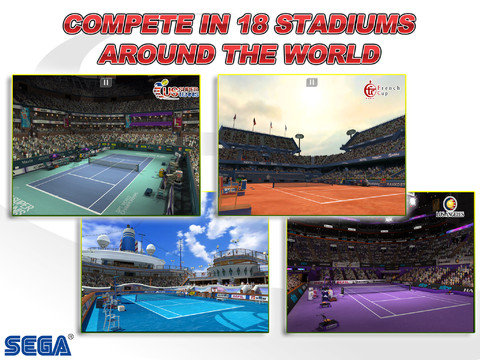 Description
Slice, lob and hit your best top spin as you take on the world's best and compete against 50 players in 18 stadiums around the globe. Build concentration by making plays that match your player's style; unleashing a super shot that will make your opponent sweat. Enjoy hours of game play through different modes, shots and courts.
150. Downhill Xtreme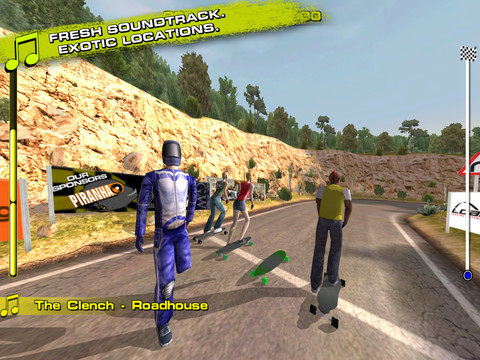 Description
Downhill Xtreme launches you through a whirlwind of exotic locations and sets you against all challengers and the clock in an adrenaline fueled race to the bottom. Speeding through tracks of volatile twists and turns, progress from amateur racer to professional longboarder by conquering new destinations and tougher races, collecting money and prizes along the way. Compete for international leaderboard dominance in Medal Events while going rogue in limited-time Online Events and winner-take-all, renegade style Outlaw Events. From heart-stopping hillsides to scenic slopes, Downhill Xtreme will take you on an electrifying racing experience unlike any other!
151. Weaphones: Firearms Simulator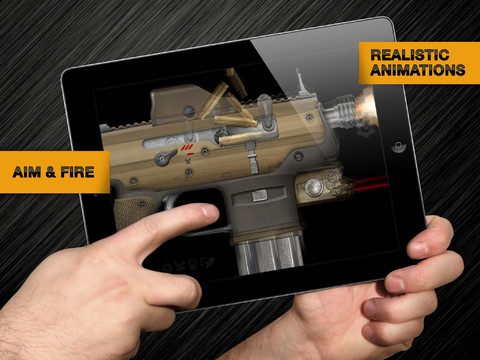 Description
Blurring the line between digital and physical, Weaphones combines the two to create a fully interactive real world experience. Switch off the safety, load the magazine, rack the slide and fire, all without having the cops called on you. Ergonomically designed, Weaphones fit naturally into the shooter's hand. All the important controls are located within a finger's reach. The ability to resize, flip and relocate the Weaphone assures perfect fit no matter the size of hand or screen.
152. London 2012 – Official Olympic Games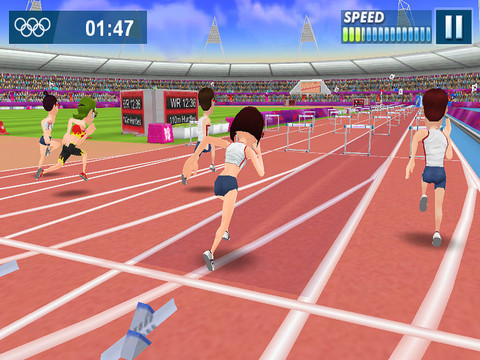 Description
Get ready for the London 2012 Olympic Games, train the ultimate athlete and compete in 9 fast paced events.
153. LEGO Ninjago Spinjitzu Scavenger Hunt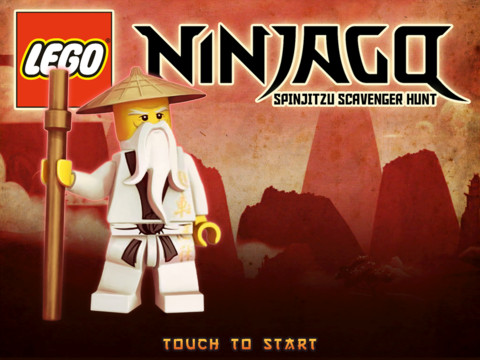 Description
Take the land of Ninjago to go with Ninjago Spinjitzu Scavenger Hunt! Follow Sensei and his ninjas in training (Kai, Cole, Zane and Jay) as they fight to protect the land of Ninjago from Garmadon and his evil skeleton army. Win coins and unlock new gear for your ninja by going on a scavenger hunt to local toy stores to scan real-life Ninjago boxes for weapons, equipment and other ninja essentials. Fight your enemies in hand-to-hand spinjitzu combat! Build your own unique ninja and take him into battle against Garmadon and his henchmen.
154. Agent Dash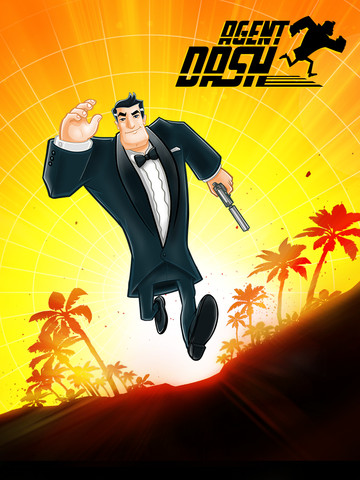 Description
Your mission, if you choose to accept it, is to destroy as many villainous bases as you can! Sprint through gorgeous environments, using secret agent skills to evade every hazard the evil megalomaniacs can throw at you, from laser beams and falling trees to skidding trucks and fiery lava. Use spy gadgets to help you on your way; equip jetpacks, parachutes and even slow down time! When the going gets too tough, call in support from a back-up agent! And when the time comes, draw your weapons and pull the trigger to destroy the base and make your explosive escape as the building crumbles around you.
155. Blood & Glory: Legend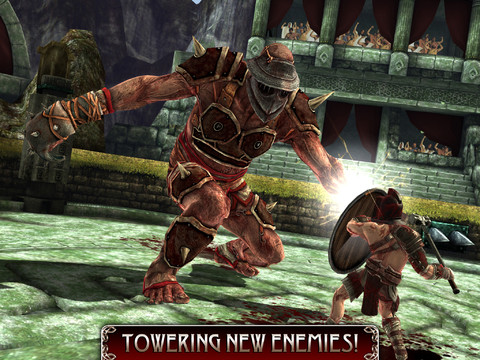 Description
Return to the arena and bask in the blood-hungry cheers of the crowd as you fight to become a LEGEND!
156. Bombshells: Hell's Belles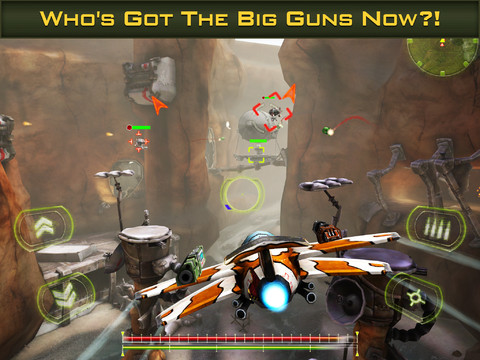 Description
These sexy pilots love fast planes, big guns, and shooting TOOL out of the sky.
157. Greedy Monsters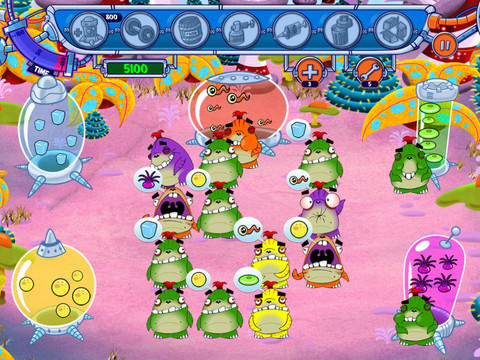 Description
The game starts when little hungry monsters, from a far-far away galaxy with very few resources sail in the search for a new home. The player's mission is to feed the monsters colony and grant them their survival.Those little creatures will be tested very hard, almost everything will happen to them, starting with food shortage, epidemics, pests, problems caused by the hoarding of garbage, high in food prices, over population and other questions which are very common in our planet. They are dead hungry, and they always want to eat more, and more! Greedy monsters requires quick thinking and a lot of focus. At any time a surprise can change the entirely route of your game. Have fun with the wishes of those monsters and make all of them come true. So then they will be able to re-establish their specie in this new planet.
158. Words With Friends HD Free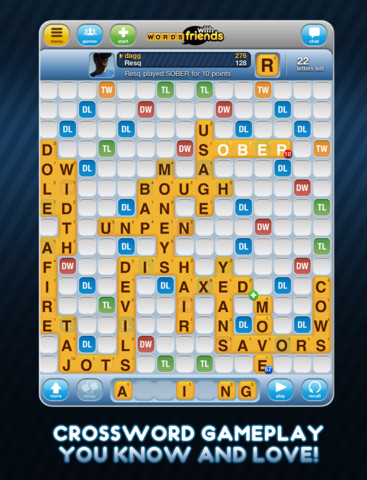 Description
Experience for yourself why more than 20 million people are addicted to the word building, triple score seeking, chat bubble sending goodness of Words With Friends.
159. GT Racing: Motor Academy Free+ HD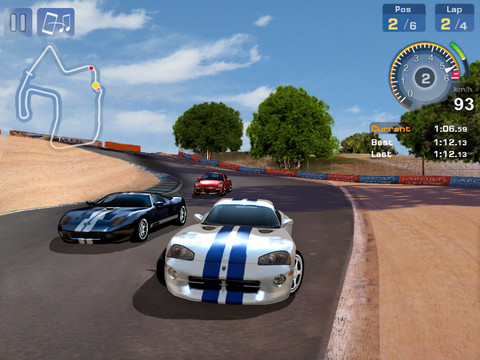 Description
Pass driving tests and win races to progress as you unlock more cars and events with in-game credits and XP. Hours of racing thrills are waiting for you now!
160. Sci-Fi Heroes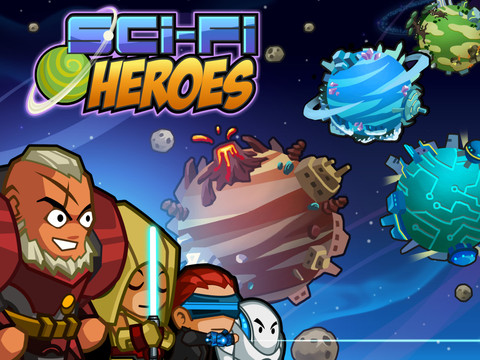 Description
Far in the future… or the past… it doesn't really matter. The point is play as Space Marines, Technomancers, Sentinent Robot Beings and more in SCI-FI HEROES! Face insurmountable odds and take control of these brave SCI-FI underdogs to help restore peace and kick some serious evil Space Horde butt.
161. To-Fu 2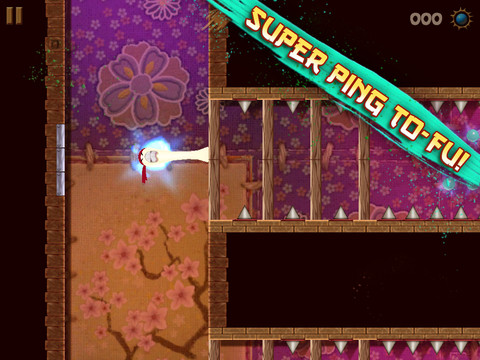 Description
Reunite with To-Fu and harness the power of Chi! Get ready to smash through objects with the all-new Super Ping move and be prepared for many new obstacles and challenges. Ping around corners with 45 degree blocks & ricochet off rebound blocks across 180 all-new, brain-bending levels.
162. Death Dome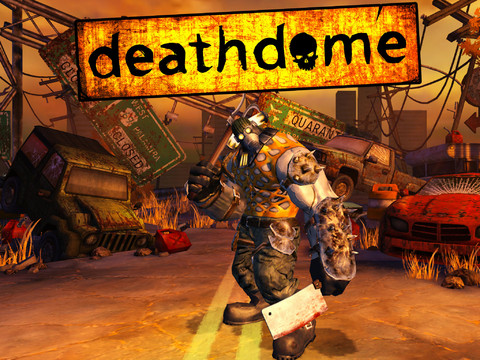 Description
No one really remembers where it all started…but before long…it was everywhere. The "M" virus… Most people who showed symptoms were dead within days…but others weren't so lucky. Mutations were showing up all over the city. The infected were quarantined in a bio-dome force field that encased the city of Palamira. Some called it a "safe zone", but most know it as the Death Dome. The M virus grew stronger inside the Death Dome and eventually became strong enough to live on its own without a host. Strong enough to become…The Behemoths!
163. Baseball Superstars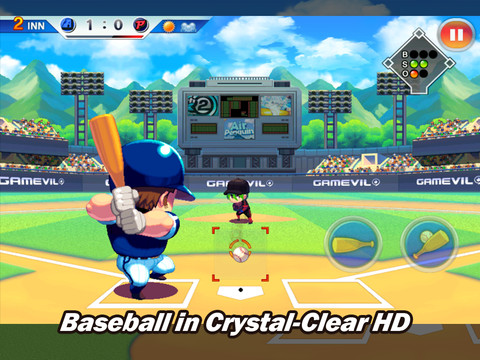 Description
The sky's the limit with level restrictions unlocked, upgraded batting and pitching moves, endless customization, new super players and more play modes. Whether managing a team to the championship or training a rookie to the Hall of Fame, you're in control of it all.
164. Clash of Clans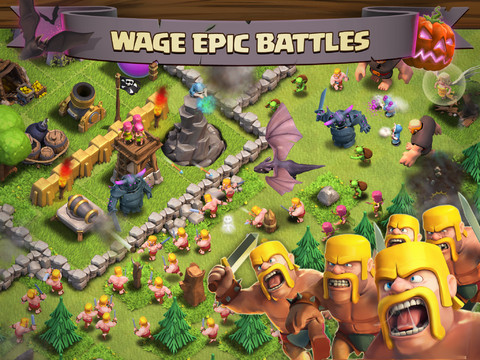 Description
Lead your clan to victory! Clash of Clans is an epic combat strategy game. Build your village, train your troops and battle with thousands of other players online!
165. Six-Guns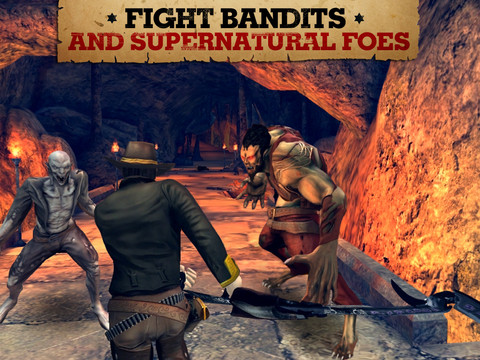 Description
Buck Crosshaw never shot a man who didn't deserve it, but now he's an outlaw who had to fake his own death and escape to Arizona. But in escaping one evil, Buck is about to face another, for an ancient and wicked force stirs in the hills of this mysterious region.
166. Forever Drive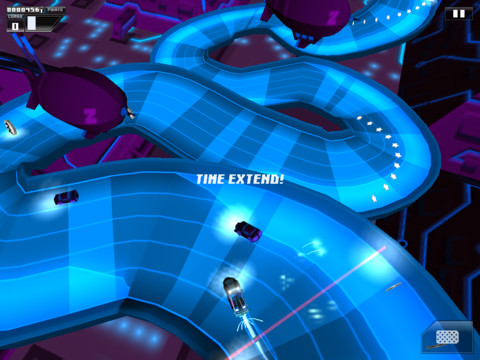 Description
Forever Drive is a racing game set in a beautiful 3D futuristic city made, in part, by YOU. Using the BUILT-IN Track Editor, tracks created by different players are joined together into a never-ending road to drive! Customise your car from a huge selection of paintwork and license plates and prepare to drive as far as you can before the clock runs out! Accumulate miles driven to LEVEL UP and unlock even more cars, each with their own unique handling.
167. Order Up!! To Go
Description
Order Up!! To Go is a delicious blend of frantic kitchen cooking and restaurant empire building. Chop, roll, slice, and dice your way to culinary stardom. Optimized specially for iOS, featuring perfect controls and comic kitchen action, this is one time management game that will keep you busy for hours.
168. Dead Trigger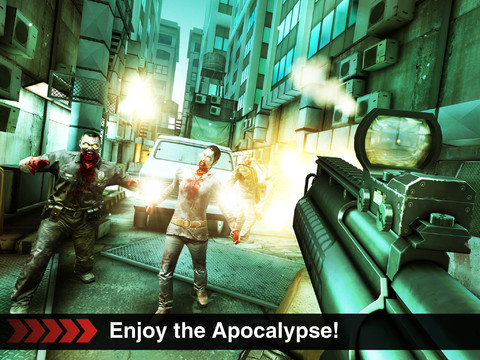 Description
Blast 'em out of existence with lethal weapons, blow them up with powerful explosives, Level up your character and enjoy unlimited random missions.
169. Dungeon Hunter 3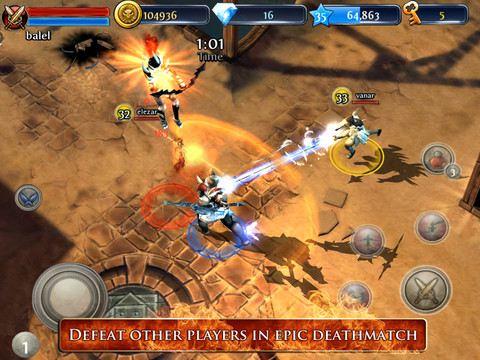 Description
Evil has once again flooded over the sacred land of Gothicus. Face your destiny and enter the endless waltz of battle, victory and glory. 16 massive arenas are waiting for you now. Hero, this is your time to conquer!
170. Spice Bandits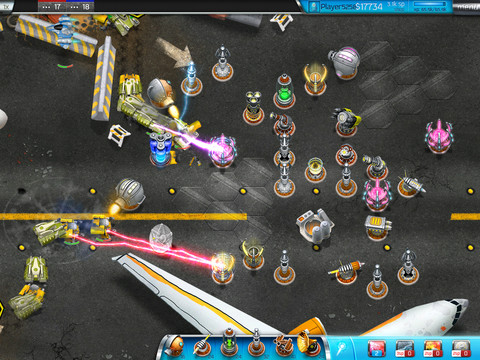 Description
These scurvy space pirates are interested in just one thing…Spice. Spice Bandits puts you in control of the invading pirate force, protect them as they mine the Earth's resources for the precious mineral, Spice. With groundbreaking online multiplayer, drop-dead gorgeous visuals, challenging and addictive gameplay, a huge amount of upgrades and outrageous weapons, Spice Bandits is the next evolution in Tower Defense.
171. MiniBattle HD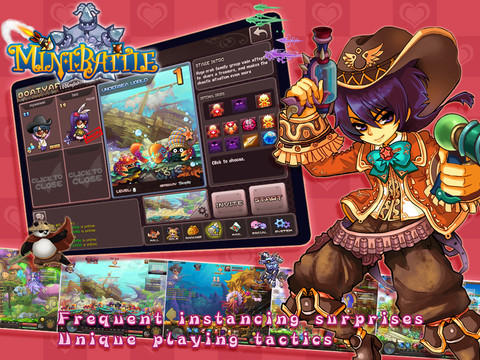 Description
Are you prepared to collect the crystals and save the stuck ones in the complete darkness? Now you have to be well-armed and mathematically shrewd. It's time to step on the expedition for a heroic battle. On the way, who will be the one knocked out or complete success. Come on, our future warrior, the friends and community are expected for your coming for their honorable battle.
172. Endless Road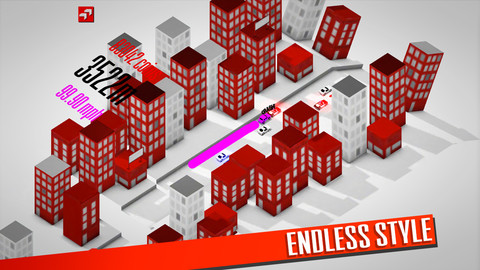 Description
Put your foot down and drive along a unique landscape that builds itself right before your eyes and falls away behind you. Dodge the traffic to keep your speed up and hit chevrons to boost. Explore new areas on each run, use power-ups to clear the way, and drive as far as you possibly can.
173. Pah!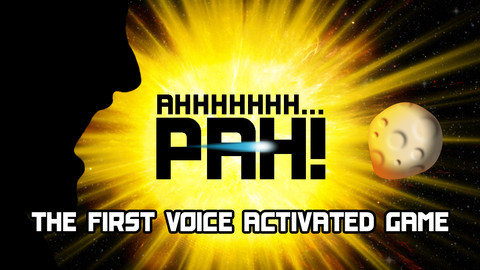 Description
The first VOICE ACTIVATED game on the iPhone. Unlock new screens as you blast rocks. Say Ahhh to control the ship and shout Pah to shoot. Pah! is an excellent game with hours of enjoyment and fun.
174. Magic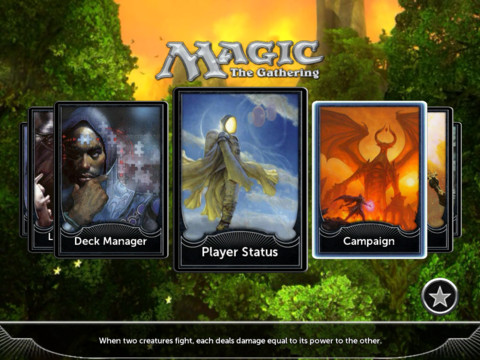 Description
Face a greater challenge with Magic: The Gathering — Duels of the Planeswalkers 2013! Travel across the fantastic plane of Shandalar as you face encounters, and battle powerful Planeswalkers.
175. Real Racing 3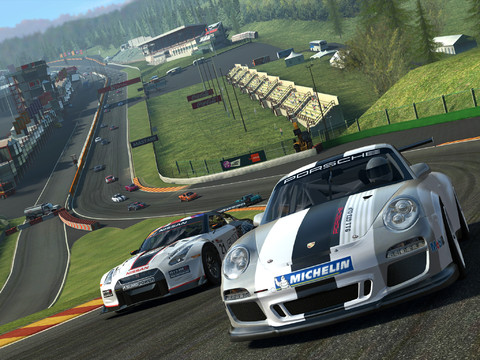 Description
Real Racing 3 sets a new standard for mobile racing games. Trailblazing new features include officially licensed tracks, an expanded 22-car grid, and over 45 meticulously detailed cars from makers like Porsche, Lamborghini, Dodge, Bugatti, and Audi. Plus, racing with friends gets kicked into another dimension with the reality-bending Time Shifted Multiplayer technology.
176. Finger Billiards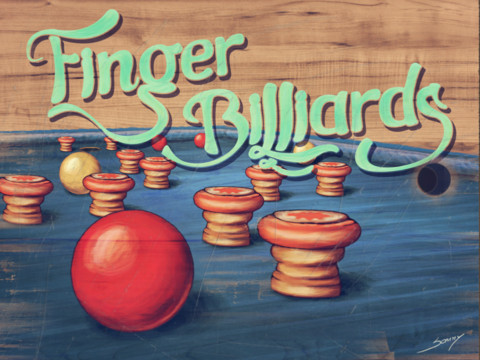 Description
In this 2-player game, specifically developed for iPad, you will experience the true joy of using the multi-touch screen to its fullest: selecting, aiming and pocketing balls as if playing with rubber bands. It's a revolutionary and highly intuitive way to make those shots. And guess what? It comes as a complete game-in-a-box, turning your iPad into the vintage toy you wish you had when you were 12.
177. Sonic Dash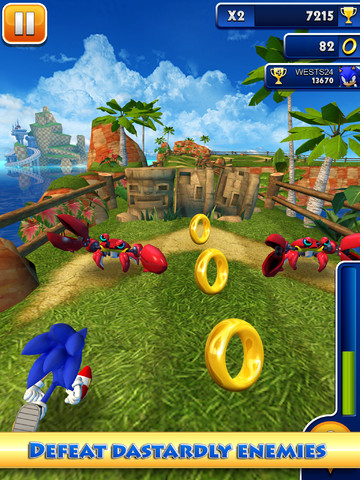 Description
Play as Sonic the Hedgehog as you dash, jump and spin your way across stunning 3D environments. Swipe your way over and under challenging obstacles in this fast and frenzied endless running game.
178. Injustice: Gods Among Us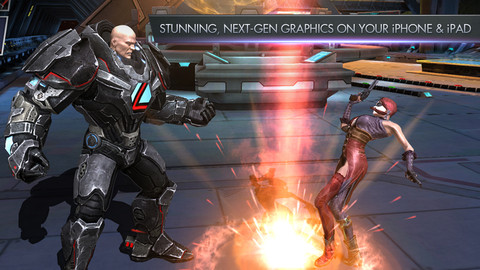 Description
Build an epic roster of DC heroes and villains and get ready for battle in the INJUSTICE: GODS AMONG US mobile game from NetherRealm Studios. INJUSTICE: GODS AMONG US is a free to play collectible card game that allows you to build a roster of playable characters, moves and powers and enter the arena in touch based 3 on 3 combat.
179. Jenny Rabbit – Egg Run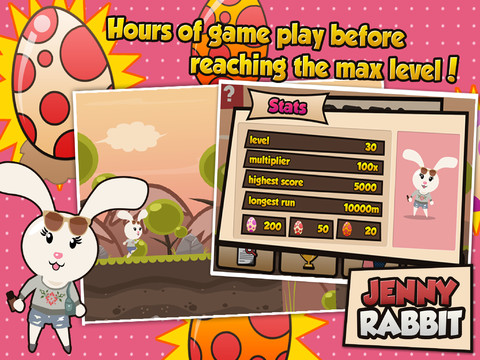 Description
The concept of the game is pretty simple, make the bunny jump and hop by tapping the screen, and avoid all obstacles that get in your way. Don't just hop, double hop to avoid falling from platforms. Get as many eggs as you can and exchange them for stylish clothes. Dress up Jenny – as you gather more Easter eggs, the more clothes will be available for her.
180. Crazy Snowboard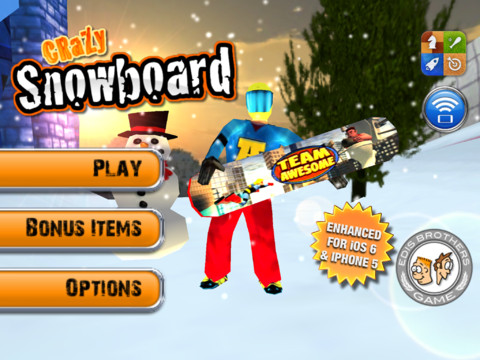 Description
Waiting for a bus? Stuck in line? No matter where you are, now you can hit the slopes! Just fire up Crazy Snowboard, tilt your device left and right to steer and you're there! Ready for some massive airs? Just touch the screen (anywhere) hold down and you'll crouch ready to spring. Release your touch on top of a ramp and you'll get a huge boost. Then link your tricks together to increase your multiplier and score big. How about some grinding? We've got rails, boxes, logs, candycanes (yes, candycanes!) all ready for your grinding pleasure. See how many you can link together to ramp up your bonus multiplier and boost your score.
181. Snoopy's Street Fair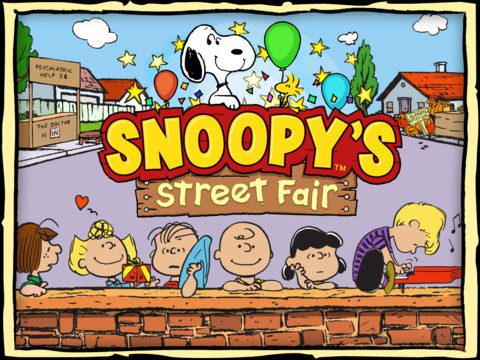 Description
Help Snoopy, Charlie Brown and the entire PEANUTS gang build and organize a street fair! In this taptastic adventure you'll decorate Charlie Brown's neighborhood and fill it with a wealth of wonderful stalls and attractions. Recruit your favorite PEANUTS characters including Sally, Linus and Lucy, just to name a few. While the rest of the gang is busy with the fair, Snoopy brings his own brand of mischief to the game. Depending on Snoopy's costume he'll pounce on piles of leaves, help redesign stalls dressed as Artist Snoopy or, in the case of his Beagle Scout costume, collect marshmallows with his beagle scout troop in tow. Each costume will also unlock a themed minigame including a lemonade making game, a color mixing game and a marshmallow roasting game.
182. Fearless Fighter
Description
Test your reflexes as you race collecting coins and breaking boxes while earning your belt! Swipe to jump and slide. Tap to punch and kick. Avoid obstacle by breaking as many boxes as you can. Experience the Dojo as you train with the Grandmaster and become a black belt. Your success in the game can unlock awesome new backgrounds and prizes! Show off your fearless fighting skills to the world by posting results on Twitter or Facebook. Be a real champion and earn your belt by winning flawlessly. Don't lose, never surrender and always be fearless!
183. RAD Soldiers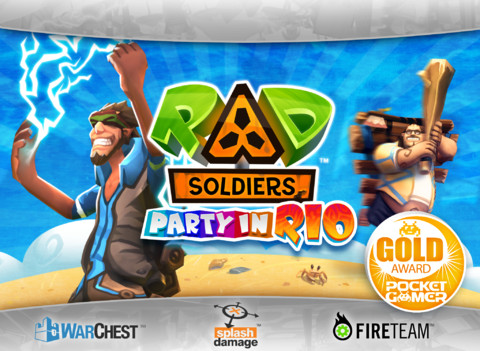 Description
Assemble a squad of fearless soldiers and lead them into explosive, turn-based battles against your friends and single player missions around the globe. Use the outrageous special abilities of your mighty mercs to turn the tide of battle and come up with hilarious new ways to leave your opponents eating your shrapnel/bullets/dust. Level up your squad as you play to master new abilities and use the spoils of war to unlock brand-new soldiers, weapons, and outfits.
184. Space Settlers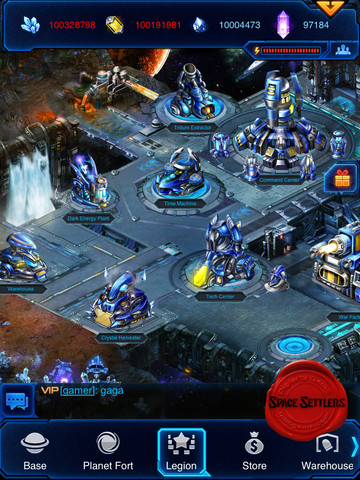 Description
Space Settlers is an online multi-player Sci-Fi game for iOS iPhone iPad, featuring "mecha combat and real-time strategy."
185. Angry Birds Star Wars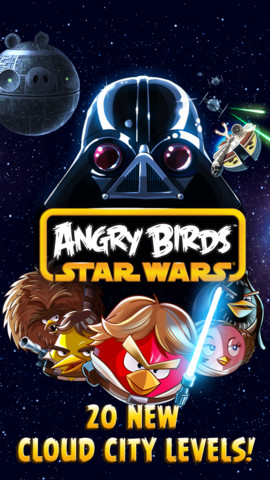 Description
Join an epic adventure with the Angry Birds in the legendary Star Wars universe! Use the Force, wield your lightsaber, and blast away Pigtroopers on an intergalactic journey from the deserts of Tatooine to the depths of the Pig Star — where you'll face off against the terrifying Darth Vader, Dark Lord of the Pigs! Can you become a Jedi Master and restore freedom to the galaxy?
186. Pokoto – The Challenge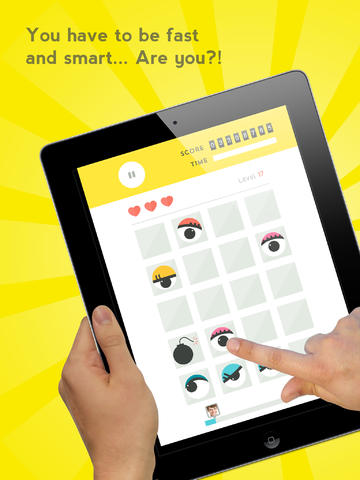 Description
Pokoto is the coolest memory/flash cards' game – do you doubt it? Try it. Focus on the eyes, memorize the patterns and poke them all.
187. Walking Dead: The Game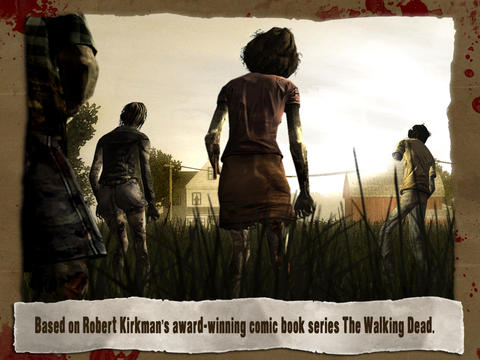 Description
In this brand new story, you are Lee Everett, a man given a second chance at life in a world devastated by the undead. With corpses returning to life and survivors stopping at nothing to maintain their own safety, protecting an orphaned girl named Clementine may offer him redemption in a world gone to hell. Experience a dark, visceral and emotional series where every action and decision you make can result in the story changing around you. This tailored experience means that your story could be very different to that of someone else.
188. Zombie Killer Squad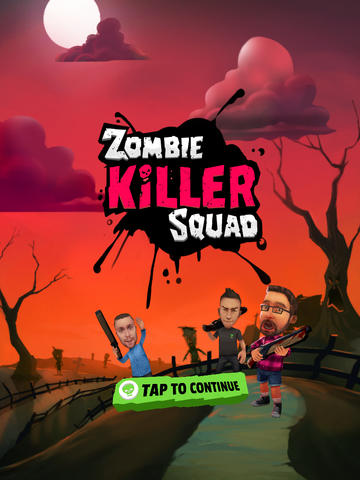 Description
Zombie Killer Squad is a fast-paced, heart-racing endless runner mobile game brought to you by two of your favorite zombie killing stars, Syndicate & Seananners. Join them in this Free-to-Play game as they dash through brain-eating zombies, guns blazing.
189. Infinity Blade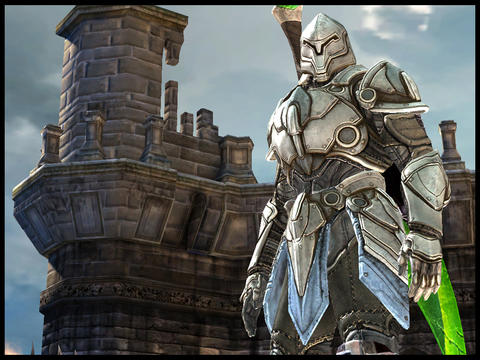 Description
For untold ages, the God King has ruled with an iron fist – his power is incalculable; his followers, legion. Now you must journey to the Dark Citadel to battle his Titans, one by one, until you face the tyrant himself. As it has been for all in your bloodline, this is your birthright – to free your people from an endless legacy of darkness. The immortal can be vanquished – but only if heart, mind, and steel are one.
190. Candy Crush Saga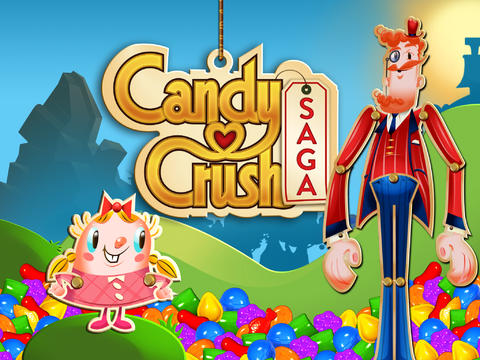 Description
Switch and match your way through more than 400 levels in this delicious and addictive puzzle adventure. Ain't it the sweetest game ever?
191. Chicken Boy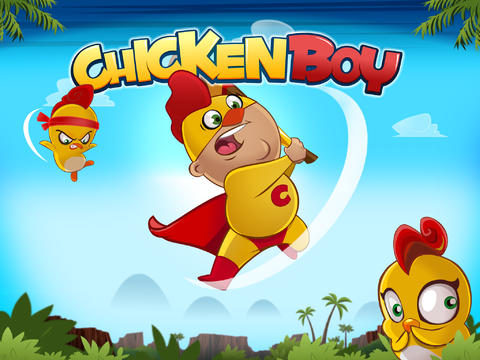 Description
Chicken Boy is a fast paced action game introducing the ever vigilant, slightly overweight hero the world's been waiting for. Fend off waves of enemies across space and time. Swing your bat with intuitive touch controls and save your chicks!
192. Angry Birds Go!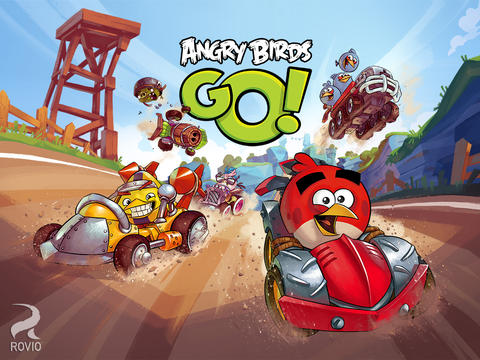 Description
Welcome to downhill racing on Piggy Island! Feel the rush as you fling those freewheeling birds and piggies down the track at breakneck speed – with plenty of twists and turns in a thrilling race to the finish line! But beware! Look out for hazardous roads, mischievous opponents riding your tail and special powers to put the race leader behind the pack. Plus, go from soapbox car to supercar by upgrading your ride! Ready…Set…Angry Birds Go!
193. Clumsy Ninja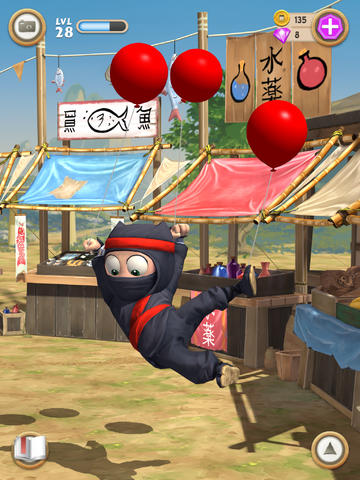 Description
Clumsy Ninja is the next generation of interactive characters! He can sense, feel, move, and react uniquely every time. Prepare to be amazed…oh, and please take good care of him! Train him, throw him, tickle him, and even tie balloons to him. Everything you do will make Clumsy Ninja more skillful, and help him find his missing friend, Kira.
193. Flow Free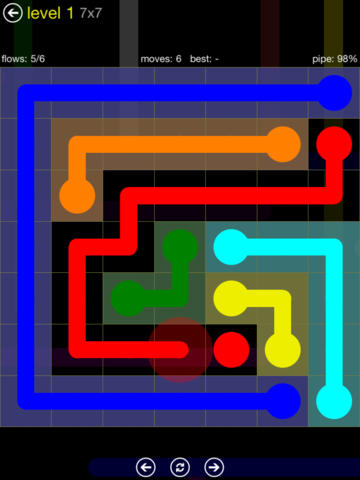 Description
Flow Free is a simple yet addictive puzzle game. Connect matching colors with pipe to create a flow. Pair all colors, and cover the entire board to solve each puzzle. But watch out, pipes will break if they cross or overlap!
194. Where's My Water? 2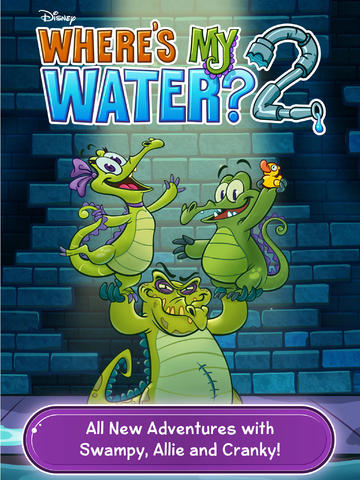 Description
Get ready to join Swampy, Allie, and Cranky on their NEXT exciting adventure! The sequel to the most addicting physics-based puzzler from Disney has finally arrived. Where's My Water? 2 launches with three brand new locations including the Sewer, the Soap Factory, the Beach. Best of all, the puzzles are all free! Cut through dirt, and guide fresh water, purple water, and steam to help Swampy and his friends!
195. Hero Academy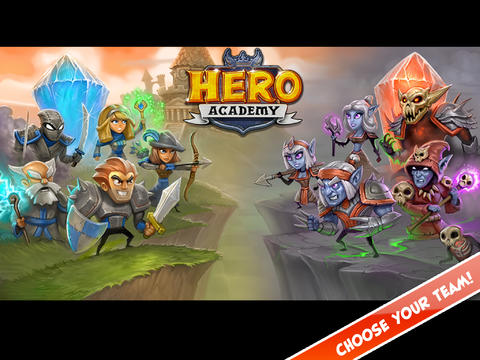 Description
Enter a world of swords and magic, and challenge friends old and new to a contest of tactics and skill. From the human Council to the mysterious Dark Elves, every team needs a fearless captain to lead them to victory. Only those that leverage their team's strengths and capitalize on their opponent's weaknesses will protect their crystal and win the day. The Academy extends a warm welcome to all – whether they're already heroes, or simply heroes in training!
196. Trial Xtreme 3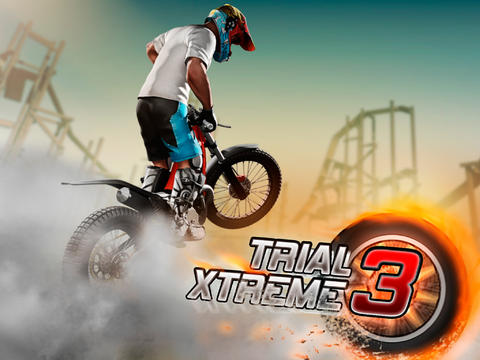 Description
Trial Xtreme 3, will take your breath away with its new innovations and amazing features. Tackle 112 completely original courses, fighting your friends for the race, win while carefully controlling your bike to ensure that you don't fall victim to one of the many hundreds of mines, water pipes, or wrecked cars that are standing in your way. Race against your friends and the world top Trials bikers head to head, shoulder to shoulder to prove to everyone what we already know- That you are #1! the best Trial Xtremist out there!
197. Jetpack Joyride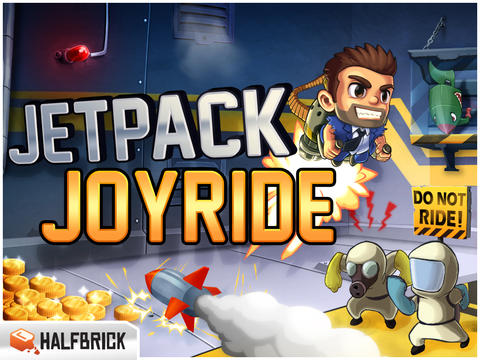 Description
Suit up with a selection of the coolest jetpacks ever made and take to the skies as Barry Steakfries, the lovable hero on a one-way trip to adventure! From the creators of the worldwide phenomenon Fruit Ninja comes the action-packed Jetpack Joyride, Halfbrick's most anticipated iPhone game ever!
198. CSR Racing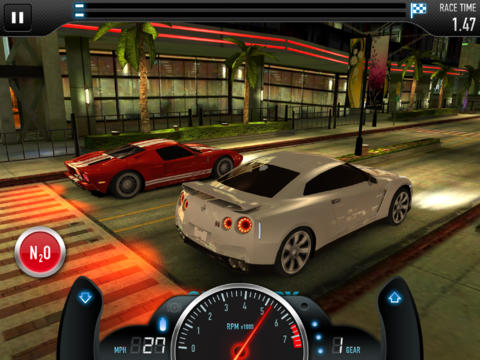 Description
Race your dream car in the ultimate test: a drag race along deserted city streets. CSR Racing combines stunning, high-fidelity graphics with addictive gameplay and stunning multiplayer head-to-head competition to create a new type of racing experience. Upgrade your Audi R8, BMW M3 or Chevy Corvette with turbos, nitrous injection and aerodynamic tweaks to beat tougher and tougher opponents. And when you're ready, it's time to challenge the crews that rule the city.
199. Radiant Defense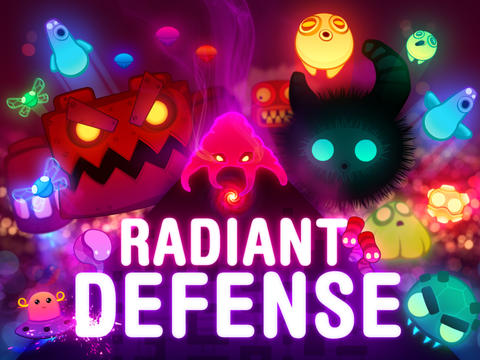 Description
adiant Defense is a defense game set in a vibrant universe invaded by countless alien hordes. Build your space fortress any way you wish, set up wide variety of weapons and traps and let the invasions begin!
200. Plants vs. Zombies 2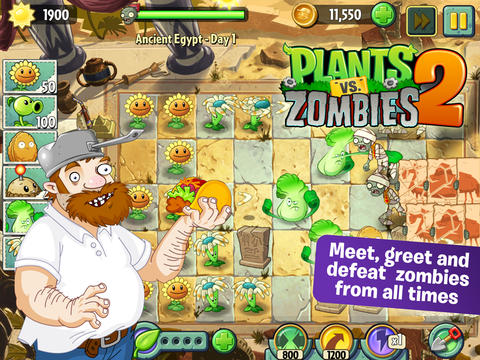 Description
The zombies are coming… back. It's about time! The sequel to the hit action-strategy adventure with over 30 Game of the Year awards is here. Join Crazy Dave on a crazy adventure where you'll meet, greet and defeat legions of zombies from the dawn of time to the end of days. Amass an army of powerful new plants, supercharge them with Plant Food and power up your defenses with amazing new ways to protect your brain.
201. Asphalt: Airborne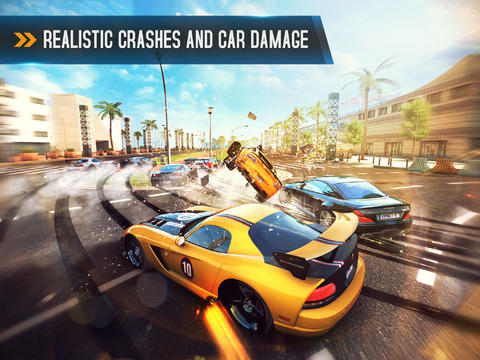 Description
Perform dynamic, high-speed aerial stunts in an intense driving experience powered by a brand-new physics engine!
202. Flying Dodo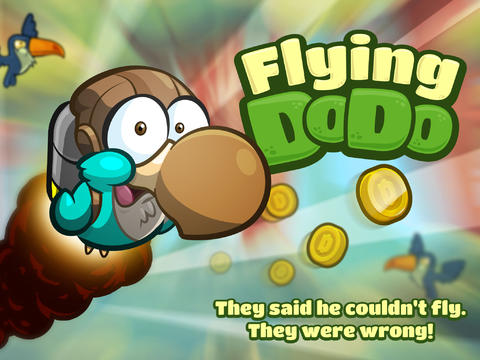 Description
Grab a jetpack, goggles and a tank full of gas… we're going for a fun ride! Wilbur the dodo found a jetpack, and he needs your help to fly as far as he can… Show the evil toucans that even a dodo can fly!
203. What? Why? How?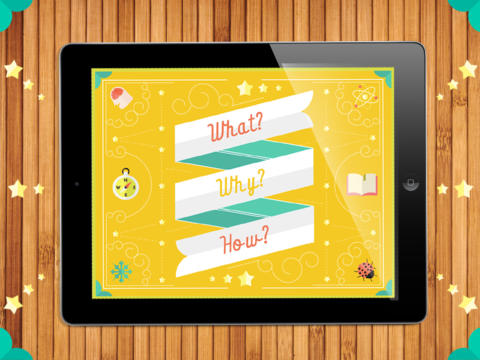 Description
Why do cats always land on their feet? Why is the sky blue? Who was Christopher Columbus? It's been said that kids ask thousands of questions when they're 4. If you don't have all the answers, What? Why? How? can help you!
204. The Croods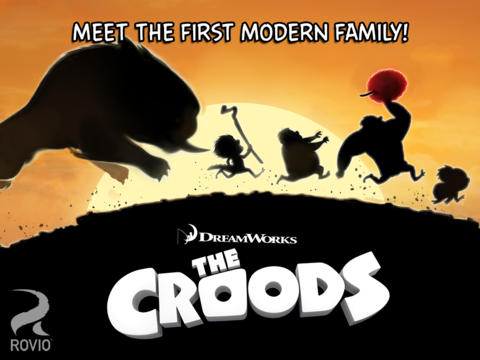 Description
Meet the world's first modern family: The Croods! These cavemen are breaking out of the Stone Age with the use of a new r-evolutionary tool: the IDEA! The Croods will Hunt & Gather their way through spectacular new landscapes as they tame fantastic and never-seen-before creatures. Help The Croods survive the wild…and each other!
205. Hearthstone: Heroes of Warcraft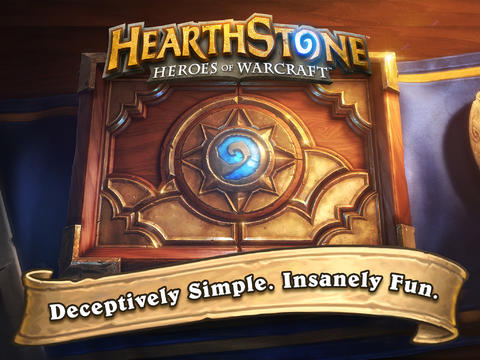 Description
Pick up your cards and throw down the gauntlet! In Hearthstone, you play the hero in a fast-paced, whimsical card game of cunning strategy. In minutes, you'll be unleashing powerful cards to sling spells, summon minions, and seize control of an ever-shifting battlefield. Whether it's your first card game or you're an experienced pro, the depth and charm of Hearthstone will draw you in.
206. TwoDots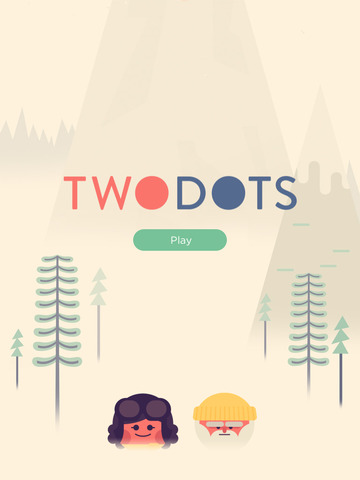 Description
Join two brave dots as they traverse arctic tundras, navigate fiery jungles, and plunge the ocean depths. Sharpen your skills across 135 challenging levels while uncovering many exciting new features along the way.
207. Timberman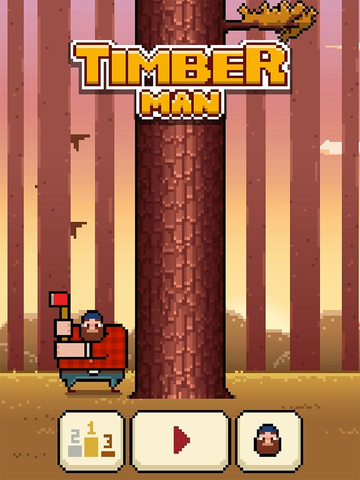 Description
Timberman is an oldschool arcade style casual game. Become a Timberman, chop wood and avoid the branches. Sounds like an easy task? It's easy to play but hard to master. 4 variable environments and 20 Timbermen to unlock. Master your skills for the top records on the leaderboards.
208. Defenders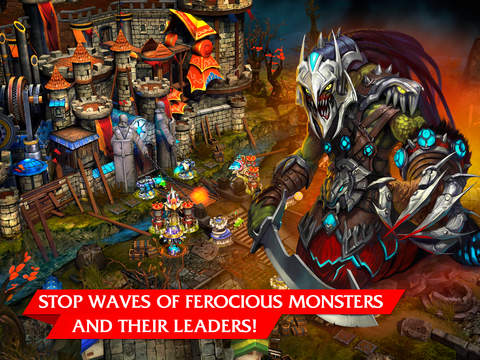 Description
Fight off hordes of evil mutants created by a cataclysmic event in Nival's new tower defense meets collectible card game, Defenders.
209. Mr. Crab
Description
Mr. Crab is a super fast arcade game with a twist. Take control of Mr. Crab and jump your way to the top, rescuing as many baby crabs as possible. Just tap on your screen to jump and climb to reach the top of the ever-spinning tower. But be aware, there are some foul enemies that will do anything to stop you.
210. Grim Joggers Freestyle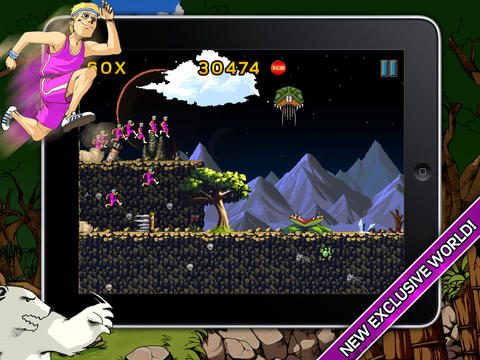 Description
Lead a group of fifteen joggers as far as possible before each of them faces a gruesome end in this superbly orininal endless runner! Jogging becomes bloodsport in this arcade style survival game with Game Center leaderboards and achievements.