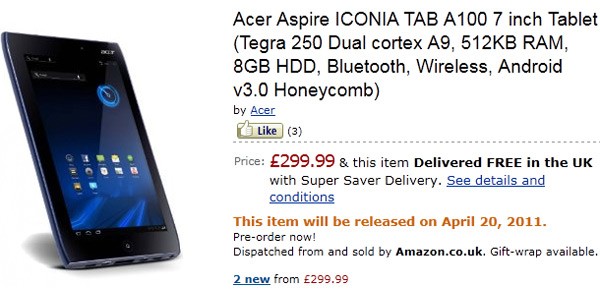 We've already heard a few interesting anecdotes about Acer's 7-inch Iconia Tab tablet device, back in January of 2011, but only now (three months later) has it decided to finally unleash the Honeycomb slate, namely Iconia A100, into the wild and overcrowded market. As far as hardware goes, there are 5MP and 2MP megapixel cameras on board, along with a Tegra 2 processor, 512MB of RAM, WiFi (3G optional), Bluetooth connectivity and 8GB of internal storage capacity which are fairly reasonable but not enough for huge video files to load. In terms of price, the A100 may be considerably cheaper when compared to other devices in the category – only £299.99 (about $485) as it appears on Amazon.co.uk, with April 20th release date in the UK itself and later on all over the world. Good job, Acer.
Update1: And looks like the 7-inch ICONIA A100 tablet is now available for pre-order on Amazon UK with 3G WWAN capabilities attached and Android 3.0 running on board. Prices are at the £400 ($660)  range while shipping is due to May 14.
Update2: We've just added a quick hands-on video of Acer's forthcoming Iconia TAB A100, courtesy of Steve Chippy. Check it out after the break.
[via Netbook News]
[youtube]http://youtu.be/NBoYUPdJHhk[/youtube]