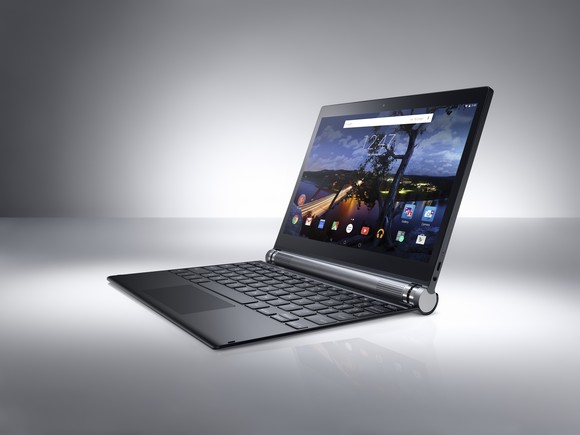 Following on from the initial success of the Venue 8 7000 tablet, one of the best mid-range Android machines available right now, Dell has announced a brand new, bigger iteration of the very same device, the Venue 10 7000.
Claimed to be designed to impress with stunning features, the 10.5-inch paper-thin model has been apparently restructured to increase max performance. Under the lid of  Venue 10's aluminum body you'll get to find 2GB of DDR RAM, as well as a 2.3GHz Intel Atom Z3580 processor. There's also that fabulous 8-megapixel rear camera shooter (supporting Intel's RealSense3D technology), alongside a 2MP front-facing camera, as well as a 7,000mAh battery pack, delivering up to 15 hours of continuous usage.
The screen on this a business-focused Android Lollipop platform device is of an OLED display with a pixel resolution of 2,560×1,600. In addition, you'll find inside a microSD card slot expansion, supporting cards up to 512GB of external memory. This space is naturally of an extra accommodation to your choice of either 16GB or 32GB storage capacities the tablet is offering you outside of the box.
The Venue 10 is due out later this month, with prices starting at $499 for the 16GB version without the optional Bluetooth keyboard, and up to $629 with the very same keyboard included (offering five different angle positions: laptop, slate, stand, tent or clamshell modes). The company doesn't mention the prices for the 32GB configuration In the US, at least not now.
[youtube id="7UodJohNLL8″]
[Dell]
Video is courtesy of ubergizmodotcom