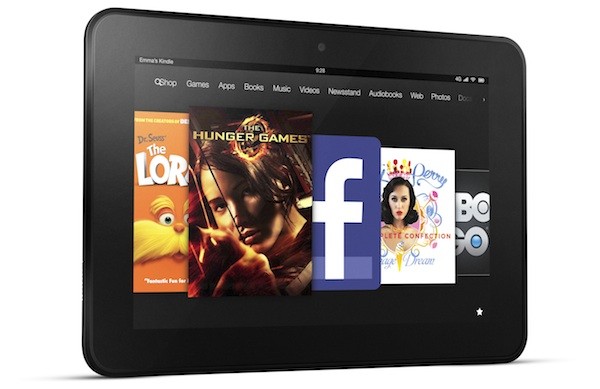 The Kindle Fire HD tablet is already selling extremely well in the US, and now it is finally ready to hit both Europe and Japan. According to Amazon, the growing demand for its 8.9-inch slab, as well as lower manufacturing costs through reduced cycle times, has had a positive impact on the outcome, and the Kindle prices in the US, which has now dropped to $269 and $299 for the WiFi-only 16GB/32GB models, while the 32GB/64GB versions with 4G LTE connectivity, will see a price cut of $100 to $399 and $499, respectively. Hit the plus for the full announcement.
[toggle title="FULL PR TEXT"]
Amazon Launches Kindle Fire HD 8.9″ in Europe and Japan; Introduces New, Lower Price
Largest-display, highest-resolution version of Amazon's best-selling tablet now available in Europe and Japan
New, lower price for Kindle Fire HD 8.9″ in the US – starting at just $269 for Wi-Fi and $399 for 4G
SEATTLE–(BUSINESS WIRE)–Mar. 13, 2013– (NASDAQ: AMZN) – Amazontoday announced that Kindle Fire HD 8.9″ – the large-screen version of its best-selling tablet – is now available in the UK, Germany, France, Italy, Spain andJapan. With the expansion of Kindle Fire HD 8.9″ to Europe and Japan, Amazonalso announced it is able to lower the price of Kindle Fire HD 8.9″ in the US, with the Wi-Fi version now starting at $269 and the 4G version starting at $399.
"We're thrilled with customer reaction to Kindle Fire HD 8.9″. Customers tell us they love our large-screen version of Kindle Fire HD for web browsing, email, gaming, watching TV shows, reading magazines, and more," said Dave Limp, Vice President, Amazon Kindle. "As we expand Kindle Fire HD 8.9″ to Europe andJapan, we've been able to increase our production volumes and decrease our costs. Across our business at Amazon, whenever we are able to create cost efficiencies like this, we want to pass the savings along to our customers."
Kindle Fire HD 8.9″ is the highest-resolution, largest-display Kindle Fire. Designed for entertainment, it is perfect for web, apps, movies, games and magazines. Features include:
Large 8.9″ display has the highest resolution of any Kindle Fire (1920×1200, 254 ppi), with rich color and deep contrast; ideal for movies, apps, and gaming.
Custom Dolby audio and dual stereo speakers for crisp, rich sound.
Over 23 million movies, TV shows, songs, magazines, books, and audiobooks.
The most popular apps and games.
Ultra-fast web browsing and streaming with built-in dual-band, dual-antenna Wi-Fi.
Front-facing HD camera for taking photos or making video calls.
Exceptional battery life – Kindle Fire HD 8.9″ gets 10 hours of battery life.
Easy-to-use e-mail, calendar, and contacts for work or home, including Gmail, Hotmail, Exchange, and more.
New Amazon-exclusive features like X-Ray for Movies, X-Ray for Textbooks, Immersion Reading, Whispersync for Voice and Whispersync for Games.
Kindle FreeTime, a free, personalized tablet experience just for kids and exclusively available on Kindle Fire. Parents can set daily screen limits and give access to appropriate content for each child.
"Buy Once, Enjoy Everywhere" with Amazon apps available on the largest number of platforms so customers can use theirAmazon content on any of their devices.
Amazon's top-rated, world-class customer service.
Kindle Fire HD 8.9″ is available starting today at this new low price atwww.amazon.com/kindlefirehd.
.[/toggle]