Apple's Tim Cook took the stage today at the company's media event in Cupertino to officially introduce the iPhone 5S and the iPhone 5C, Apple's next generation of mobile devices. As most rumors already suggested, the iphone 5S, which is considered as Apple's new flagship machine, looks exactly the same as the previous model, AKA the iPhone 5; rear aluminum build and a front glass panel, surrounded by a metal stripe around the sides.
Clearly, the new 5S is Apple's fastest handset yet, and it runs a super powerful A7 chip under the lid. It's the first and probably the only smartphone in the world to ship with a 64-bit configuration in the form of the new A7 processor, with a "desktop-class architecture" housing 1 billion transistors, which are twice the amount you'll find on an A6 chip. This brings the A7 chip performance to more than double the speed of an "old" iphone 5. As for the graphics, Apple has announced a new support for the OpenGL ES 3.0 standard like the new Nexus 7. But that's not all, ladies and gents, because there seems to be a secondary chip, that Apple is tossing in alongside the A7 processor, and it's called the M7. This one, is more of a "motion processor" and it will help measure motion stuff like the accelerometer, compass, and gyroscope. In addition, it'll improve support in a few apps within the health and fitness fields.
One of the most important questions the media had to deal with was how big is the screen on the Apple iPhone 5S/5C smartphones? Today, we've finally got the answer, the new Apple iPhones come with a 1136 x 640 pixel 4-inch Retina display, which is about the same as we had as with the iPhone 5 model. In other words, DISAPPOINTMENT. We truly expected from Apple to offer a larger screen alternative. But I guess it won't happen until probably the next iphone generation, number 6, I presume.
As mentioned, the outside box doesn't bear any notable changes from the older version, except one significant update in the form of a revolutionary fingerprint sensor that Apple has placed under the home button. Yes, you're getting a fingerprint sensor that is likely to boost your mobile security BIG time, and will ultimately replace all those user ID passwords. NEAT. The button itself is said to be made from a laser-cut sapphire crystal materials, which are basically unscratchable. And while rumors were spot on, this fingerprint reader – The TouchID – that Apple has managed to attach underneath the iphone home button is nothing but amazing. The technology behind it can literally read  your fingerprint at "an entirely new level" if you will. Touch ID Sensor is about 170 microns thin, and senses 500 ppi resolution. Generally speaking, it can scan all of your "sub-epidermal skin layers." Touch the button and DANG, your phone's unlocked.
Another cool thing that Apple has added, is the upgraded camera. The company has improved the current rear 8MP camera from the iPhone 5 with a new f/2.2 aperture. The new camera technology features a backside illumination, and will apparently endorse about 15 percent larger active sensor area. Other than that, we're also looking at a new flash at the back of the phone (with two LEDs attached), and a cool shooting option with an auto image stabilization mode. The front facing webcam is at 1.2MP, while the rear one was specifically designed to capture 720p HD video at a very high speed, at 120FPS. It basically means that you can easily take slow-motion videos out of your phone. Last but not least, you will now be able to shoot at burst mode & up to 10 frames per second. Which is crazy if you come to think about it.
In addition to that, the iPhone 5S will also include support for Wi-Fi, Bluetooth and 4G LTE network. As far as storage goes, the 5S model will ship with your choice of either 16/32/64 GB of storage — No 128 GB flavor for you at this point. Bummer.
The phone will arrive in Silver, Gold, and a new Space Gray colors. Is anyone surprised?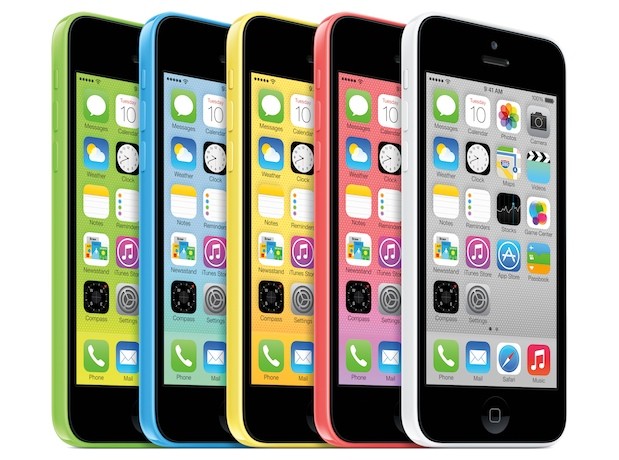 The second device that Apple has officially unveiled today is the iPhone 5C which the good guys over at Cupertino are aiming for the low-mid mobile market. The cool thing about this model is the variety of colors that you can choose from (Blue, White, Pink, Yellow, and Green), and the fact that it's light and made from a cheap plastic flavor. Apple says that It's made of a hard-coated polycarbonate material, if you really want to know. It also features a 4-inch Retina display with the same 8-megapixel rear camera and the regular support for LTE bands, dual-band 802.11a/b/g/n Wi-Fi connectivity, and Bluetooth 4.0. The chip inside is an A6 processor, same as the iPhone 5.
Both devices will run Apple's latest and greatest iOS 7 out of the box. The platform, which Apple has completely built from the scratch around the 64-bit technology, in a new "flat" design, is due out September 18th. Supported devices include the iPhone 4 or later, iPad 2 or later, iPad mini or fifth-generation iPod touch.
As for prices and availability, the two new iphones will officially go on pre-order at Apple's online store September 13th, with both devices to start shipping on September 20th in the US, Australia, Canada, China, France, Germany, Japan, Singapore and the UK. The most significant thing here is that it would probably be the first time that China is getting in the first phase of the iPhone's release. This is huge for a company like Apple who's been making efforts to penetrate the Chinese market for quite some time now.
The iPhone 5S will offer a range of 16 GB to 64 GB models and will be priced as follows:
16 GB: $199 (with a 2-year contract), or $649 off-contract.

32 GB: $299 (with a 2-year contract)

64 GB: $399 (with a 2-year contract)
The iPhone 5C will offer 16 GB/32 GB capacities and will be priced as follows:
16 GB: $99 (with a 2-year contract), or $549  off-contract.

32 GB: $199 (with a 2-year contract)
Apple will also offer dyed leather cases for $39 each, and a set of rubber skin cases for the iPhone 5C, priced at merely$29 apiece.
Finally, Apple to discontinue the iphone 5, while the 4S version remains as a free model in a 2 year contract.
[youtube id="wGCetsl-srk"]