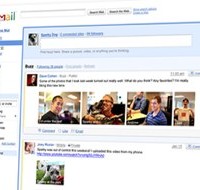 Only two days after turning the Buzz official within Gmail accounts, Google seems to roll out more tweaks and improvements, based on feedbacks and user requests, sent directly or to its help desk account. First and foremost, Google has closed security breach where people could actually see lists of friends and followers which automatically appeared on new Google Pages that people initially created to post their Buzz feeds. Those lists created based on interaction with people you email and chat with the most, could literally expose to the world details no one wanted to unveil. There for, from now on the first time you create a post or comment in Buzz, you will be asked to initiate a limited public profile with minimal info released outside. In addition, you can easily choose whether to turn on publicly the lists of people you follow or that follow you back and which of these species can appear publicly on your profile or not. Furthermore, Google adds the ability to block followers or unfollow them with a simple click of a button. Stay tuned.
Update1: Google says that since launched, tens of millions of people have checked Buzz out, creating over 9 million posts and comments, overwhelmingly added to the growing 200+ posts per minute, initiated from mobile phones around the world.
Update2: So you're already involved with the Buzz, posting your stuff and following others, but you're not exactly familiar with all those tricks and tweaks the service offers and wonder where you could have learned them all in a matter of minutes. For that reason specifically, we've added a Google Buzz cheat sheet where you can find all the keys and shortcuts that would make it easier for you to use the Buzz. Check it out after the break.
Update3: Google has wisely decided to remove the Buzz auto-follow model in which you automatically follow the people you email and chat with most, whenever initiate a new Google profile page. Instead of this auto-suggest model you will be taken into a welcome page, where you will be reviewing the people in your lists that you're interested outing to the public and others, you prefer keeping them hidden (third image after the break). In addition, your Buzz will not connect with your Google Reader and Picasa shared items automatically, so your "Unlisted" albums or "Protected" reading sources won't be revealed, unless you decide to. And last but not least, Google has confirmed it will soon add a Buzz tab to the Gmail account that would create a clear distinction between your day-to-day mailing content and your Googlr Buzz feeds (fourth image). Stay tuned.
[Google]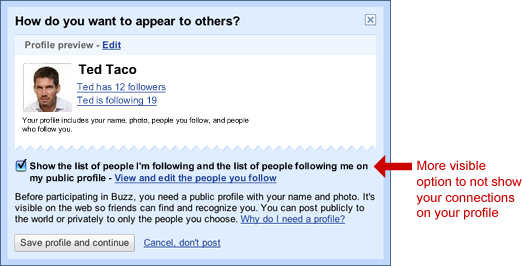 Click to enlarge: