We've already seen a glimpse of Compaq's latest and greatest Airlife 100 netbook machine, last month at Las Vegas Consumer Electronics Show, but now it finally seems to get official with all the pride and glory involved. Within, you'll find a nice 10.1-inch touchscreen display, which stunningly works in collaboration with the Android OS, preloaded inside the box. And to make things even better, under this tiny smartbook  lid you'll find a strong Snapdragon chip, paired with Intel's latest Atom processor, 16GB SSD, WiFi, Bluetooth and 3G connection mode – offered in partnership with Telefonica for an undetermined price as a subsidized mobile broadband deal, in Europe, Latin America and hopefully some other places across the world. Stay tuned.
Update1: Battery wise, this bad boy will boast a powerful package, which suppose to provide 12-hour of continuous work or up to 10 days in standby.
Update2: The good guys at Engadget have managed to catch up with HP for a video tour of this intriguing Snapdragon powered netbook. Check it out after the break.
Update3: Not much happened since we first met HP's Android-powered Airlife 100 netbook, back at the MWC conference in Barcelona. That said, it seems the 10-incher netbook has now turned official on HP's website, packed with a non-capacitive touchscreen, which hides underneath a 1GHz Qualcomm Snapdragon processor along WiFi, 3G connectivity, 512MB of RAM, and 16GB of flash. We're still waiting for price and availability details to finally show up.
Update4: Looks like the Android-powered Compaq Airlife 100 will be exclusively available through Telefonica Movistar this coming May with base price of 229 euros for the mini laptop itself, and another 48 euros for a monthly internet package. Expensive?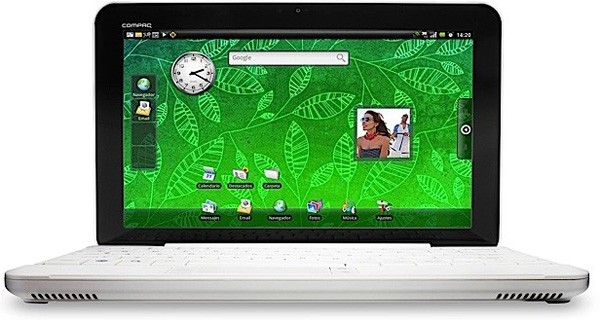 Engadget's hands on video:
[viddler id=f7937db8&w=437&h=288]