It's hot at the Mobile World Congress 2010, in Barcelona, as Microsoft officially unveils its latest and probably biggest Windows Phone 7 series, a new and pretentious Windows Mobile rendition, identical to all carriers and future device brands, with Qualcomm's Snapdragon architecture onboard, handling smoothly the featured (unsized) capacitive touchscreens, built into those dev demo prototype phones. Basically, it's a a whole new mobile system Redmond has literally built from the scratch and tweaked to be used on mobile machines in a way that you've never seen before. True, it would likely take time to get used to the 7 series, but its harmonic look and feel is surprisingly refreshing and conveniently flows. Yes, if you had this "deja vu" feeling of a Zune HD interface control, you're probably not alone, but Microsoft has taken it few steps forward and created more in-depth platform with many new features like Xbox Live integration, social networking interaction, myriad of apps and widgets installed. "Every Windows series phone will be a Zune", that's what we've been told, and synchronizing your handheld  music with PC computers is claimed to be very easy and simple to work.
The home screen itself includes dynamic vertical tiles, with customizable shortcut links to variant apps, contacts and other in-house modes, designed in a way you can flip them down from head to toe, but also pan left and right to sub-directories and other hidden rows. It boasts that same big and bold Zune HD  text style, which relatively changes and gets magnified the moment you slide the screen and start to scroll. And navigating between the menus makes you realize that Microsoft completely revamped the OS code, making it concentrate in four major segments: People, Games, Pictures, Music plus Video hub homes. Each hub is an independent unit that's responsible for different tasks, where you can watch and share your personal stuff (images/videos) via hub or cloud,when it comes to 'pictures' window, or in other case connect with friends and get updates from family/other contacts through social media services in the 'People' spot and the most fascinating thing – play Xbox LIVE games, create avatars, and profiles, at the 'Games' area zone – Cool. At the end of the day it's a new platform that suppose to serve our next-gen phones, so naturally it would also include a non-supportive Adobe flash Internet Exploder browser and Outlook email app to handle mails on the go. Oh, and don't forget, there's a dialing phone somewhere inside.
Hardware wise, Microsoft mobile phones will include 3 buttons each: Start, Search and Back, while capacitive displays will have 4-points multi-touch compatibility, with flipping, panning and pinch to zoom gestures support. As mentioned, Microsoft has partnered with Qualcomm, which means we're likely to see Arm Snapdragon chipset, tossed inside the bowel.
Microsoft as you may know, teamed up with worldwide carriers like AT&T, Deutsche Telekom AG, Orange, SFR, Sprint, Telecom Italia, Telefónica, Telstra, T-Mobile USA, Verizon Wireless and Vodafone, while manufacturers partnerships include Dell, Garmin-Asus, HTC, HP, LG, Samsung, Sony Ericsson, Toshiba and Qualcomm.
It would probably take time to realize whether Windows 7 series is a game changer or not, but we're glad to see that Microsoft is finally raising the mobile OS bar and placing it in a whole new and distinguished level that would likely make many people across this realm start scratching their heads and rearrange their thoughts. When will this crazy and exciting software go out and hit the roads? I guess you'll have to be patient here and wait 'till it gets to the market somewhere around the end of the year, right next to holidays madness season days.
Update: We've added the full hands-on walkthrough video, right after the break. A bit long but definitely worth a try.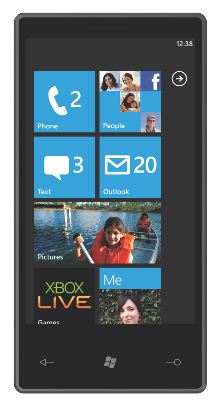 [nggallery id=2]
[youtube]http://www.youtube.com/watch?v=7IOTrqlz4jo[/youtube]
[youtube]http://www.youtube.com/watch?v=MdDAeyy1H0A[/youtube]
Microsoft Unveils Windows Phone 7 Series
New phones designed for life in motion to debut at holiday 2010.
BARCELONA, Spain – Feb. 15, 2010 – Today at Mobile World Congress 2010, Microsoft Corp. CEO Steve Ballmer unveiled the next generation of Windows® Phones, Windows Phone 7 Series. With this new platform, Microsoft offers a fresh approach to phone software, distinguished by smart design and truly integrated experiences that bring to the surface the content people care about from the Web and applications. For the first time ever, Microsoft will bring together Xbox LIVE games and the Zune music and video experience on a mobile phone, exclusively on Windows Phone 7 Series. Partners have already started building phones; customers will be able to purchase the first phones in stores by holiday 2010.
"Today, I'm proud to introduce Windows Phone 7 Series, the next generation of Windows Phones," said Steve Ballmer, chief executive officer at Microsoft. "In a crowded market filled with phones that look the same and do the same things, I challenged the team to deliver a different kind of mobile experience. Windows Phone 7 Series marks a turning point toward phones that truly reflect the speed of people's lives and their need to connect to other people and all kinds of seamless experiences."
Designed for Life in Motion
With Windows Phone 7 Series, Microsoft takes a fundamentally different approach to phone software. Smart design begins with a new, holistic design system that informs every aspect of the phone, from its visually appealing layout and motion to its function and hardware integration. On the Start screen, dynamically updated "live tiles" show users real-time content directly, breaking the mold of static icons that serve as an intermediate step on the way to an application. Create a tile of a friend, and the user gains a readable, up-to-date view of a friend's latest pictures and posts, just by glancing at Start.
Every Windows Phone 7 Series phone will come with a dedicated hardware button for Bing, providing one-click access to search from anywhere on the phone, while a special implementation of Bing search provides intent-specific results, delivering the most relevant Web or local results, depending on the type of query.
Windows Phone 7 Series creates an unrivaled set of integrated experiences on a phone through Windows Phone hubs. Hubs bring together related content from the Web, applications and services into a single view to simplify common tasks. Windows Phone 7 Series includes six hubs built on specific themes reflecting activities that matter most to people:
People. This hub delivers an engaging social experience by bringing together relevant content based on the person, including his or her live feeds from social networks and photos. It also provides a central place from which to post updates to Facebook and Windows Live in one step.
Pictures. This hub makes it easy to share pictures and video to a social network in one step. Windows Phone 7 Series also brings together a user's photos by integrating with the Web and PC, making the phone the ideal place to view a person's entire picture and video collection.
Games. This hub delivers the first and only official Xbox LIVE experience on a phone, including Xbox LIVE games, Spotlight feed and the ability to see a gamer's avatar, Achievements and gamer profile. With more than 23 million active members around the world, Xbox LIVE unlocks a world of friends, games and entertainment on Xbox 360, and now also on Windows Phone 7 Series.
Music + Video. This hub creates an incredible media experience that brings the best of Zune, including content from a user's PC, online music services and even a built-in FM radio into one simple place that is all about music and video. Users can turn their media experience into a social one with Zune Social on a PC and share their media recommendations with like-minded music lovers. The playback experience is rich and easy to navigate, and immerses the listener in the content.
Marketplace. This hub allows the user to easily discover and load the phone with certified applications and games.
Office. This hub brings the familiar experience of the world's leading productivity software to the Windows Phone. With access to Office, OneNote and SharePoint Workspace all in one place, users can easily read, edit and share documents. With the additional power of Outlook Mobile, users stay productive and up to date while on the go.
Availability
Partners from around the world have committed to include Windows Phone 7 Series in their portfolio plans. They include mobile operators AT&T, Deutsche Telekom AG, Orange, SFR, Sprint, Telecom Italia, Telefónica, Telstra, T-Mobile USA, Verizon Wireless and Vodafone, and manufacturers Dell, Garmin-Asus, HTC Corp., HP, LG, Samsung, Sony Ericsson, Toshiba and Qualcomm Inc. The first phones will be available by holiday 2010. Customers who would like to receive additional information about Windows Phone 7 Series and be notified when it is available can register at http://www.windowsphone7series.com.
To watch the full replay of Steve Ballmer's press conference at Mobile World Congress, and to experience Windows Phone 7 Series through an online product demo, readers can visit http://www.microsoft.com/news/windowsphone.