Surprise, surprise! The long-awaited HP Slate 500 is finally out. And while both official video (after the break) and prospects clearly indicate that HP is aiming the Slate at the enterprise and business market (like Medical services, Restaurants, etc.), in practice, anyone who's interested in buying this 8.9-inch (1024×600) capacitive touchscreen monster, can easily log into HP's online store and nab it for a staggering $799. No, it doesn't have 3G connectivity included, nor replaceable battery or any special UI layer attached (onto the preloaded Win 7 Professional platform). But it does have WiFi, along with a 1.86GHz Intel Atom Z540 processor, 2GB of RAM, 64GB SSD, rear 3MP camera and another one at 1.3 megapixels, up front. In addition to that, there's also a powerful Broadcom Crystal HD accelerator for smooth handling of 1080p content, an SD card slot, a USB port, headphone jacks and a N-Trig active digitizer for those who'd like to take some notes. But wait, if that wasn't enough, folks, the US computers giant will also add to the package a nice covering case, together with a stylus pen for touch interaction, and this cool charging cradle, which boasts two additional USB hubs, headphone jack, a power connector and HDMI output – all located at the back of the dock. NICE! Full PR, full specs and couple of hands-on videos right after the jump.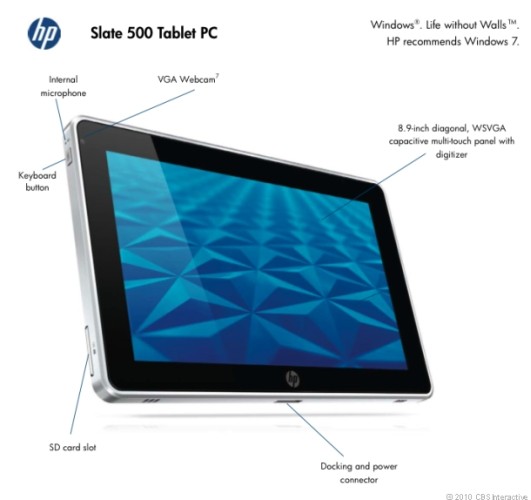 Full Specs
* Processor: Intel® Atom™ Processor Z540 (1.86 GHz, 512 KB L2 cache, 533 MHz FSB)
* Chipset: Intel® System Controller Hub (SCH) US15W
* Weight: Starting at 1.5 lb (Starting at 0.68 kg)
* Dimensions: 9.21 x 0.58 x 5.91 in (23.40 x 1.47 x 15.00 cm)
* Memory: maximum 2 GB 800 MHz DDR2 SDRAM
(Memory is on the board and not customer accessible or upgradeable; memory operates at the maximum system supported speed of 533 MHz.)
* Storage: Internal drive Solid State Flash ModuleUp to: 64 GB
* Optical drive: External USB 2.0 CD/DVD R/RW (select models)
* Display: 8.9″ diagonal WSVGA wide-viewing angle touchscreen
* Graphics: Intel Graphics Media Accelerator 500 ; Broadcom Crystal HD Enhanced Video Accelerator
* Ports: 1 USB 2.0, 1 combo stereo headphone/mic jack, 1 integrated microphone, 1 power connector/HP Slate Cradle connector
* Slots: 1 Secure Digital
* Audio: High Definition audio; Integrated stereo speakers; Integrated microphone; Combo stereo headphone/mic jack
* Camera: Integrated 3 MP camera; Integrated VGA webcam
* Input devices: HP Slate Digital Pen
* Communications: Wireless Integrated 802.11b/g/n + Bluetooth 3.0 + HS combo
* Power and operating requirements: Energy efficiency ENERGY STAR® qualified configurations available
* Power supply: 30W AC adapter
* Battery type: 2-cell (30 WHr) polymer
* Battery life: up to 5+ hours
[youtube]http://www.youtube.com/watch?v=wX107R1RlHw[/youtube]
[youtube]http://www.youtube.com/watch?v=lJcWz-XjZkU[/youtube]
HP Statement
The new HP Slate 500 Tablet PC is designed specifically for business, enterprise and vertical customers looking for the mobility of a tablet, the familiarity of Microsoft Windows 7 and the ability to run custom or corporate applications.
With a starting weight of only 1.5 lb (0.68 kg), the HP Slate 500 Tablet PC sets a new standard for mobile productivity with a an ultra-thin, sleek form-factor that enables businesses such as retail, healthcare, insurance, education and hospitality to be more intuitive and work efficiently while on the go. The ability to easily incorporate custom business applications differentiates this product and ultimately enhances the user experience and saves time for HP's business and enterprise customers.
The 8.9-inch capacitive multi-touch display of the HP Slate 500 Tablet PC allows users to navigate on the screen with the touch of a finger or with the HP Slate Digital Pen and Evernote® software to handwrite e-mail messages and take notes easily.
The integrated VGA webcam on the front of the HP Slate 500 Tablet PC enables video conferencing, while the 3MP camera on the back can be used for still-image and video capture. With Wi-Fi CERTIFIEDTM WLAN, users can send and receive e-mails or access the internet at work, at home, and favorite hotspots.
The HP Slate 500 Tablet PC will be available first in the U.S. and then evaluated for further market expansion.
Pricing for the HP Slate 500 Tablet PC is $799, and includes the HP Slate Digital Pen, HP Slate Dock, and HP Slate Portfolio.
To learn more about the HP Slate 500 Tablet PC and ways it will enable mobile professionals to increase efficiency, please visit: www.hp.com/go/slate/