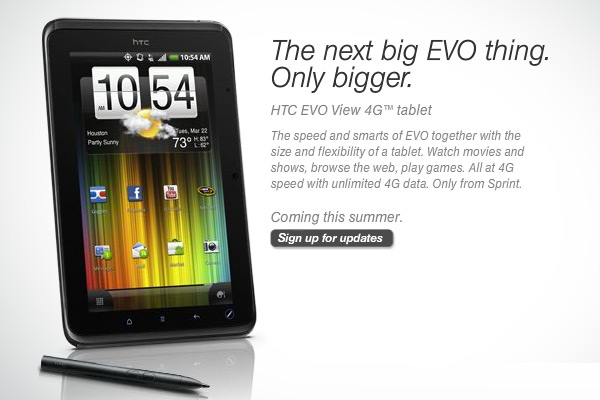 We must welcome the rain of tablets that falls down on us so that the seed will grow. And the way it looks right now I think it'll really take off. For instance, take a look at HTC's latest and greatest 4G Evo View tablet, which has finally turned official with a 7-inch, 1024 x 600 multi-touchscreen display, WiMAX radio,  a 1.5GHz processor, and a microSD card slot. Has any of you ever thought of it this way? probably not. But it's here, live and kicking', and will be offered housing 32GB of storage and duo cameras on the back (5MP) and up front (1.3MP). At this point, we're still waiting to hear details of pricing and availability, and it remains to become accessible somewhere, hopefully, this summer via Sprint's 4G network. And it's Honeycomb by the way. Hit the jump for the full specs, along with PR blurbs.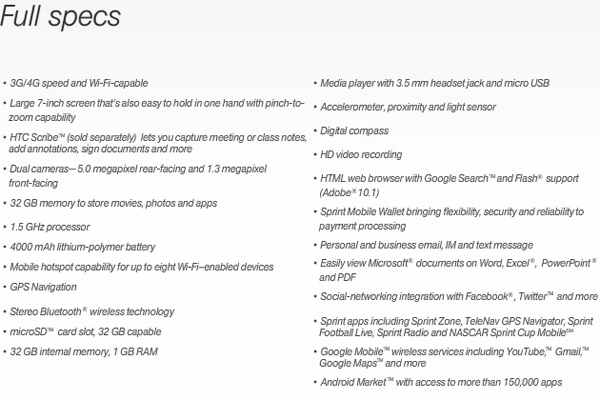 [youtube]http://www.youtube.com/watch?v=0C1BAdDVq4I[/youtube]
[video courtesy of phonedog.com]
HTC EVO View 4G
Bringing the award-winning EVO experience to a tablet
HTC EVO View 4G™ brings the best of the EVO experience to a sleek, easy-to-carry tablet design. As the perfect combination e-reader, media player and portable computing device, HTC EVO View 4G offers a 7-inch 1024 x 600 touchscreen display with pinch-to-zoom for a premium entertainment experience with HD-quality video and rich Web browsing experience. It features two cameras – a 5.0 megapixel auto-focus camera with HD-capable video camcorder and a forward-facing 1.3 megapixel camera. With integrated HD-video (720p) capture and the 4G speeds of HTC EVO View 4G, slow uploads and grainy video are a thing of the past. Using HTC Scribe Technology™, HTC EVO View 4G will offer a new way to interact with a tablet. HTC Scribe introduces the HTC Scribe™ digital pen (sold separately) to the tablet experience and unlocks new capabilities. When combined with Evernote™, a leading notes application and service, the user will have the ability to capture and make notes on Web pages, ebooks, PDF documents and more, in an easy and natural way.
PRODUCTIVITY

• Android operating system
• HTC Scribe Technology enabling enhanced voice-synchronized note taking with the HTC Scribe digital pen using Timemark to capture the audio of a meeting at the same time as written notes
• Google mobile services such as Google Search™, Gmail™, Google Maps™ with Navigation, Voice Actions and YouTube™
• Corporate email (Microsoft Exchange ActiveSync), personal (POP & IMAP) email and instant messaging
• 3G/4G Mobile Hotspot capability, supporting up to eight Wi-Fi enabled devices simultaneously
• Android Market™ for access to more than 150,000 useful applications, widgets and games available for download to customize the experience
• 4G data speeds (WiMAX) – peak download speeds of more than 10 Mbps; peak upload speeds of 1 Mbps; average download speeds of 3-6 Mbps
• 3G data speeds (EVDO Rev A.) – peak download speeds of up to 3.1 Mbps; peak upload speeds of 1.8 Mbps; average download speeds of 600 kbps-1.4 Mbps
• Wi-Fi® (802.11 b/g/n)
• Integrated GPS
ENTERTAINMENT
• Dual cameras – a 5.0 megapixel auto-focus camera with HD-capable video camcorder and a forward-facing 1.3 megapixel camera – HTC EVO View 4G unleashes the ability to create, stream and watch video or video chat with the Qik mobile app
• Blockbuster On Demand® to rent or purchase the hottest new releases on the same day they become available on Blu-ray and DVD
• Sprint Zone, Sprint Mobile Wallet, Sprint Football Live, Sprint Family Locator, Sprint Navigation and NASCAR Sprint Cup MobileSM
• Media player with 3.5 mm stereo headset jack
SPECIFICATIONS
1.5GHz Qualcomm® Snapdragon® Processor
Dimensions: 7.7 inches (195.4 mm) x 4.4 inches (112.5 mm) x 0.5 inches (13.2 mm)
Weight: 14.88 ounces (421.84 grams)
Display: 7-inch (177.8 mm), 1024 x 600 touchscreen display with pinch-to-zoom
32GB internal memory, 1GB RAM; microSD slot (supports up to 32GB memory card)