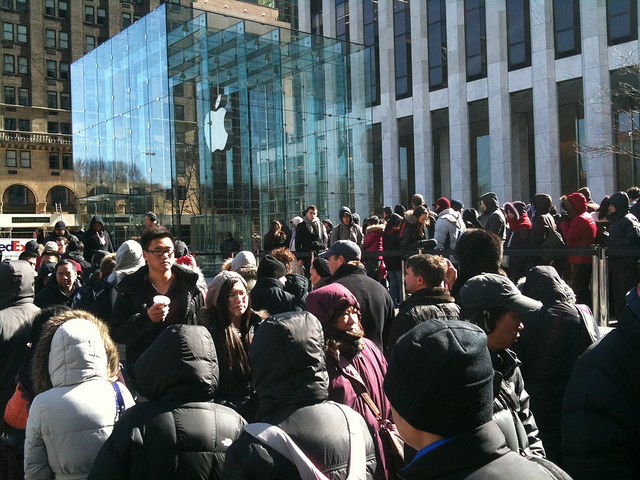 It's Apple's iPhone day, and long queues already forming outside the company's global retail stores in anticipation of the launch of the iPhone 6 and iphone 6 Plus at 8am this Friday. It is only natural that people would be interested in the new phones coming from Apple, after the positive reviews the devices had received and the pre-orders record of roughly 4 million phones.
On this morning of the iPhone 6 launch we are able to see huge queues of people waiting in line to get the chance of purchasing a limited stock of Apple's latest iteration of 4.7″ and 5.5″ smartphones. The Apple Stores around the world all have queues, loads of queues.
The iPhone 6 comes in silver, gold and 'space grey' flavors and features an A8 chip, a Touch ID fingerprint identity sensor, iOS 8, and an iSight camera with a larger and faster 8MP sensor.
We're updating the post from time to time
UNITED STATES
CANADA
AUSTRALIA
JAPAN
HONG KONG
FRANCE
GERMANY
UNITED KINGDOM
[Image credit: Henrik Ahlen: Flickr]