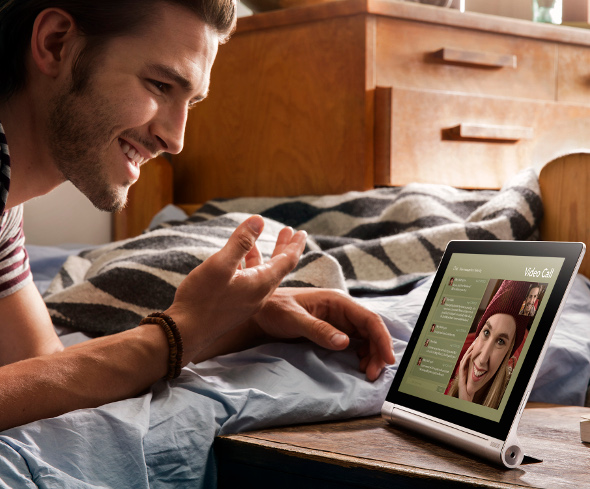 You know how it goes, first there's the leak and then there's the official announcement, and in Lenovo's case a new line of two Yoga Tablets. What was previously best known as the IdeaPad B6000 and B8000 is now available in 8-inch and 10-inch iterations with 1,280 x 800 IPS screens that can easily rotate up to 135 degrees. The Chinese corp has appointed Ashton Kutcher to promote the new products and unveiled a low introductory price of $249 for the smaller device and only $299 for the slightly bigger version (both are gonna kick off today on Best Buy).
The new slates will pack a quad-core MediaTek processor under the hood, along with dual cameras (1.6MP in front, 5MP in back), Google's Android Jelly Bean 4.2.2 for the OS, and up to 16GB of integrated storage (expandable via microSD slot). There's also 1GB of RAM inside the box and a lithium battery providing up to 18 hours of continuous work. At least that is what the company says.
What's unique about these Yoga tablets is the new and conceptual design with the massive kickstand thing positioned widely on the back of the slabs, the textured plastic cover and this rounded tube placed at the base – the kind of pipe you'd find on Apple's wireless keyboards. While designs remain pretty much the same, the overall weight is slightly different between one Yoga device to another. The 8-inch model weighs only 0.88 pound while the 10-incher is at 1.33 pounds.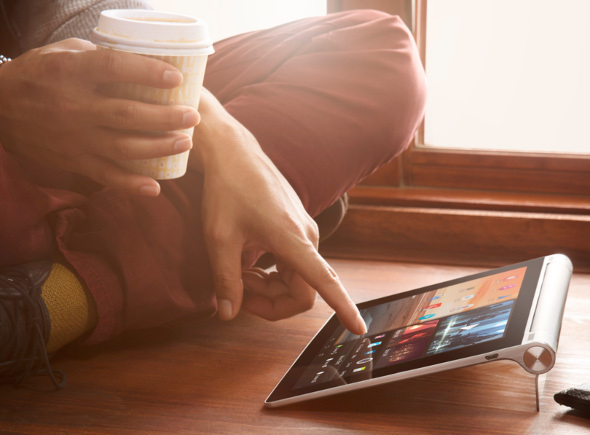 Hit the "play" and watch the video
[youtube id="fzK_qP-rK80″]