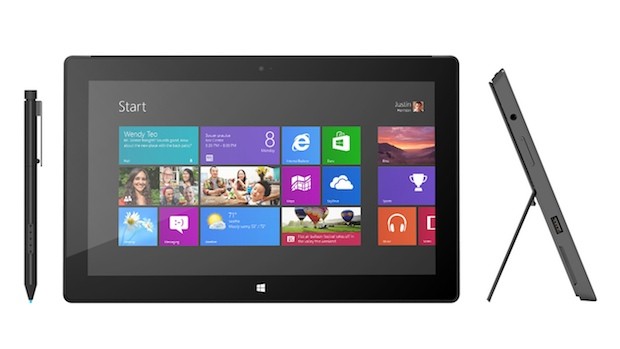 The world has been waiting for this day to come for couple of months now (since Microsoft has launched the Surface RT tablet), and today, ladies and gents, it finally arrived, as the Redmond-based company officially announces a full-fledged Windows 8 Pro Surface for the masses. The new device, which claims to be a substantial upgrade to the ordinary Surface RT, starts at $899 for the "basic" 64GB version, and will go all the way up to $999 for the 128GB flavor. In addition, you'll have to spend about a hundred bucks more if you want to have one of Microsoft's latest and greatest add-ons, the Touch or Type Cover. Regretfully, they are not included in the bundle. Note, however, that the stylus pen does.
And while the overall design is similar to Redmond's regular RT device, in many respects (same beautiful VaporMG casing and equivalent 10.6-inch display), some changes have been made inside. In that regard, we're looking at a full 1920 x 1080 screen resolution instead of 1366 x 768, with the CPU power climbing up to a third-gen Core i5 processor, and the GPU is the Intel HD Graphics 4000, with 4 gigs of RAM. Good news in the battery department as well, according to Microsoft it will be strong enough to deliver "approximately half the battery life of Surface with Windows RT" (roughly 4.5 hours). In addition, you'll find a Mini DisplayPort, capable upscaling your slate to 2560 x 1440 resolution, and a full-size USB 3.0 interface that is huge for data transfer speeds.
The Pro edition will be available sometime in January 2013, and is sure to be in popular demand.