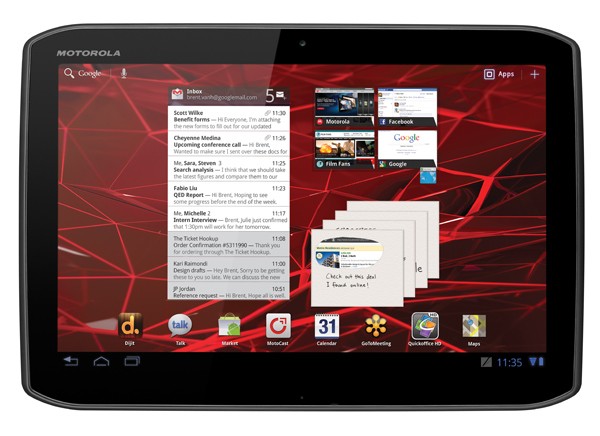 Oh look! There's the Motorola Xoom 2, and it seems it's now only couple of weeks away from landing on European store shelves. At least according to a recent Carphone Warehous flyer ad. And while most details are scarce, the second-gen Xoom tablet is said to include an 8.2-inch touchscreen, along with 16GB of internal storage, and Android 3.2 Honeycomb for the OS (any chance for Android's Ice cream Sandwich platform?). Ireland is the first country to enjoy this system among the English-speaking countries, while the U.S and the rest of the world will probably follow few days later on, with prices starting at  €399.90 (about $545) for the WiFi-only flavor. Stay tuned or hit the jump to see the ad.
Update1: Xoom 2 is now official. Motorola has just unveiled it with a choice of either a 10.1-inch touchscreen device or an 8.2-inch Media Edition flavor, while both versions contain the same suite of specs, including a 1.2GHz dual-core processor, 1GB of RAM, 16GB of storage, a  1.3 megapixel front-facing camera and 5 megapixel on the back, Gorilla Glass displays on top and Ice Cream Sandwich update running under the hood (confirmed!). As already mentioned, both slates will make their official debut in the UK and Ireland this holidays season while global release is yet to be determined. Hit the break and watch the video.
Update2: We've just added a quick hands on video (courtesy of Knowyourmobile), featuring the two new tablets, so check it out after the break.
[via engadget]
[youtube]http://www.youtube.com/watch?v=x16LUdsMPqw[/youtube]
[youtube]http://www.youtube.com/watch?v=DHZ8lOSIvAA[/youtube]