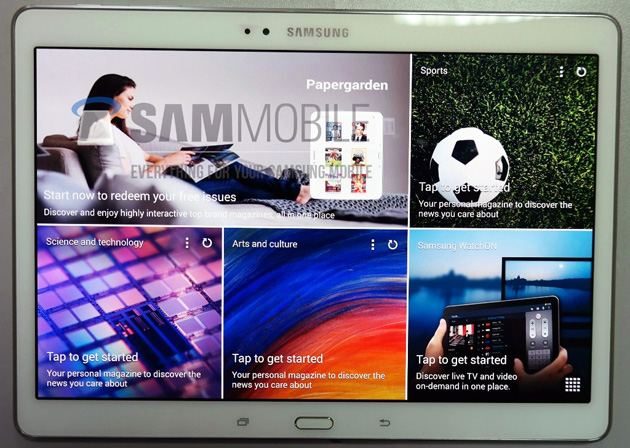 By now you may be starting to think that you've seen it all this year, then BAM! Another variant in Samsung's portable collection. The source of information this time is from SamMobile who claims to have obtained exclusive footage of Sammy's next-gen series, also known as the Galaxy Tab S. And while the overall design may be somewhat somber, the line of specs is simply phenomenal.
Even though the possible release is still unconfirmed, the latest report indicates there are two versions of the Tab S tablet iteration: the 8.4-inch and the 10.5-inch, both equipped with a Super AMOLED display.
Unfortunately for us, most details are scarce at the moment, and we know only that the 10.5-incher packs a 1.9GHz Exynos 5 Octa processor under the lid, as well as Wi-Fi a/b/g/n/ac, Bluetooth 4.0,  dual cameras, 8MP for the rear-facing one and 2.1MP for its front-facing counterpart, Android 4.4 KitKat OS, and a great large display on top with a massive resolution of 2560×1600 pixels.
Pricing and availability information has yet to be disclosed, though we might learn more very soon.