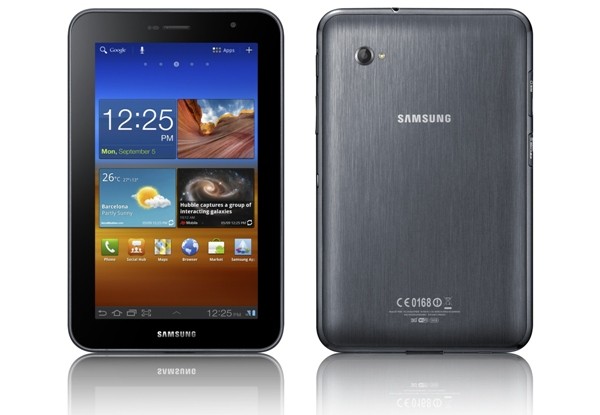 If Samsung's Galaxy Tab 7.0 Plus looks awfully familiar to you, it's probably because  it features the same exact interior and exterior dimensions as the Samsung Galaxy Tab 7.7 (with relatively slight changes in screen resolution and cpu clocks peed), only this time, with plans to enter the US market. Oh! And there's an extra "Plus" in the name. So what do you get inside? First and foremost, a 7-inch 1024 x 600 LCD touchscreen, paired with  a 1.2GHz dual-core processor, 1GB of RAM, 3MP camera with 720p HD video capture, Android 3.2 for the OS and for the time being only 16GB of storage (but you should all expect a 32GB version by the end of this year). As for pricing and availability, we're looking at a November 13th release date, with a price of $399 for the 16GB flavor and possibly $499 for the 32GB model. Full PR after the break.
Samsung Expands U.S. Tablet Portfolio with Galaxy Tab 7.0 Plus
Galaxy Tab 7.0 Plus Featuring Peel Smart Remote App Delivers Powerful "Discover, Tap and Watch" Home Entertainment Experience
DALLAS and SANTA CLARA, Calif.– October 21, 2011 – Samsung Telecommunications America (Samsung Mobile), the No. 1 mobile phone provider in the U.S.1, and Samsung Electronics America today announced the upcoming availability of the Samsung Galaxy Tab™ 7.0 Plus featuring Peel Smart Remote TV application. Peel allows users to instantly find and watch their favorite TV shows and discover new shows based on their preferences, all with the tap of a screen.
Offering a portable, rich multimedia experience on a 7-inch display, the Galaxy Tab 7.0 Plus packs power and productivity into a chic lightweight design, weighing just 345g and measuring 9.96mm thin. The Galaxy Tab 7.0 Plus runs Google AndroidTM Honeycomb platform, enabling an easy and intuitive user experience. In addition, the Galaxy Tab 7.0 Plus delivers a smooth and intuitive user experience with powerful performance powered by a 1.2GHz dual core processor.
Featuring built-in infrared capabilities, the Galaxy Tab 7.0 Plus can control the user's home theater/TV setup. The Peel integration on the Galaxy Tab 7.0 Plus goes beyond the Peel application available for download today by no longer requiring additional hardware or cables for TV control functionality. Peel allows users to control any home entertainment system regardless of manufacturer.
Peel displays personalized programming recommendations in an intuitive and content-driven graphical interface, completely eliminating the need to scroll through traditional channel-listing grids. The application's home screen displays colorful thumbnail images of "Top Picks," or favorite shows. Touch one of the thumbnails and the application displays what channel that show is on as well as a brief description of the episode that is playing. Simply tap "Watch On TV" and the Galaxy Tab 7.0 Plus will automatically change the channel to the selected program.
"The Galaxy Tab 7.0 Plus optimized with the innovative Peel application will enable users to connect seamlessly to view their favorite TV shows," said Dale Sohn, president of Samsung Mobile. "Our partnership with Peel further builds on Samsung's convergence strategy to create enhanced user experiences."
Peel combined with the Galaxy Tab 7.0 Plus can control the entire home entertainment system, including the TV, set-top box, DVD, Blu-ray player and AV audio system. Peel will provide Galaxy Tab 7.0 Plus users with a social aspect as well, connecting them directly to Facebook and Twitter to share what they are watching with their social networks.
"This partnership continues Peel's vision of eliminating the barriers between you and your favorite shows," said Greg Lindley, chief experience officer for Peel. "The Samsung Galaxy Tab 7.0 Plus – with its built in IR remote functionality – is a great platform for the Peel app and creates an ideal second screen experience for any TV lover."
The 16GB Galaxy Tab 7.0 Plus will be available nationwide through Best Buy, Amazon, Tiger Direct, Fry's and other fine retailers starting November 13th for $399.99. Pre-orders will begin October 23rd with select partners.
Samsung's relationship with Peel is part of Samsung's overall commitment to convergence and the companies are working to integrate the Peel Smart Remote Application into future Samsung mobile devices.