Samsung has finally gone official with its latest and greatest 7-inch Galaxy Tab tablet. The super hyped Android 2.2 device which Sami has pledged to release across the European continent this month, stores a 1 GHz Cortex A8 processor, paired with wide range of radio frequencies, including  HSUPA 5.76 Mbps / HSDPA 7.2 Mbps (900, 1900, 2100 MHz), and quad-band GSM, while connectivity wise you get the most updated Wi-Fi b/g/n and Bluetooth 3.0 support. Further more, you will be offered to choose either 16GB or 32GB capacities at your choice, joined by a microSD card slot that can add up to a 32GB more. Under the lid there's a 4,000mAh battery pack and down the bottom you'll find a 30-pin dock connector that lets you connect HDMI, USB, and other docking accessory stocks. The white slick tablet comes equipped with a rear 3 megapixel camera with flash and a 1.3 megapixel webcam up front. It's capable of running Adobe Flash 10.1 platforms and can easily handle Full HD video playback on board. Pricing details and US availability are still missing at the moment, but full specs chart, PR announcement and the official video commercial are just around the jumping spot.
Update1: Pricing speculations start floating across the European continent, as more and more local retailers start reporting about their Galaxy Tab set of prices. Nothing has been officially announced yet, so please take it with a grain of salt unless you know something we don't. And getting into the details, we're now hearing of ginormous prices as high as €699 ($890) in France and €799 ($1,020) in Germany – considering there are 16GB and 32GB flavors to choose from. As for UK residents, Expansys will sell you the 16GB Galaxy Tab at £680 ($1,050), with shipping dated for 11th October.
Update2: We've just added another hands-on video, taken yesterday at the IFA show in Berlin, by our good friends from newsgeek.
Update3: According to the Wall Street Journal Samsung's Galaxy Tab will probably cost US residents somewhere between $200 to $300 with a 2 years contract. No details about free-from-obligations pricing, yet.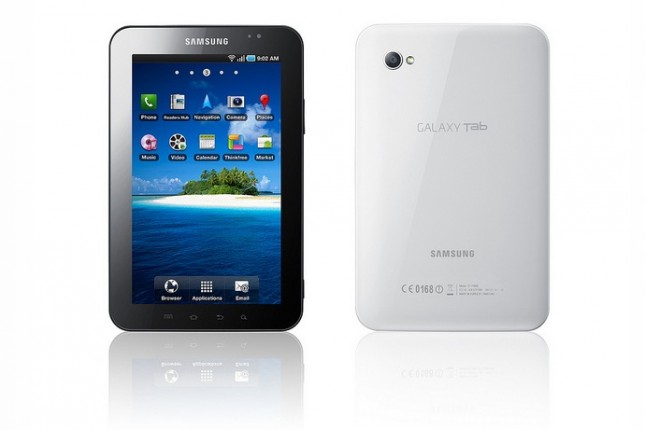 [Samsung]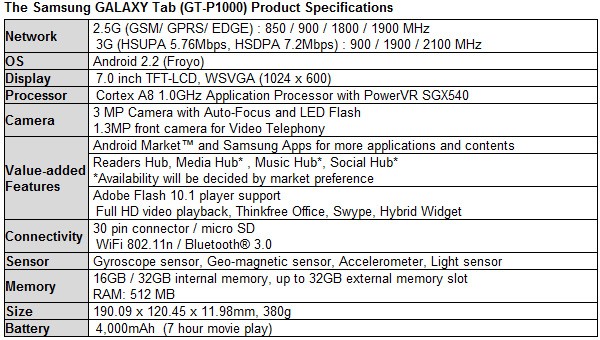 [youtube]http://www.youtube.com/watch?v=GPfCZC4VHnE[/youtube]
[youtube]http://www.youtube.com/watch?v=untLXo1Ie3A[/youtube]
Samsung GALAXY Tab Opens a New Chapter in Mobile Industry
A New Smart Media Device, surpasses mobile boundaries, allowing you to enjoy more possibilities on the go
London, UK, September 2, 2010 – Samsung Electronics Co., Ltd, a global leader in mobile technology, today announced the launch of the Samsung GALAXY Tab (GT-P1000). Powered by the Android Operating System 2.2, the GALAXY Tab is the first of the company's tablet devices, representing a new category of mobile products for Samsung.
The Samsung GALAXY Tab brings together all of Samsung's leading innovations to provide users with more capabilities while on the move. Consumers are able to experience PC-like web-browsing and enjoy all forms of multimedia content on the perfectly sized 7-inch display, wherever they go. Moreover, users can continuously communicate via e-mail, voice and video call, SMS/MMS or social network with the optimised user interface.
"Samsung recognises the tremendous growth potential in this newly created market and we believe that the Samsung GALAXY Tab brings a unique and open proposition to market. There is a new and emerging consumer demand that Samsung can satisfy since mobile is in our DNA. This demand continues to grow and develop as users tap its limitless potential," said Simon Stanford, Head of Mobile, Samsung UK and Ireland. "The Samsung GALAXY Tab has been designed to enable consumers to maximise their online experience wherever that may be. The Samsung GALAXY Tab is pushing the market in new directions and Samsung believes this is only the beginning of its innovations as pioneers in smart media devices."
A new concept of mobility for media
As a new category of device, the Samsung GALAXY Tab brings a wealth of mobile experiences. Its striking 7-inch TFT-LCD display delivers exciting mobile experience for watching films, viewing pictures, e-reading or sharing documents. In design, its light (380g) build provides perfect portability, with its svelte dimensions making it easy to grip and use. Supporting the latest Adobe Flash Player 10.1, the Samsung GALAXY Tab fully supports swift, seamless viewing of every single page of the web.
The 'Readers Hub,' Samsung's unique e-reading application, provides easy access to a vast digital library – from classical literature to the latest bestsellers and reference materials. At the same time, Samsung unveils 'Media Hub,' a gateway to a world of films and videos, and 'Music Hub,' an application giving access to a wide range of music tunes.
The Samsung GALAXY Tab has made rich communication truly mobile; it presents a level of converged technology that moves beyond mobile or PC to an entirely new category. Users have new powers to consume, create and communicate from wherever they are.
Powerful, always-on communication
With 3G HSUPA connectivity, 802.11n Wi-Fi, and Bluetooth® 3.0, the Samsung GALAXY Tab enhances users' mobile communication on a whole new level. Video conferencing and push email on the large 7-inch display make communication more smooth and efficient. For voice telephony, the Samsung GALAXY Tab turns out to be a perfect speakerphone on the desk, or a mobile phone on the move via Bluetooth® headset.
Powered by a Cortex A8 1.0GHz application processor, the Samsung GALAXY Tab is designed to deliver high performance whenever and wherever you are. At the same time, HD video content is supported by a wide range of multimedia formats (DivX, XviD, MPEG4, H.263, H.264 and more) which maximises the joy of entertainment.
While a front-facing camera allows for face-to-face video telephony over 3G, a rear-facing camera captures still images and video that you can edit, upload and share, all without any hassle. As online content and creativity explodes, the Samsung GALAXY Tab is the best portable solution for every lifestyle that needs a constant connection.
The Samsung GALAXY Tab will be launched in the UK in the coming months.
Note to Editors:
1) For multimedia content of the Samsung GALAXY Tab, please access the Samsung GALAXY Tab Social Media News Room (www.galaxytab.samsungmobile.com/press)
2) Applications of the Samsung GALAXY Tab
The Samsung GALAXY Tab is packed with services to complement and enhance your life in different ways. Access to Android Marketplace lets users download apps and personalise their device infinitely. In addition, there are pre-loaded applications uniquely designed and optimised for Samsung smart phones and smart media devices.
· Readers Hub – Samsung Readers Hub consolidates e-reading applications such as eBooks, magazines, and newspapers. Users can enjoy 'reading' with unified and intuitive user experience, powered by global eReading service leaders, Kobo, PressDisplay and Zinio. More than 2 million books including today's best sellers, over 2,500 titles of magazines in 20 languages and more than 1,600 newspapers in 47 languages are available at launch and will grow the library gradually.
· Google Mobile Services – Services like Google Maps™ Navigation (Beta) and Google Goggles are available on Google's Android platform. With useful location-based services like Google Maps, consumers can search in Standard English instead of entering an exact address. A search-by-voice function is just as intuitive, meaning searches can also be completed easily on the go. Google Goggles is a powerful, visual search tool that uses the Samsung GALAXY Tab's camera to uncover information – an image of a landmark or artwork is automatically used to perform a search, delivering relevant content like a description or history. In addition, with a camera, users can enjoy various augmented reality services which are downloadable in the application market.
· More applications will be available from Samsung Apps.