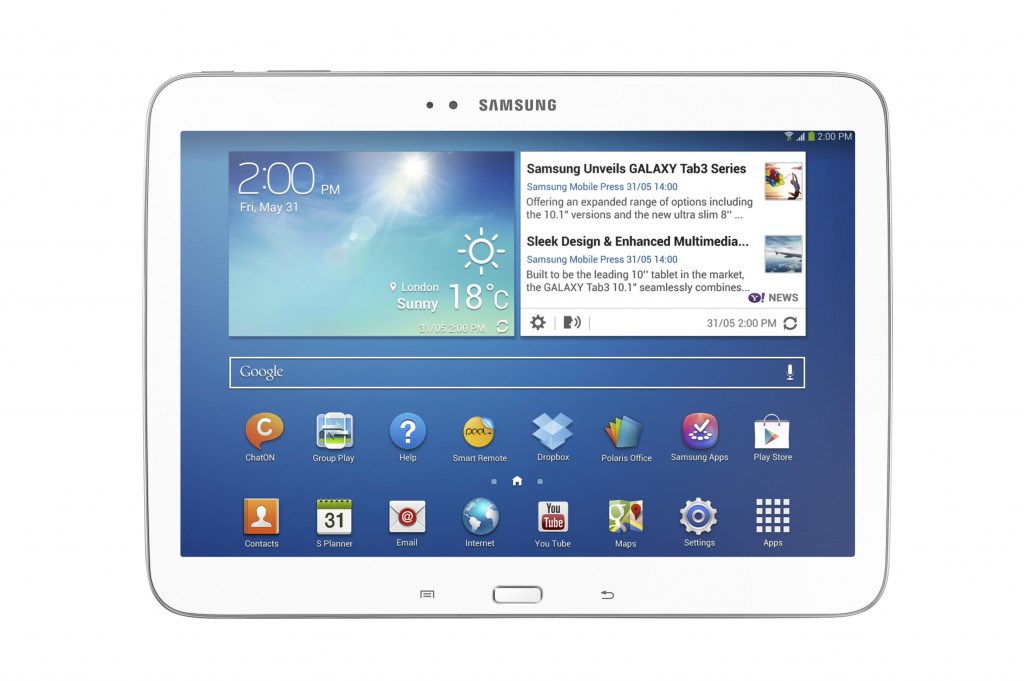 Samsung has already announced a 7-inch Galaxy Tab 3 version, and is now planning to add at least two more. The first in that range is the 8-inch Galaxy Tab 3 flavor, which would run an Android 4.2 for the OS, and will feature a WXGA TFT 1280 x 800 (189 PPI) display, alongside a 1.5 GHz Exynos dual-core chip, 1.5GB of RAM, and 16GB or 32GB of internal storage at your choice, expandable up to 64GB through a microSD slot. In addition to that, we're looking at a 4,450mAh battery pack in that slate, accompanied by a 5-megapixel rear-facing camera, and a 1.3-megapixel shooter on the front. Prices are yet to be set, so you will have to wait a little while, before you can choose from the three different variants, including the WiFi only version, WiFi + 3G HSPA-Plus and WiFi and LTE form.
The 10.1-inch model is particularly interesting since it would be the first Samsung Android-powered device that uses an Intel processor on board. And if we are really going to get down the nitty gritty stuff, the ten incher Tab will have an Intel 1.6 GHz dual-core processor under the lid, paired with a 1280 x 800 (149 PPI) WXGA TFT screen, 1GB of RAM, a 3-megapixel rear-facing camera and another one at the 1.3-megapixel range, up front. The battery life is much better in this slate thanks to a 6,800 mAh battery pack, and the storage selection is pretty much similar, with either 16 or 32GB, supporting up to 64GB via microSD slot. This device will be running on Android 4.2 operating system as well, and will hopefully go on sale with the three same variants.

Both slates set to be launched in early June 2013.
Update: Samsung has just updated the pricing and availability of the Galaxy Tab 3 lineup on its network. The new tablet series which includes 7, 8 and 10.1-inch sizes, is going to hit US shelves (at Amazon, Best Buy, Office Depot and Wal-Mart, stores) on July 7th, with prices starting at $199 for the 1.2GHz 7-inch model (with a dual-core processor, Android 4.1, 8GB of storage and 1,024 x 600 resolution), $299 for the 8-inch version, and only $399 for the 10.1-incher. 
[Samsung]