Samsung is not just about tablets. As you can see, its range also contains some new ultra-portable laptop devices that blend in with the most contemporary technology such as 4G connectivity which Sammy has stuffed into its latest and greatest 10.1-inch N350 netbook, in the form of dual-mode LTE and HSPA+ support. Other than that, it's basically what you'd expect from a lavish netbook these days, with this top-notch dual-core Atom N550 processor inside, paired with 250GB of storage, 1GB of DDR3 RAM, 802.11n WiFi, Bluetooth 3.0, multi-card reader, a bunch of speedy USB hubs and a 3-cell battery that is claimed to deliver up to 6.7 hours of continuous work. European prices are considerably high, €429 (about $555), but there's a good chance they will go down a bit when this thing comes out somewhere this autumn.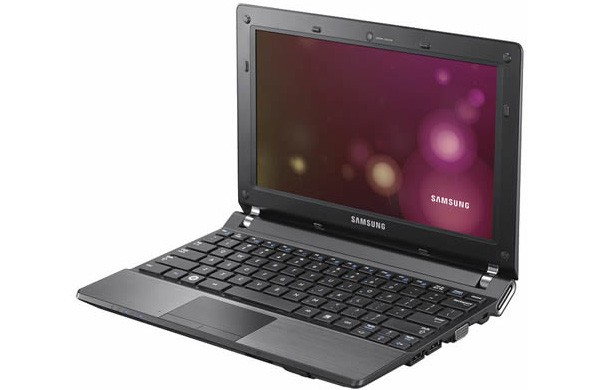 [via Mini-notebook-laptop]
Samsung unveils the world's first LTE-HSPA+ dual mode embedded netbook
Designed to go, Powered to perform: Showcasing significant new products at IFA 2010, Samsung completes its mobile PC line up

Sept 2nd 2010, Berlin, Germany – Samsung Electronics Co., Ltd, a global leader in digital media and digital convergence technologies, is proud to launch a series of innovative and pioneering products at this year's IFA in Berlin. At IFA 2010, Samsung is putting its achievements in mobile computing on full display. The company is showcasing the world's first LTE-HSPA+ dual mode netbook, the Samsung N350.
Delivering its advancements in both design and performance, Samsung has crafted these products to meet the needs of its customers' dynamic and rapidly changing lifestyles. Each product has been skillfully designed to enhance previous capabilities while delivering entirely fresh and exciting user experiences.
Samsung continues to offer the market the best in design and performance. With its continued success in both technology and business, Samsung is confident that users will see the instant benefits of each of these innovations as it helps its customers to live smarter lives.
"IFA is a tremendous platform for Samsung to launch its newest innovations. The products we are launching at the event truly demonstrate Samsung's commitment to delivering the finest in technology with optimum designs to meet the demands of every lifestyle," said Seongwoo Nam, Executive Vice President and Head of IT Solutions Business at Samsung Electronics. "Recognizing the future of wireless network technology, Samsung created a netbook that is both LTE and HSPA+ equipped. This world first shows that Samsung is relentless in its pursuit of the best technologies so that our customers can have the highest quality user experiences. It gives us great pleasure to usher in a new era in mobile computing technology," he added.
N350 – LTE-HSPA+ dual mode enabled netbook
The new ultra-thin N350 is a light and compact netbook with embedded LTE-HSPA+ dual mode technology. This new technology gives users the best in wireless technologies allowing them to experience internet speeds that are comparable with fixed internet services. The N350 harnesses the power of two technologies and allows users to make the most of both 3G and 4G networks. Using dual mode technology, users will be able to stay connected in areas without LTE services using a standard and widely available 3G network.
For more product information and multimedia content, please access to www.samsungcomputerpr.com
About Samsung Electronics Co., Ltd
Samsung Electronics Co., Ltd. is a global leader in semiconductor, telecommunication, digital media and digital convergence technologies with 2009 consolidated sales of US$116.8 billion. Employing approximately 188,000 people in 185 offices across 65 countries, the company consists of eight independently operated business units: Visual Display, Mobile Communications, Telecommunication Systems, Digital Appliances, IT Solutions, Digital Imaging, Semiconductor and LCD. Recognized as one of the fastest growing global brands, Samsung Electronics is a leading producer of digital TVs, memory chips, mobile phones and TFT-LCDs. For more information, please visit www.samsung.com.