Japanese electronic giant Toshiba has purportedly started rolling out its latest and greatest Folio 100 tablet across Europe, according to official PR announcement, delivered after the break. Toshiba had promised it would roll out the Android Froyo slate in the continent before the end of the year, and seems to be sticking to its promise. The 10.1-inch capacitive touchscreen device which will retail for €399 for WiFi only version or up to €529 for the 3G-enabled one (available Q1 2011), comes fully equipped with NVIDIA's new ARM SOC chipset, along with 16GB of internal storage, mini-HDMI output, USB hub, SD card reader, 1.3 megapixel webcam and Bluetooth version 2.1. Battery wise, you're looking at a seven hours package and we certainly hope to see this bad boy going live in the US somewhere around holidays time.
Update: Looks like Toshiba has just issued a new firmware update (v2.2.5.0053) in order to improve screen tap respond issues, audio / video processing and pinch-to-zoom capabilities. For more coverage hit the following link.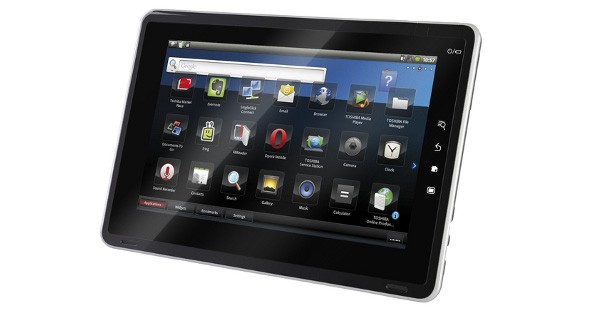 [youtube]http://www.youtube.com/watch?v=dqsqZSxWgHY[/youtube]
Toshiba ships its Android-based tablet FOLIO 100
Toshiba Market Place for FOLIO 100 makes available a broad choice of applications
Neuss, Germany, 4th November 2010 – Toshiba begins distribution of its recently announced media tablet FOLIO 100 throughout Europe. The Android-based device offers a rich entertainment experience and gives access to a wide selection of apps and download services via Toshiba Market Place.
Enjoying a rich multimedia experience
Featuring a broad range of connectivity options the 25.7cm (10.1′) personal media tablet FOLIO 100 provides a seamless, user-friendly experience across entertainment, social networking and mobile Internet. Support of Adobe® Flash 10.1 enhances FOLIO 100's rich multimedia capabilities. A plug-in to allow playback of Flash videos will be available for download free of charge as of mid-November 2010 via Toshiba Market Place[1].
A wide selection of apps allow personalisation of FOLIO 100
Via Toshiba Market Place, FOLIO 100 offers access to a download area with a wide selection of apps optimised for FOLIO 100's 10.1′ screen. Users can choose from several hundred[2] apps that are neatly organised in categories including communications, games, travel & maps, business & finance, e-books, utilities and many more.
Developer platform offers professional support
To support software developers, Toshiba offers access to a platform (www.toshibatouch.eu) that is especially dedicated to their needs. They will find useful tools and get professional support for developing new apps which are optimised for FOLIO 100 and Toshiba's Internet companion AC100. Apps can be uploaded and will be added to the Market Place portfolio as soon as they get approval to be used on FOLIO 100 and AC100. An attractive revenue share model allows developers to participate with up to 70 per cent of the revenue of their app.
Download and music sharing made easy
Music Place, powered by 7Digital, offers an easy to use client that gives access to one of the widest catalogues of music. Users can either download purchased tracks and file it on the FOLIO 100 or store it on a personal cloud storage area and then sync their connected devices via internet. This opens up a modern way to enjoy content anytime and anywhere.
Facts & Figures*
· CPU: Nvidia® Tegra™ 2
· 25.7cm (10.1") capacitive multi-touch display with 1,024 x 600 pixels
· Highly intuitive graphical interface that runs on top of Android 2.2 (Froyo)
· On-board storage capacity: 16 GB
· Bluetooth 2.1 +EDR, WLAN (802.11 b/g/n), Mobile Broadband (soon available in certain models and countries)
· DLNA® compatible
· 1 x mini HDMI®, 1 x USB 2.0 (client and hub), SD/MMC Card Reader
· Supports Adobe® Flash 10.1. Software download available as of mid November 2010
· Rotation of displayed content on the screen by accelerometer
· Webcam with 1.3 MPixel
· Battery life: 7 hours (65% web browsing, 10% video playback, 25% standby)
· Weight: 760g
· Size: 281mm x 181mm x 14mm
· Pre-installed software (excerpt): Toshiba Media Player, Fring, Document to Go, Evernote
* depending on configuration and local availability