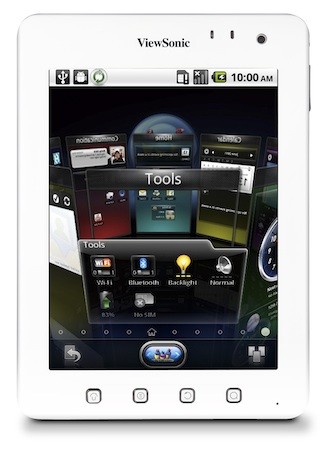 As it looks now, the $200 tablets market is about to get even more crowded, with electronics giant Viewsonic stepping in to take on Amazon's Kindle Fire, putting out the ViewPad 7e Android tablet. You may already have noticed the price ($200), for which you have every right to not expect a tablet with plenty to shout about. Surprisingly, however, the Viewpad 7e does come with enough stuff to keep you satisfied. For instance, there's a 1GHz ARM A8 processor inside, paired with a "RiteTouch" 7-inch capacitive display, 4GB of storage, dual cameras, HDMI out, Google's Android 2.3 for the OS, and a microSD card slot. There are also a variety of pre-loaded apps on the handset such as Kindle, Twitter and TuneIn Radio, as well as full access to Amazon's Appstore for further content and direct downloads. In addition, we're told that this special offer may be redeemed by the end of the month, which, frankly, makes this trinket considerably better. Hit the break to read the full PR.
ViewSonic Introduces New Sub-$200 Android-Based Tablet
ViewPad® 7e with ViewScene™ 3D interface is performance-packed at an irresistible price
Monday, October 24th, 2011
WALNUT, Calif. – ViewSonic Corp., a leading global provider of computing, consumer electronics and communications solutions, today expanded its ViewPad tablet lineup to include the new ViewPad 7e.
Created with the economical consumer in mind, while offering the newest and most in-demand features, the ViewPad 7e is ViewSonic's latest addition to the successful ViewPad tablet lineup. This convenient 7″ Android™ 2.3 Gingerbread tablet combines a powerful 1GHz processor that is excellent for flash video and web browsing. The included Amazon Services for Android and Amazon Kindle™ for Android applications create a great tablet and e-reading device. With pre-installed apps like Twitter, TuneIn Radio and WildTangent games, a service for convenient browsing, downloading and purchasing of online and social games, the ViewPad 7e delivers a layered, intuitive experience that is sure to please all ages and wallets.
ViewSonic has further improved the Gingerbread experience with its exclusive ViewScene 3D interface to deliver an intuitive home screen layout with holographic visual effects. With the new ViewSonic user interface, usability and navigation is unparalleled. Users can quickly get up to speed and customize their favorite apps, delivered directly from the Android storefront.
With its RiteTouch technology and multi-touch capability, it's easy to write directly on the ViewPad 7e's 800×600 LED backlit screen. It is perfect for note taking in the classroom, or highlighting excerpts within a novel or textbook. RiteTouch technology makes it easy to swipe across content, zoom in and out, and scroll through emails using either a fingertip or a stylus. Texting couldn't be easier with the built-in Swype™ keyboard, making typing lightening fast right out of the box.
Whether experiencing 1080p video playback via the Micro HDMI connection, enjoying Flash 10.3 based applications, or engaging in video chats or taking photos using the dual cameras (3MP rear, VGA 0.3MP front), the ViewPad 7e delivers a robust yet cost-effective multimedia experience. In addition to 4GB of internal storage, the ViewPad 7e offers up to 32GB of additional storage capacity via the micro SD card slot. Teamed with Wi-Fi® 802.11 g/b/n and Bluetooth® support, consumers are able to stay connected to all their favorite multimedia content wherever they go. For added convenience and functionality, the ViewPad 7e offers ViewSonic's AirSync® technology to ensure that tablet owners will receive over-the-air device updates as they are rolled out, from feature add-ons to software updates.
The ViewPad 7e will be available in North America at the end of October for an ESP of $199.99. Latin America will follow with product availability in November.