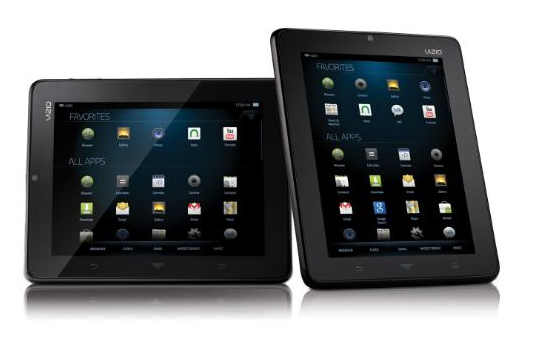 If you're anything like me, you get really excited when you see there's a new Android player joining the game. I mean it's not that we haven't heard about it before, but this time it's for real, as Vizio officially announces this week it will start selling its latest and greatest 8-inch Android device throughout the States, for a price as low as $299. So whether you are an avid Android junkie or you are just looking for a fun, cheap and easy-to-use tablet, then you may want to take a closer look at this slate, either at Amazon, Walmart, Sam's and some other US retailers. Full PR after the break.
VIZIO's New 8″ Tablet Delivers Knock Out Video, Audio and App-based Entertainment at sub-$300 Price Point
– VIZIO Tablet to shake up the marketplace by offering intuitive tablet experience at a price point that extends availability to the masses
– Unique three-speaker design delivers stereo audio in both landscape and portrait modes
– Control Your Entire Home Theater with the VIZIO Tablet's built-in universal remote control app
– Built-in 802.11n WiFi and Bluetooth® capabilities offer optimum connectivity with multiple devices
Irvine, CA – August 08, 2011 – VIZIO, America's #1 LCD HDTV company, announced today the new VIZIO 8″ Tablet with WiFi is arriving at retailers nationwide. As part of VIZIO's continued commitment to deliver great technology at a superior value, the sleek, feature-filled, Android-powered VIZIO Tablet is now available at Sam's Club, Walmart, Costco, Amazon, and other VIZIO retailers at a breakthrough price of $299.
The VIZIO Tablet features VIZIO Internet Apps® Plus which combines the latest technologies with a unified, easy-to-use and fun user interface across select future VIZIO HDTV's, Blu-ray® players and other devices — further differentiating the sleek VIZIO Tablet. In addition, the new Tablet is able to control nearly every element of a user's home theater with a universal remote app and includes a built-in HDMI port with HDCP support for content protected HD playback on the big screen.
"We are excited that VIZIO is listening, once again, to what the marketplace is asking for with a high performance sub $300 Tablet," said Tim Farmer, Costco. "VIZIO's reputation is built on affordable technology and entertainment and this product is expected to generate a strong consumer response."
By offering cutting edge technology and exceptional features at a competitive category price, the VIZIO Tablet is ideal for a wide range of users. With support for Adobe® Flash®, casual gamers, movie, TV and music enthusiasts are able to enjoy rich content and applications on the go. It also comes equipped with a unique three-speaker configuration, strategically placed for stereo sound in landscape or portrait mode.
Additionally, parents looking to entertain their children on-the-go can quickly access the Android Market™ which gives access to hundreds of thousands of apps, including educational programs, games and eBooks.**
With back-to-school season in full swing, students will also find the sleek VIZIO Tablet an ideal and fun compliment to a busy year as it makes checking email, news and social networks as simple as ever. Multiple storage options make saving assignments and downloading music a breeze with a MicroSD™ slot that allows consumers the freedom to expand memory up to 32GB for optimal organization and entertainment.
"VIZIO set out to build an innovative tablet that breaks new ground and addresses the gaps in current offerings in the market," said Matt McRae, Chief Technology Officer, VIZIO. "The VIZIO Tablet offers a superior multimedia experience with its three speaker design, home theater integration with IR, and a perfect size for typing, eBooks, gaming and portability. These innovations and our ground breaking price push the category forward and deliver on our brand promise of Entertainment Freedom For All."