WhatsApp is a free to use, cross-platform instant messaging application for the smartphones introduced in 2009 by former employees of Yahoo. It is used to make voice calls, sending text messages, video calls and sharing images, videos, audio files, voice notes, phone contacts, gif files and user location to other users by using the internet on your smartphone. You can either use it for personal chats or sharing media and apps with your loved ones, or it can also be used for business purposes.
Key features of WhatsApp:
Simple Messaging: You can chat or send messages for free to anyone in your contact list located anywhere in the world for free and avoid SMS charges.
Voice and Video calls: By using WhatsApp, you can make video calls to your family and friends for free even if they are located in other countries.
Share photos and videos: You can capture beautiful and memorable moments in your phone and share them with your loved ones instantly with the help of WhatsApp.
Group Chats: You can make various groups including your favorite people, maximum 50 people in one group to chat with them. This feature is very profitable for business as many people join different groups and share their products.
Secure Environment: WhatsApp uses end to end encryption, which makes it safe to chat and share stuff on WhatsApp because that message will stay between only you and the person you are talking to. Even WhatsApp can't read or listen to your conversations.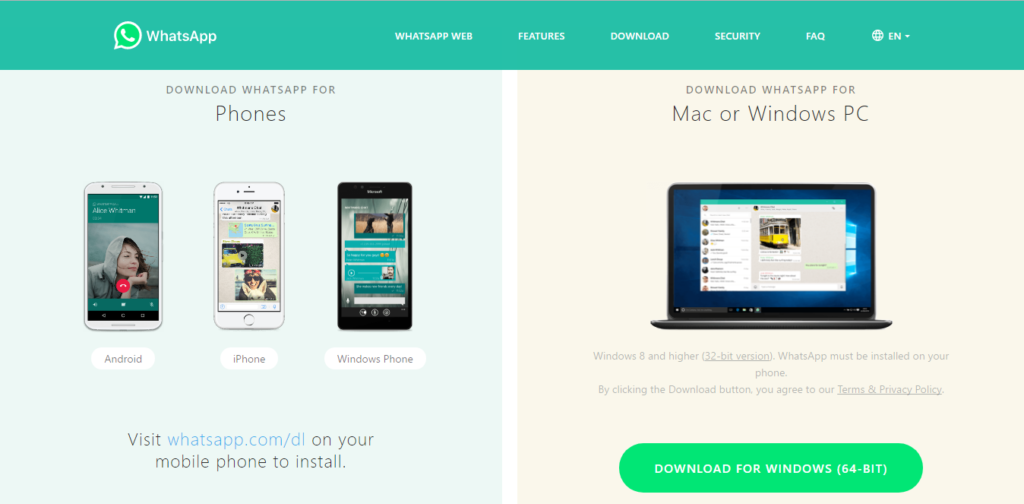 WhatsApp now available for PC and Mac
For any business, handling it on the Mobile phone can be inconvenient at times, especially for the people who work on their computers at the same time as well. So, WhatsApp has launched a desktop version of WhatsApp for your Mac or Windows PC. So, Windows users should not get upset about the fact that they don't have to use WhatsApp only on the small screen of their phones only, but now, they can use their Qwerty PC Keyboard and the big screen for using WhatsApp.
How to Download and Use WhatsApp on your Mac or Windows PC:
The Supported versions of WhatsApp on Pc are:
Windows 8 and Higher (32-bit version)
Windows 8 and Higher (64-bit version)
MAC OS X 10.9 and higher
There are few easy steps you need to follow to get WhatsApp working on your MAC or windows PC. Let us discuss them now:
Open https://www.whatsapp.com/download/ from your Pc webpage and download Desktop version of WhatsApp.
Install WhatsApp on your Pc once the download is finished.
Open WhatsApp so that you can scan the QR code from your phone to get both the devices connected.
Open WhatsApp in your phone and click on the settings icon under WhatsApp Web to scan the QR code on Desktop version.
Once both the devices are connected, you are good to use WhatsApp on your PC.
Users must keep in mind while using WhatsApp on their PC that your phone should always be on and connected to Wi-Fi as well.
WhatsApp has been the favorite of everyone for a while now, and the company is always trying to make its feature list and usability better to make it more loved by users. And, by launching the desktop version of it, the company has put another milestone in its long run. This Step will sure be going to keep WhatsApp as number one app and the most loved one for a long time now.
——————-
Author Bio: Pankaj Jangir is a Website Designer and Developer. He makes websites from where users can download their own videos and photos from FB.