UPDATE: Bitcoin just crossed the $51,600 mark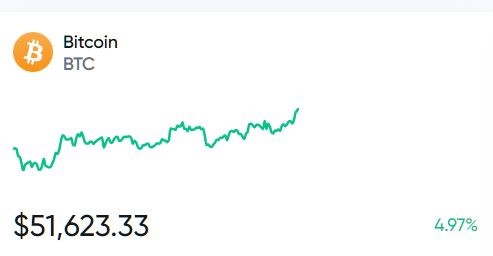 ——
Ladies and gentleman, the inevitable has finally taken place with the Bitcoin officially surpassing $50,000.
Years ago, it was just $300 and then went up to $500 and then $1000 and $2000 and then just like that it was $10,000 and $20,000 and now it has blast through the $50K barrier.
The cryptocurrency market has been volatile since its early days, but Bitcoin has shown consistency and progress on its way to the holy grail of $50K.
Bitcoin's market cap has grown past world's largest financial institutions, such as JPMorgan Chase and Bank of America, and is close to reaching 1 trillion dollars. with the price of 1 bitcoin now at merely $50,245.
"Good morning to everyone except the people who said Bitcoin would never reach $50,000" @APompliano 😂

— Bitcoin (@Bitcoin) February 16, 2021
Bitcoin has been very active lately and seems to be taking over the mainstream with the recent Tesla announcement that it has invested over $1.5 billion in the digital currency and would start accepting bitcoin as a payment method for its products when the powerful B has seen its price close in on the milestone.
In addition to that, Mastercard will also begin facilitating cryptocurrency transactions during 2021.
Analysts are projecting the popular cryptocurrency will reach over $100,000, then $150,000, then $200,000 and so on and so forth, but predictions are good for what they're worth.