The Ledger Stax crypto wallet is a new and innovative product by Tony Fadell, the well-known entrepreneur and investor who is best known for co-founding Nest Labs and serving as the senior vice president of the iPod division at Apple.
The Ledger Stax wallet is designed to provide users with a secure and easy-to-use platform for storing and managing their cryptocurrencies and digital assets. It features a sleek and compact credit card-size design that makes it easy to carry around and it is compatible with a wide range of 500 types of cryptocurrencies including Bitcoin, Ethereum, and Litecoin.
We need a 'user-delightful' tool to bring digital asset security to the rest of us, not just the geeks, said Fadell.
One of the standout features of the Ledger Stax wallet is its advanced security features. It uses a combination of hardware and software security measures to protect users' cryptocurrencies from unauthorized access and theft. This includes a hardware-based secure element that stores users' private keys, as well as advanced encryption algorithms that protect users' transactions and data. That being said, users also  have the option of interacting with their phones over Bluetooth.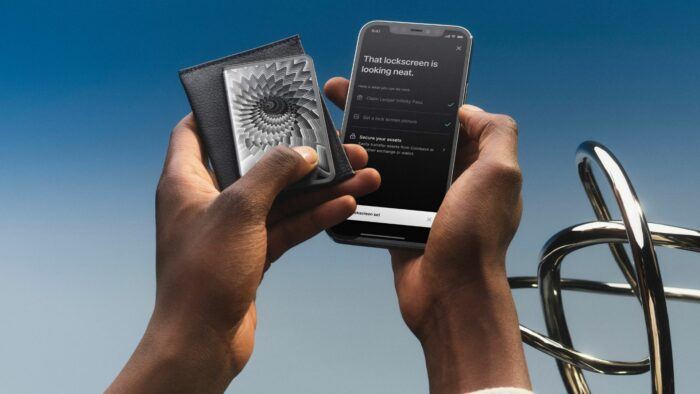 The Ledger Stax wallet also offers users an E-Ink display (like a mini Kindle) that covers the front and curves around the spine of the device, enabling the users to showcase their transactions and NFTs whether it is On or Off. In addition, it offers a range of convenient features that make it easy to manage their cryptocurrencies. It has a user-friendly interface that allows users to easily monitor their cryptocurrency balances, view their transaction history, and manage their assets. It also allows users to securely access their cryptocurrencies from multiple devices, including smartphones and laptops.
One of the key advantages of the Ledger Stax wallet is its compatibility with a wide range of devices and platforms. It can be used with both iOS and Android devices, and it can be easily integrated with popular cryptocurrency exchanges and networks. This allows users to easily transfer their cryptocurrencies between different platforms and devices, providing them with greater flexibility and control over their assets.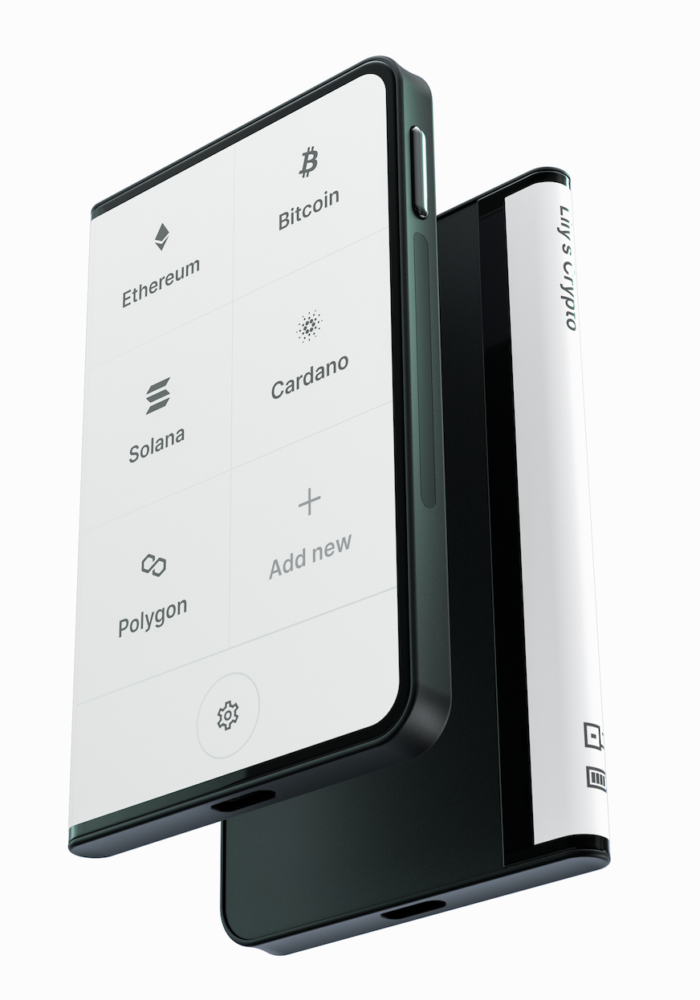 In addition to its advanced security and convenience features, the Ledger Stax wallet also offers users a range of other benefits. It is designed to be stacked over magnets, and uses low-power technology that minimizes its impact on  your phone and environment. It also has a long battery life, allowing users to use it for extended periods without needing to recharge it.
Overall, the Ledger Stax crypto wallet is a valuable tool for anyone looking to securely manage and store their cryptocurrencies. Its advanced security features, convenient features, and compatibility with a wide range of devices and platforms make it an ideal choice for both beginners and experienced cryptocurrency users.
The Ledger Stax is said to go live with a USB-C connection at the first quarter of 2023 with preorders available on Ledger.com, at a retail price of $279. For comparison, the Nano S Plus was listed for $79 and the Nano X wallet for $149.
Ledger Stax specs
Screen type: E-Ink up to 16 grays, with always-on lock screen and capacitive touch
Screen resolution: 672 × 400 pixels
Security: Ledger EAL 5+ certified secure element
Connectivity: USB C, Bluetooth 5.2
Qi wireless charging
Weight: 45g
Dimensions: 85mm × 54mm × 6mm