When you're a blogger, there are simply too many tasks you need to perform on a daily basis, from finding the right topics to link building and much, much more. However, the functionalities in your web browser can help in performing these daily tasks conveniently. Considering how Google Chrome is by far the most popular browser on the planet (according to StatCounter, almost 50% of people accessed the Internet using Chrome from October 2015 to October 2016), we'll take a look at some of the most useful extensions, that will make your job easier.
Blogging Extensions
1. Pocket

If you want to know just how good Pocket is, just look at its credentials: in 2014. Pocket won a Webbly award for best productivity and it now has a user base of over 15 million people worldwide. It's a rather simple tool that allows to save numerous articles, videos and notes for later reference.
2. Grammarly

While every version of Microsoft Word will keep your spelling in check, but when you write online, most of us make spelling and grammar mistakes regularly, mostly because we're trying to type as fast as we can. Thankfully, Grammarly will ensure that you never make a typo again and end up looking stupid because of misplacing a couple of letters. It also scans your text for proper use of more than 250 advanced grammar rules in real-time.
3. Fireshot

If you want something that will eliminate the mundane print-paste-edit routine, and quickly grab screenshots of websites and save them as a JPEG, GIF or a PDF from within Google Chrome, then Fireshot is the right extension for you. You'll be able to capture both entire pages and just visible parts, and it'll even allow you to add comments, blur selected areas and apply other effects to your captures.
4. Google Publisher Toolbar

The Publisher Toolbar is designed to assist web publishers view data about their Ad Exchange, AdSense and DC for Publisher accounts from a single dashboard within the Chrome browser. You can also block any unsuitable creative you don't wish to display on your site or blog. After you install GPT, all the ad units on your site will get an overlay that'll display information like the buyer name and display URL.
5. Break Helper

Sitting in our chair for prolonged periods of time is literarily killing us – sitting 6 or more hours each day increases risk of premature death up to 40%. Now, even if you don't care about your health that much, you have to be aware that working at a stretch without taking a break can result in a sharp decline in productivity. Therefore, you should install Break Helper extension, and it will let you know when you need to take your next break, and let your overworked brain relax for a second.
Social Media Extensions
6. Rapportive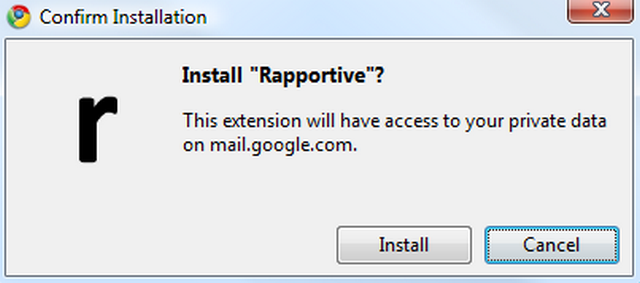 Even though this part of our list is dedicated to social media, let's talk about emails. I'm guessing many of your interactions still happen within Gmail, and while you'd like to start a conversation going on LinkedIn, you're almost certainly stuck doing the delayed email back-and-forth with new contacts every other day. But Rapportive will provide you all the information you need about your email contacts, including their social profiles, which will allow you to easily add every contact on social media.
7. StayFocusd

Even if you're making money of your blog, it doesn't mean that don't suffer from bouts of procrastination from time to time. But even though technology is a source of distraction, it can also be a source of discipline you desperately need. StayFocusd will limit the amount of time you can spend certain site. It also lets you choose what to block – an entire website, a specific web page and even different types of content like videos and games.
8. RiteTag Social Media Optimizer

Do you spent much time wondering which hashtag you should use for a certain story? Maybe you're unsure whether adding a particular hashtag will add or diminish the value of your message? Thinking about these problems can be quite time-consuming, especially if you're person that tweets more than ten times every day. However, Rite Tag provides analytics on hashtags you regularly use, which will help you save a lot of time.
9. Figure it Out

One of the biggest challenges you face when working globally has nothing to with cultural differences or even language barriers. Your main challenge is figuring out what it is in a different geo-region without doing the math. With the Figure it Out extension, you'll be able to add up to ten different time zones, which will help you schedule your posts and even set up meetings with people from different regions.
10. VPN Extension

This item on our list is not only reserved for people who live in countries like China, Vietnam and Portugal, where the government blocks access to certain social media sites. It is also recommendable to anyone that likes to write from their dorm room or favorite coffee shop, because regularly block access to certain sites. Of course, there are many providers on the market and the selection of a VPN extension is all up to you, but we have to recommend ExpressVPN, because it offers a wide range of servers and unlimited bandwidth.
Search Engine Optimization Extensions
11. Open SEO Stats

This is perhaps the most popular SEO extension for Google Chrome, marketers often use it see PageRank, Compete Rank and QuantCast Rank and get quick access to info about backlinks, indexed and cached pages, among other things. This basically means that Open SEO gives you a complete overview of any information about any website on the Internet.
12. iPage

Google Toolbar is always great for [age ranking, but seeing how it isn't available for Chrome, you'll want an alternative. And luckily, iPage Chrome is just that. It allows to set your settings to show page rank in results, or show rank for individual pages and domains. All in all, it is a small, but nevertheless useful page rank checker extension.
13. Shareaholic

Shareaholic might not be a "real" SEO extension, but everyone knows the importance of social media likes, shares and general presence in search engine ranking. So, you could easily use this app if you want to increase your ranking. The extensions allows you to share your article on multiple social media platforms at the same time, which will make your workload much quicker and definitely easier.
14. MozBar

Moz Analytics one of the most popular analytics tools among SEO marketers, and MozBar is surely the favorite Chrome extension of almost all marketing professionals. Once you download and install this extension, you'll instantly have access to almost any SEO tool you need, and see various metrics like Link Profile, KW Highlights, Domain and Page Authority.
15. SEO SERP Workbench

You'll never need to search the SERP position of any page manually once you get SEO SERP Workbench. The tool also allows you to see the ranking on the go, and it is great when you want to look up the SERP of multiple URLs. Last but not least, it supports multiple countries, so no matter where you're from, you can check the SERP position of a particular website in your country.
While all of these extensions are great for bloggers, it doesn't mean that you should download each and every one of them instantly. Instead, you should download at least couple of them, and see which ones suit your specific needs. After some trial-and-error, you'll certainly find what you're looking for.
——————————————-

By Adam Ferraresi 
Author Bio: Adam always loved the Internet, so much so that he knew that he knew that he was going to become a web developer when he was just 12. He also loves the outdoors, basketball and surfing are his passions, and you can read his insightful articles at wefollowtech.com