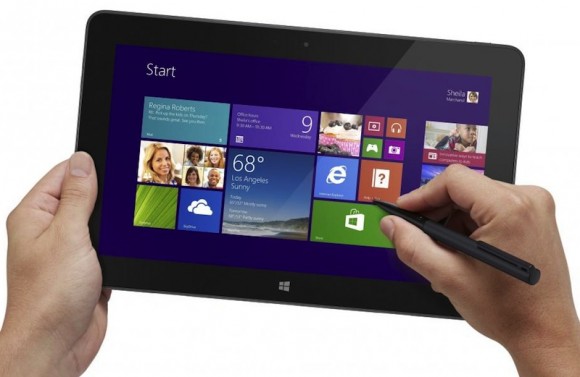 If Android operating system is not exactly your cup of tea and if you aren't as enthused as holding a Microsoft Windows tablet in your hand, Dell's Venue 8 Pro and Venue 11 Pro might be a really good option. Well, at least if you are willing to shell out a minimum of $300 for the 8-inch tablet, and up to $500 for the 10.8-inch model. Yes, the Venue 11 screen size is actually a little bit smaller than you'd expect, but not that much. In any case, the display on this particular Dell device is a full HD with 1920 X 1080 pixels resolution and with 10 multi-touch points at a time. Measuring in at 8.9mm thick and tipping the scales at 712g (or 798g, depending on setup), the new Venue 11 Pro has a matte-textured design and offers up to 10 hours of battery life. Moreover, this tablet uses Intel's Atom quad-core Bay Trail processors under the hood, or alternatively, Intel's fourth-gen Haswell Core i3/ Core i5 chips, has two cameras, front at 8-megapixel and back camera with 2-megapixel resolution, massive 8GB of RAM, 256GB of storage, WiDi wireless capabilities, Wifi, Bluetooth 4.0 and NFC control. The Windows 8.1 device comes equipped with a range of ports, including HDMI out, a full-size USB 3.0, and a microSD card slot, expandable up to 64GB of storage on the go. 
Dell will also offer an accessory bundle to complement the Venue 11 Pro, including a folding style case with keyboard, similar to the one offered by Redmond with Microsoft's flagship model, the Surface Pro, a Mobile Keyboard which will get you an additional built-in battery, full keyboard and touchpad capabilities plus USB and HDMI ports.
The Venue 8 Pro is Dell's compact 8-inch iteration, running Intel's new Atom quad-core processor code-named Bay Trail inside, along with 2GB of RAM and 32GB of internal storage. The 8.8mm thick device packs a 1,280 x 800 IPS display on board (with an optional digitizer pen), as well as a Micro-USB 2.0 port, 802.11n wifi connectivity, and a pair of cameras: 5-megapixel on the back, and a 1.2-megapixel in front. The tablet will be available in WiFi-only, HSPA+ and/or LTE configurations on October 18 for the reasonable price mentioned above.
Update: Dell's Windows 8.1  Venue 8 Pro tablet finally goes on sale Stateside, and will be priced at starting price of around $300 while the stylus pen option will set you back $35.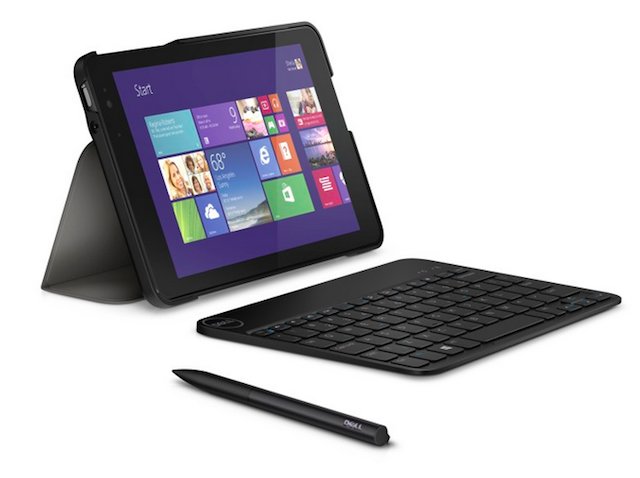 [youtube id="6y_z6RW-s_c"]
[youtube id="YhW4du9GUKY"]
[toggle title="FULL PR TEXT"]
Dell Introduces New Line of Tablets and Updated XPS Laptops: Create, Share and Access Content from Virtually Anywhere
· New Dell Venue Pro tablets offer the ability to connect, share and access content with ease
· XPS 11 is the world's thinnest, lightest and most compact 2-in-1 in the world with the world's first Quad HD display on an 11.6-inch 2-in-1
· XPS 15 powerhouse laptop offers the world's first 15.6-inch Quad HD+ display for jaw-dropping visuals and the ultimate experience
Bracknell, UK, 2nd October, 2013 – Dell today took a bold step in unveiling a new family of tablets and new laptops, including a 2-in-1 Ultrabook. The Dell Venue Pro line of tablets is comprised of two new ultrathin models designed to address the changing way people live and work today. Dell's "damned sexy" tablets, as described by leading Enderle Group analyst, Rob Enderle, deliver leading performance and quality, backed by Intel processing technology. With compact designs that make it easy to stay connected on the go, the Dell Venue Pro tablets have an exquisite fit and finish.
In addition to the versatile new Dell Venue Pro tablets, Dell is introducing new XPS laptops, each with breakthrough displays for a phenomenal viewing experience with vibrant, crisp images in any available screen size. The new XPS 11, the thinnest, most compact 2-in-1 in the world, also features the first Quad HD (2560 x 1440) display on an 11.6-inch 2-in-1. The XPS 15 multimedia powerhouse boasts a stunningly thin design, and offers as an option the first 15.6-inch Quad HD+ (3200 x 1800) display in the world, which is the highest resolution available on a laptop of that size. Dell is also refreshing its award-winning XPS 13 Ultrabook with faster processors, touch Full HD (1920 x 1080) display and improved battery life. With these three laptops, Dell is leading the industry with the highest resolution displays possible.
"People today expect the best experience possible from their technology – they are counting on it to keep them connected and move with them, wherever they are," said Sam Burd, vice president Dell Personal Computing Group. "The new Dell Venue tablets and XPS laptops give customers the stellar experience they expect from us, with performance that allows them to work how they want, when they want, in a design they'll be proud to show off and own."
Dell Venue Tablets: Connect, Share and Access Content With Ease
Dell Venue Pro tablets are designed to give people on-the-go a selection of sizes and options to meet their varying needs. With the 8 and 11-inch Windows-based tablets complete with keyboard and stylus options, Dell has created a dedicated brand of tablets to meet the needs of customers who are the epitome of the evolving workforce.
· The Dell Venue 8 Pro and Dell Venue 11 Pro Windows 8.1-based tablets combine the level of performance, design and responsiveness end-users love while giving IT departments what they need – the ability to integrate into an existing corporate environment with full compatibility with current Windows applications and Microsoft Office integration. Both tablets feature optional advanced security features and services such as TPM.
· The lightweight Dell Venue 8 Pro runs Windows 8.1, has a bright HD IPS display, advanced connectivity options and provides long battery life so range anxiety is no longer an issue. People can also stay productive with Office 2013 Home & Student, included with the device, and the optional Dell Active Stylus.
· The Dell Venue 11 Pro, also based on Windows 8.1, provides ultimate 2-in-1 flexibility with the power of an Ultrabook, convenience of a detachable keyboard and experience of a desktop. Unlike competitive tablets, it has a user removable/replaceable battery, and its large, Full HD display with wide viewing angles makes it easy to read and create content while staying mobile. It is also available with a variety of keyboard and stylus options:
o Dell Active Stylus makes it easy to annotate, draw or take notes.
o Dell Slim Keyboard, designed for travel, also serves as a cover for the screen when folded up.
o Dell Mobile Keyboard with integrated battery provides all day productivity with a full-sized keyboard while extending the battery life.
o Dell Tablet Desktop Dock for full productivity on a desk with USB 3.0 ports, and dual display out ports for display extension.
Both Dell Venue Pro tablets are based on Intel processing power for speed, responsiveness, and battery efficiency. The Dell Venue 8 Pro and Dell Venue 11 Pro feature the new Intel Atom quad-core Baytrail processors, code named "Bay Trail". The Venue 11 Pro offers up to 4th Generation Intel Core i3 and i5 processor options and Intel vPro for manageability.
Dell XPS Laptops and 2-in-1: The Ultimate Experience with Gorgeous Displays
Dell's award-winning XPS laptop line just got even better with the new XPS 15 powerhouse laptop, the introduction of the XPS 11 2-in-1, and an update to the flagship XPS 13 Ultrabook. In keeping with the XPS tradition of offering the best computing experience in any product category, the XPS laptops and 2-in-1 feature machined aluminium, carbon fibre, vibrant displays, and Corning Gorilla Glass NBT for performance, durability and the ultimate experience.
· Starting at 2.5lbs / 1.1kg¹ and just 11-15mm thin, the XPS 11 is the world's thinnest, lightest and most compact 2-in-1 Ultrabook available today, offering a tablet-first design with laptop functionality. It easily transitions from tablet to laptop with a 360 degree rotating hinge design, and an innovative solid surface backlit touch keyboard that provides a superb experience from lap to bag. The XPS 11 has a bright, crisp viewing experience. The display also features True Color viewing powered by eeColor, which enables customers to enjoy true, rich consistent color in nearly any lighting environment.
· The XPS 15 continues to be a multimedia powerhouse delivering the highest resolution in its class, and incredible power in an ultra-thin, light wedge design, starting at 4.44lbs / 2kg¹. Designed for creative enthusiasts, the XPS 15 packs 4th Generation Intel Core i5 and i7 quad core processor options and NVIDIA discrete graphics options. Every XPS 15 boots and resumes within seconds with hard drive configuration options from 500GB to 1TB², both with a 32GB mSATA SSD, to a 512GB solid state drive, all including Intel Rapid Start Technology³.
· The award-winning XPS 13, with its 13.3-inch, edge-to-edge display that innovatively fits into a footprint similar to an 11-inch laptop, is razor thin and light, starting at under 3lbs / 1.3kg¹. It is now even faster with 4th generation Intel Core processors, Intel HD 4400 graphics, and has longer battery life for the mobile professional who values a sleek design, responsiveness and ultimate mobility. Its Full HD display provides a brilliant viewing experience and is now even more versatile with a touch option.
"Dell appears to have its innovative mojo back," said Tim Bajarin, President of Creative Strategies. "These new products clearly emphasize Dell's commitment to create innovative mobile solutions for businesses and consumers and I believe represent some of the best products they have made in many years."
Get the Most Out of Your Technology with Dell Services
Dell customers can get the most out of their technology with Dell Services, dedicated to keeping them connected and productive, whether they're using their tablet or XPS purchase for work or home. Dell's technology experts are available around the clock. Consumers can include additional protection such as Accidental Damage Service, Premium Phone Support and Rapid Return for Repair services. Business customers can be rest assured that their devices will fit seamlessly and securely into their corporate IT environment with Dell ProSupport on the Dell Venue 8 Pro and Venue 11 Pro tablets.
Availability and Pricing
The Dell Venue 8 Pro tablet will be available from November 19th and the Dell Venue 11 Pro tablet will be available from November 7th on www.dell.co.uk. Pricing and availability for the XPS products will be available in the coming weeks. Starting prices for the new tablets are as follows:
· Venue 8 Pro: pricing available in the coming weeks
· Venue 11 Pro: £349 excluding VAT & freight
[/toggle]