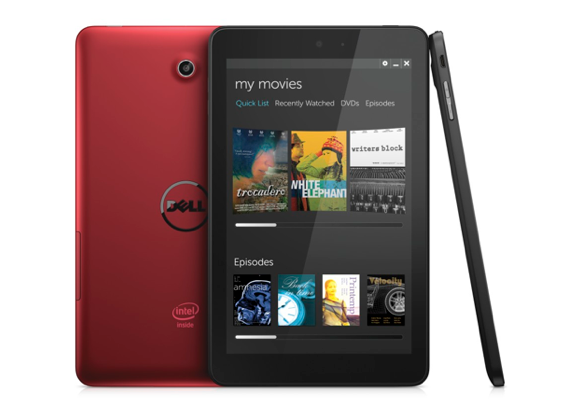 Dell, the popular company that manufactures and sells desktop and laptop computers all around the world, was notably absent from the tablet market scene for quite some time, but not anymore. The US electronic giant has just unveiled a pair of new Android tablets at a press event in New York City;  both of which use the moniker "Venue" and are likely to run on Android 4.2.2 Jelly Bean OS. In addition to that, the two newcomers from Dell, which appear to be a more accessible and budget-friendly than before, will respectively include 1.6GHz/2GHz dual-core Intel Z2580 chips under the lid, alongside a 1,280 x 800 IPS panel, a microSD slot expansion (expandable up to 64 GB), GPS, Bluetooth connectivity, and a Wifi-only option, with a choice for you to upgrade to a 4G LTE version. 
So, what's the difference between the two, you ask? While both slates are practically the same in terms of quality and performance (with a minor advantage to the bigger model), the smallest device out of the two, also known as the Venue 7, will basically come up with a 7-inch screen, as well as a 1.3-megapixel front-facing camera plus a 3-megapixel camera on the back, a total of 16GB of internal storage, and a relatively small and very lightweight body shape (only 8.3 ounces in weight).
The Venue 8, on the other hand, will obviously have a slightly bigger screen on top (at 8 inches diagonally), along with a little better camera set on both sides (2 megapixels on the front and 5 megapixels on the back), and the privilege to choose between 16GB and 32Gb of internal storage mods. As already mentioned, this tablet version is actually a tad larger than the first one, at 10.3 ounces and 8.3 x 5.1 x 0.35-inches all around, compared to the 7.6 x 4.6 x 0.38-inches the 7-incher boasts. 
The new tablets are due out October 18, in red or black hues, with prices to range between $149 for the Venue 7 model , and up to $179 for the basic Venue 8 flavor. 
[youtube id="a-QWx2IqJus"]