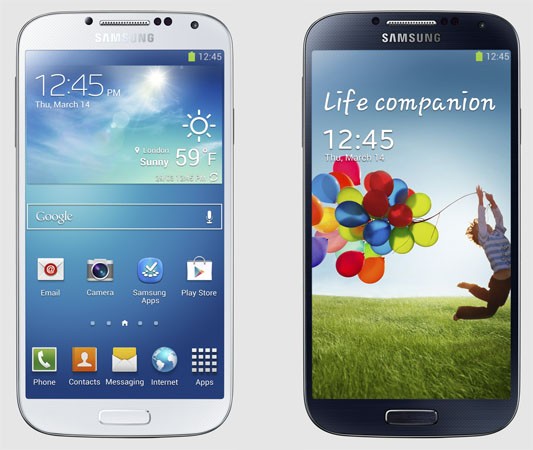 At Radio City Music Hall in New York City, Samsung has officially announced the Galaxy S4, a phone that will let you "experience life without boundaries." That's right, according to the South Korean corp. the Galaxy S4 is your ultimate "Life Companion" and it will greatly serve you, both in your house and whenever you decide to take it on-the-go. The S4, which is  somewhat a mix of Samsung's Galaxy S3 and Note II mobile phones, offers a wide range of functions and features, including a beautiful 5-inch 1080p (1,920 x 1,080) Super AMOLED screen display (441 ppi), capable of use with gloves in wet, cold and dusty conditions, your choice (depends on the region) of either a 1.6GHz Exynos Octa-core chip or a 1.9GHz quad-core Qualcomm processor (probably the Snapdragon 600), 2GB RAM, and 2,600mAh battery to match.
When it comes to connectivity, the 7.9mm thick device has quite a lot to give, starting with the very exceptional WiFi 802.11ac (which also supports the usual a/b/g/n bands), that comes alongside an IR blaster to let you fully control the big tele (access via Samsung's WatchON service), a built-in NFC technology, as well as MHL 2.0, radios for HSPA+ (850/900/1900/2100MHz) plus Cat 3 100 / 50 Mbps LTE, and last but not least, a Bluetooth 4.0 + LE module.
Moving on with the specs, the GS 4 is running an Android 4.2.2 Jelly Bean platform under the lid, with Samsung's well-known TouchWiz interface layered on top. You get to choose between 16, 32, or 64GB of storage capacities, and there's a microSD addition, expandable up to 64 gigs, an option that will give you the potential for a whopping 128GB of total memory.
Another important part of the Galaxy S4 is obviously the new 13-megapixel rear-facing camera with f/2.2 aperture and autofocus capabilities. The camera is claimed to be able taking more than 100 shots in four seconds, and then re-arrange them all in one single frame. It'll also record video at the 1080p range, and with the "dual camera" mode, you'll be able to use both the front-facing camera and the rear-facing camera, concurrently, and put 'em together in a pic-in-pic mode. And yes, there's also a 2MP front-facing camera, in case you wondered.
As mentioned earlier, the GS4 is stuffed with tons of tweaks and features. A quick roundup of some of the good things going on inside:
[list type="plus"]
[li]Eye-tracking features[/li]
[/list]
[list type="plus"]
[li]Smart Pause – Will pause a video by simply "looking away"[/li]
[/list]
[list type="plus"]
[li]Smart scroll[/li]
[/list]
[list type="plus"]
[li]Air View interface[/li]
[/list]
[list type="plus"]
[li]Air Gesture[/li]
[/list]
[list type="plus"]
[li]S Translator – That literally understands 9 languages, both speech to text, and text to speech[/li]
[/list]
[list type="plus"]
[li]S Voice Drive – Voice commands for driving[/li]
[/list]
[list type="plus"]
[li]Optical Reader – Scans QR codes and business cards, turns them into text[/li]
[/list]
[list type="plus"]
[li]Swipe-to-type keyboard[/li]
[/list]
[list type="plus"]
[li]Group playing – Play music with multiple phones at the same time[/li]
[/list]
[list type="plus"]
[li]S Health – Tracks your fitness activity[/li]
[/list]
Samsung is planning to sell the Galaxy S4 around the world via 327 carriers in 155 countries, sometime towards the end of April. And while prices are yet to be disclosed, we hear that the GS4 is made of a tough polycarbonate frame, and will be launched either in Black Mist or White Frost colors.
So… Are you getting one?
[youtube id="2LHv1FPd1Ec"]
[Samsung]