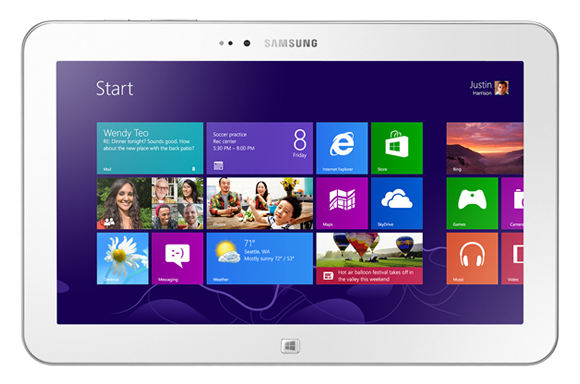 It's been less than three weeks since Samsung announced a new line of Galaxy Tab 3 tablets, and we already have another new device: Samsung Ativ Tab 3, the most thinnest Windows 8 slab in the world. How thin it is? Roughly around the 8.2mm mark, which makes it ultra portable without sacrificing visual space. And speaking about size, visuals are sent to a 10.1-inch screen, with a native resolution of 1,366 x 768 pixels. Frankly speaking, we expected to get a lot more from such a high-end slate, but it is what it is, whether you like it or not. Moreover, it is likely suited for graphic artists and designers, thanks to the wonderful set of S Pen and apps that Sammy has included inside the package. Other than that, the ATIV Tab 3 also features an Intel Z2760 Atom CPU, along with 2GB of RAM, a slew of multimedia and productivity connections such as microSD, micro-USB and HDMI ports, WiFi, Bluetooth, dual cameras, one on the back and one on the front, and up to 10 hours of battery life, which eliminates the trouble of frequent charging. This model comes out of the box with 64GB of internal storage, while color options are simple and straightforward, Piano Black or White, with a cool chrome pattern. 
As for the software part, the ATIV Tab 3 runs Windows 8 under the lid, as well as Microsoft's Office Home & Student 2013 RT, that you receive for free together with a neat keyboard case cover.
The whole thing will cost you about $699, and will be released in early to mid August. 
[youtube id="OmrpCx6NhzY"]
Video courtesy of PhoneArena
[toggle title="FULL PR TEXT"]
SAMSUNG STRENGTHENS TABLET OFFERING WITH INNOVATIVE NEW ATIV MODELS New convertible ATIV Q, and the world's thinnest Windows Tablet ATIV Tab 3, offer versatility and productivity on the go
London, UK – June 20, 2013 – Samsung Electronics today unveiled two new tablets, the ATIV Q and ATIV Tab 3. Both powered by Windows 8, the ATIV Tab 3 is the world's thinnest tablet while the convertible ATIV Q is able to run Android apps.
"We're committed to offering our customers choice and convenience in personal computing, and the convertible nature of both these new tablets delivers the freedom and versatility our customers demand" said Simon Stanford, Vice President of IT & Mobile Division, Samsung Electronics UK & Ireland said. "These innovative devices have been designed with busy people in mind, and the adaptability they offer is better suited to busy lives than any tablet on the market." The ATIV Q is a convertible device with the ability to change modes and has both Windows and Android capabilities. Built with today's busy lifestyles in mind, it works as a notebook or tablet and gives you more flexibility and convenience than ever before.
Addressing a common desire among PC users to be able to access Android apps on a Windows-based PC, the ATIV Q allows you to now experience both Windows 8 and Android (Jellybean 4.2.2) on the same device. Not only will you get access to Android apps via Google Play, but you will also be able to transfer files seamlessly and share folders and files from Windows 8 to Android.
The ATIV Q sports a hinge design that allows you to transform it into four functional modes. You can lay the display flat over the keyboard for tablet mode; raise the display upright to type just as you would a laptop; float and adjust the display to a comfortable viewing angle; or flip the display to place in the stand mode to watch movies. The four-in-one design of the ATIV Q easily adjusts to give you every possible option in the one device. The ATIV Q is also extremely thin and lightweight, at 1.29kg and only 13.9mm, making it very Finally, the ATIV Q introduces the world's highest resolution, QHD+ (3200×1800) display. Its 13.3-inch touch screen offers 2.8 times higher pixel density (275ppi) than full HD displays, and the device is also designed to give you an optimised viewing experience regardless of where you are or the brightness of the environment you are in.
A tablet with the power of a PC, the ATIV Tab 3 makes personal computing easier than ever. As the world's thinnest Windows 8 tablet – as thin as many popular smartphones – it shares a similar design and premium look and feel of the Samsung Galaxy series. It is perfect for creativity and productivity as it features Samsung's S Pen functionality, high level pen display and S Pen compatibility with MS Office.
Incredibly thin and lightweight at only 8.2 millimetres thick and 550g in weight, the ATIV Tab 3 is the ideal device to take on the daily commute to work. With up to ten hours of battery life, it is also a great device for taking on most long distance flights.
The ATIV Tab 3 runs Windows 8, has the ability to run all Windows apps and programmes and comes preloaded with Office Home & Student.
SideSync is available with both the ATIV Q and ATIV Tab 3, enabling you to easily switch from working on a PC to an Android-based Samsung smartphone. The PC keyboard can be used to respond to a text on a mobile phone, view maps on a larger screen, display photos and videos on both devices to make editing files even easier, or use an ATIV PC to back up and charge mobile devices.
The ATIV Q and ATIV Tab 3 will all be available to buy in the UK from selected retailers later this year.
Be among the first to know when the ATIV tablet range is available, by visiting www.samsung.com/ uk/ATIVBookQ/ and www.samsung.com/uk/ATIVTab3/. Or go to www.samsungmobilepress.com for multimedia content and additional information.
-EndsNote to Editors:
ATIV Q Product Specifications
Category Details Specifications
Performance
128GB SSD
Battery Life Battery Life 9 hours
Dimensions
I/O Ports USB Ports 1xUSB3.0, 1xUSB2.0, HDMI,RJ45 (dongle), HP/Mic combo, micro SD Size 13.3″
Resolution 3200×1800, 275ppi
OS Windows8
Processor Intel Core i5
Graphics Intel HD Graphics 4400
Memory 4GB DDR3L
Hard Disk
Drive
Camera 720p HD
Dimensions 327.0×217.8×13.9mm
Weight 1.29kg
Colour Ash Black
ATIV Tab 3 Product Specifications
Category Details Specifications
Performance
Size 10.1
Resolution HD 1366×768
OS Windows8
Processor Intel ATOM Z2760
Graphics Shared
Memory 2GB LPDDR2
Hard Disk
Drive
Camera 720p HD
64GB eMMC
Battery Life Battery Life 10 hours
Dimensions
Dimensions 8.2mm
Weight 550g
Colour White
I/O Ports USB Ports 1x micro USB 2.0, micro HDMI, micro SD Samsung, ATIV, SideSync and ChatON are all trademarks of Samsung Electronics Co., Ltd. Other company names, product names and marks mentioned herein are the property of their respective owners and may be trademarks or registered trademarks.
*All functionality, features, specifications, and other product information provided in this document including, but not limited to, the benefits, design, pricing, components, performance, availability, and capabilities of the product are subject to change without notice or obligation.
About Samsung Electronics Co., Ltd.
Samsung Electronics Co., Ltd. is a global leader in technology, opening new possibilities for people everywhere. Through relentless innovation and discovery, we are transforming the worlds of televisions, smartphones, personal computers, printers, cameras, home appliances, LTE systems, medical devices, semiconductors and LED solutions. We employ 236,000 people across 79 countries with annual sales of US$187.8 billion. To discover more, please visit www.samsung.com.
[/toggle]