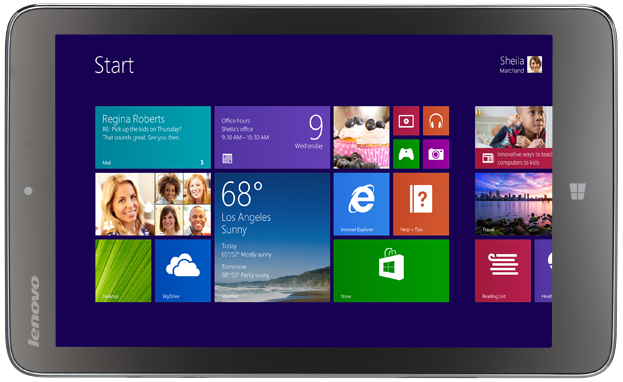 At CES 2014 — Lenovo has officially announced a new joiner to its burgeoning Windows tablet lineup. Once again, we're looking at a mid-range 8-inch device which is expected to launch by the end of the month. What stands out about the display however is the exceptional high-def screen resolution of 1,920 x 1,200 pixel it has, while most other contenders have only 1280 x 800 pixel screens to offer (iPad Mini aside). The Thinkpad slate, which is conceptualized as being more for business use, comes with an 8.3-inch screen, 2GB of RAM, your interesting choice of 32GB, 64GB, and 128GB storage capacities, a micro-HDMI output, microUSB 3.0 port, a nice aluminum back panel, and an optional 4G LTE support. The device features a 2.4GHz Intel Atom Bay Trail processor under the lid, and its batteries will last for about 8 hours of continuous work.
The Thinkpad 8 is very thin, measuring in at 8.8mm thick (weighing in at 430g), and features a primary camera of 8-megapixels on the back, and a 2 megapixels one on the front. Naturally, as a business-class device, the Thinkpad 8 will come with some nice exclusive goodies for free, such as the Microsoft MS Office, and all the benefits that Windows 8.1 Professional offers, like Snap, Share, and so many more.
As mentioned, the tablet will be available later this month, with prices starting at $399 for the wi-fi only model. Lenovo is also offering an optional smart cover case called the "QuickShot cover" which will be available for a purchase online and in stores at roughly $50. The kicker of this cover is that it attaches magnetically at the side of the tablet (same as Apple's smartcover), protecting the screen from scratches or damages and waking it up when it's removed or putting it to sleep when it's attached. In addition, you can easily fold back the cover to use it as a stand.
If you're in the market for a new Windows tablet, you really should check out Lenovo's new Thinkpad 8, it's a wonderful device and definitely worth the purchase.
[youtube id="YV732xJOra8″]
[youtube id="kzA_1SWbsVI"]
Videos courtesy of Lenovo and Mobilegeeks.de