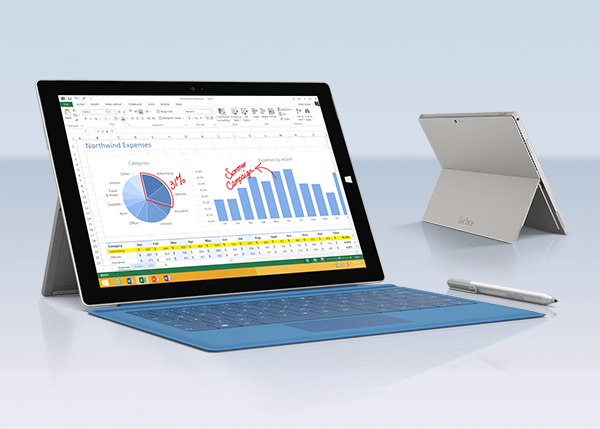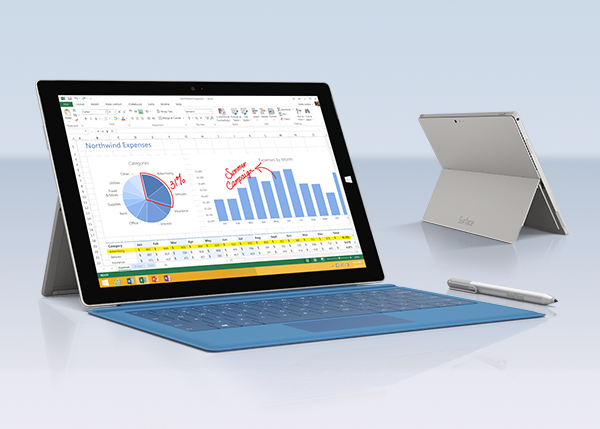 Microsoft has officially announced the new Surface Pro 3 tablet, or what it calls 'The tablet that can replace your laptop.'  Well, we're not so sure it will be happening anytime soon, the way that Microsoft would probably want it to be, but it sure has evolved a lot since the days of the early model.
Microsoft has really spent the effort this time, to go after Apple. Particularly against the company's Macbook Air. What are they trying to prove? Probably that you don't actually need it anymore. For real. Especially now, that you can get the better (and lighter) option which was made in the form of the surface Pro 3. Oh, well.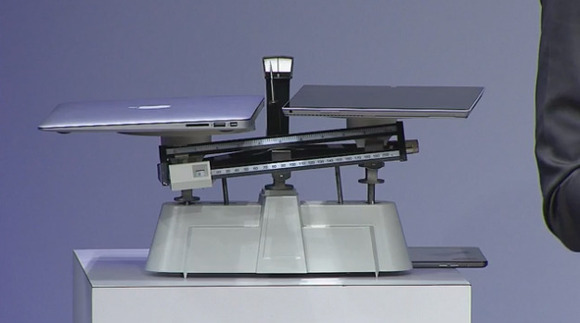 As for the device itself, it has a beautiful 12-inch Full HD screen display (3X2 aspect ratio), with 2160 X 1440 resolution, designed to work with literally any stylus pen you'd get. Of course that Microsoft will provide you with one so there's no need to worry too much about this part (as long as you pay another $49 for it).
The Pro 3 is slim, measuring in only 9.1mm (0.36 inch) in thickness and weighs only 800 grams (1.76 pounds) with no keyboard attached. It will come in three hardware configurations: Core i3, Core i5 and Core i7, with all versions to be available for pre-order starting tomorrow with prices as follows:
i3-4GB RAM, 64GB – $799
i5-4GB RAM, 128GB – $999
i5-8GB RAM, 256GB – $1299
i7-8GB RAM, 256GB – $1549
i7-8GB RAM, 512GB – $1949
At this point we should mention that the Surface Pro 3 is about 1.2mm thinner than previous Surface variants, and is likely to be getting you roughly 10% more in performance. Battery life is claimed to be around 15%-20% better than any other Surface model.
Accessories wise, there will be a docking station with support for 4K display plus three USB 3 ports, two USB 2 ports, gigabit Ethernet, audio input/output, and a mini-DisplayPort connector, that will run you $199, as well as new type covers, redesigned with 68% bigger trackpad area. The kickstand on the back is now offering users a relatively comfortable near flat writing position that will bring the slab to an angle of up to 150 degrees. It's particularly useful when you wanna get things done in the comfort of your laps.
Straight from the @Panos_Panay #SurfacePro3 dictionary. #lapability pic.twitter.com/9ewZftP5JA

— Surface (@surface) May 20, 2014
Surface Pro 3 Specifications
| | |
| --- | --- |
| Size | 7.93×11.5×0.36 inches |
| Weight | 1.76 lbs |
| Display | 12 inch 2160×1440 multitouch |
| Processor | Unspecified 4th generation (Haswell) Core i3, i5, and i7 options. |
| RAM | 4 or 8GB |
| Storage | 64GB, 128GB, 256GB, 512GB |
| Connectivity | 802.11 a/b/g/n/ac, Bluetooth 4.0 LE |
| Cameras | Front and rear, both supporting 5MP still/1080p video |
| Ports | USB 3, microSD, mini DisplayPort, headphones |
| Sensors | Accelerometer, gyroscope, magnetometer, 256 level pressure sensitive battery-powered pen |
| Battery | 9 hours |
| Other | TPM 2.0, front and rear-facing microphones, Dolby-enhanced stereo speakers |
Update: Microsoft's Surface Pro 3 tablet now available to pre-order both in Europe and the U.S. (overall in 22 countries worldwide).
Check out the videos below
[youtube id="1t7rSZT_77E"]
[youtube id="mkKPt1gnl_0″]
second video is courtesy of expertzone