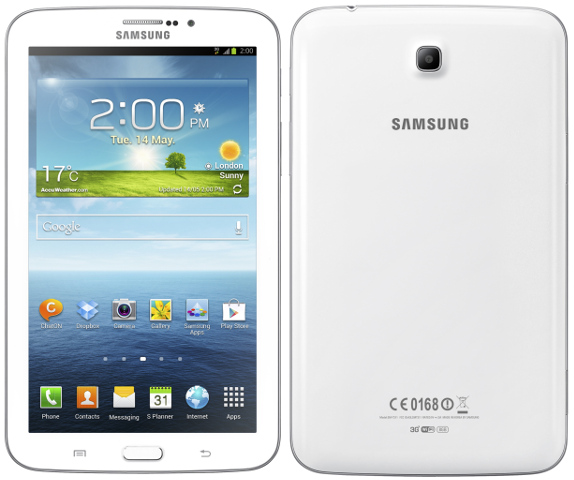 Another day, another Samsung Galaxy tablet. That's right folks, the S.Korean corp has just announced the official release of yet another mid-range Android Jelly Bean device, also known as the Galaxy Tab 3 model. After the previous 8 incher this 7 inches (1024×600) slate looks pretty much the same, only with about 1-inch less of your fancy touch-screen real estate. Other than that, we're basically looking at a tad thinner and lighter Sammy version (compared to the Galaxy Tab 2 iteration), with a dual-core 1.2GHz processor under the lid, either 8GB or 16GB of internal storage (expandable up to 64GB via microSD card slot), a 3 MP rear camera and 1.3-megapixel front camera for video calling, 802.11 b/g/n Wi-Fi connectivity, Bluetooth 3.0, and GPS + GLONASS navigation system. There's also a 4,000 mAh battery pack inside this slab, and an optional 3G HSPA+ capable baseband. While pricing information is still largely unknown, Samsung has announced that it will begin selling the Tab 3 WiFi -Only brand sometime in May, and the 3G edition about one month later.
[toggle title="PRESS RELEASE"]Samsung Unveils GALAXY Tab 3
SEOUL, Korea, April 29, 2013 – Samsung Electronics Co., Ltd, a global leader in digital media and digital convergence technologies, today announced the introduction of the GALAXY Tab 3 – 7-inch tablet featuring sleek design and enhanced capabilities that bring capabilities that bring better performance and multimedia experiences to your fingertips.
With the new GALAXY Tab 3, Samsung has evolved its range of innovative tablets, making them smaller and easier to carry, while increasing the user experience overall
• Easy Handgrip and Portability: Its compact, one-hand grip form factor ensures users can hold comfortably for hours as well as store in a pocket or small bag for reading and entertainment on the go. The sleek and stylish design encompasses thinner bezel than the previous GALAXY Tab 2 (7.0). • Better Multimedia Performance: Powered by a 1.2GHz Dual Core processor, the device allows for faster downloads and sharing, while providing easy access to videos, apps, games, and the web. Offered with either 8/16 of internal storage plus up to 64GB of expandable memory, the device has plenty of space to hold your favorite photos, music, apps, videos and more.
• Enhanced User Experience: The GALAXY Tab 3 7-inch is equipped to better capture life's moments in stunning clarity and resolution with its 3-megapixel camera rear camera and 1.3 -megapixel front camera. Combined with the latest Android 4.1 (Jelly Bean), it allows users to share photos, videos, and life's special moments through a few quick taps and swipes.
The GALAXY Tab 3 7-inch WiFi version will be available globally beginning May and 3G version will follow in June. The product availability varies by market and will be rolled out gradually.[/toggle]