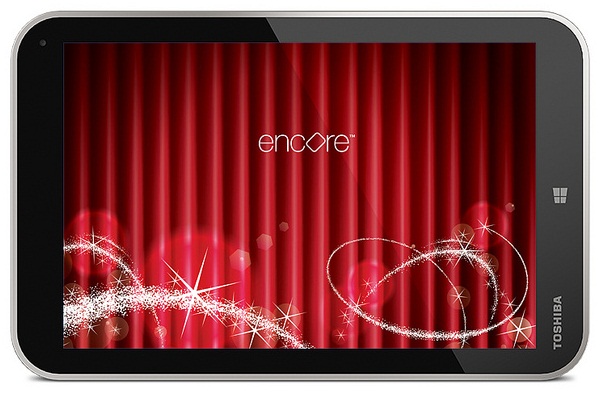 Toshiba has made its first foray into the world of mid-range Windows tablets with the recent release of the Encore Windows tablet. The 8-inch device, which sports a 1200 x 800 pixel resolution multi-touch display, will measure 10.68mm thick, making it just slightly thinner than Acer's 8.1-Inch Iconia W3, its main Taiwanese rival. The new slate is said to be powered by an Intel Bay Trail Atom processor under the lid, and will be coming pre-loaded with Windows 8.1 OS. You will also get 32GB of internal storage (expandable via microSD up to 32GB) along with a rear 8-megapixel camera and a front 2-megapixel shooter, for Skype video conversations. As far as I/O is concerned the Encore slab is fully equipped with a micro HDMI, micro USB, 802.11 a/b/g/n WiFi connectivity, and Bluetooth 4.0. The tablet also includes a full-featured suite of productivity software including Microsoft Office Home & Student 2013, and Xbox SmartGlass app to play movies, music, or more from the slab on your Xbox 360 console, or even track and connect with your Xbox Live friends, compare achievements, and change up your 3D avatar. The new Encore tablet will be available for purchase this coming November, with pricing to start at a cool $329.99 price tag.
[youtube id="Uzwx8NkwEy4″]
Video courtesy of pocketnowvideo
[toggle title="FULL TEXT"]
TOSHIBA REVEALS ENCORE, A POCKET-SIZED TABLET SET TO DELIVER A FULL WINDOWS 8.1 EXPERIENCE
All-new Encore Tablet With an 8-inch Multi-touch Display and Intel Atom Processor Delivers Fast, Full-screen Web Browsing, Best-in-class Skype Experience, Xbox Second-screen Capabilities and Much More
NEWS HIGHLIGHTS
– Optimized for Windows® 8.1 and developed in close collaboration with Microsoft, the Encore hardware features are designed to support a full-spectrum software and apps experience.
– Equipped with dual microphones for a best-in-class Skype experience.
– Powered by the latest-generation Intel® Atom processor with InstantGo, unleashing fast, fluid
performance with connected standby capabilities and long battery life.
– Includes full version of Office Home & Student 2013, Xbox SmartGlass app, free streaming pass
to Xbox Music, Norton Anti-Theft and more.
IRVINE, Calif. – Sept. 5, 2013 – Toshiba's Digital Products Division (DPD), a division of Toshiba America Information Systems, Inc., today unveiled the Encore tablet, a consumer device designed to deliver an exceptional Windows 8.1 experience in a pocket-sized form factor. Developed in close collaboration with Microsoft and built for consumers seeking a versatile small-screen tablet for home, work and play, Encore is well-positioned to accelerate the market for Windows-based tablets by delivering software- optimized features and sleek hardware design at a competitive price point.
"Encore is poised to re-energize the opportunity for Windows tablets in the market," said Carl Pinto, vice president of marketing, Toshiba America Information Systems, Inc., Digital Products Division. "Our fundamental approach to designing Encore was to create a better convergence of hardware and software so the overall app experience and capabilities on a Windows-based device is better than ever. Windows has a lot to offer for a tablet user, and with the new features that Windows 8.1 brings, we believe that Encore will deliver more choice against a range of competitive tablets."
Smart, Small-screen Design
Designed to be held in one hand, the 8-inch1 Encore tablet is optimized for use at home or on the go. A high-resolution (1280 x 800) multi-touch HFFS display is well-suited for entertainment with wide viewing angles, while the new scaling capabilities of Windows 8.1 maximizes the screen real estate, making room for full-screen web browsing and an unencumbered Start screen view in both portrait and landscape orientations. Encased in a stylish silver textured backplate, Encore is both slim and lightweight, measuring 0.42 inches (10.68mm) and weighing just 16.9 ounces (479g)2.
Encore is powered by the power-efficient Intel® Atom processor, which delivers great performance, fast start-up and page loads, and exceptional battery life. It also includes the connected standby capabilities of InstantGo, enabling the device to receive updates while sleeping so content is always up to date when use is resumed. In addition, Encore includes top quality features, such as an 8-megapixel camera, a full suite of sensors, including a gyroscope, accelerometer and GPS, as well as stereo speakers.

"Toshiba continues to drive touch innovation by bringing new and exciting Windows 8 form factors to life," said Jordan Chrysafidis, vice president of Worldwide OEM Marketing, Microsoft Corp. "We look forward to working with Toshiba on the launch of Windows 8.1 and seeing its holiday 2013 devices delight customers worldwide."
Optimized for Skype
Encore is optimized for Skype, making high-quality video chatting and calling possible. Utilizing on-board dual microphones with beam forming technology and integrated 2-megapixel front camera – consumers can chat with clarity with friends and family throughout the world.
Easy Sharing and Streaming with Windows 8 Devices
Completely compatible with both Windows 8 apps and Windows 7 programs, Encore offers seamless integration and content sharing with other Windows devices, giving the device an edge for multi-device home users looking to stream and share content from room to room.
Great for play. Ideal for work.
The Encore tablet supports a wide range of applications – from books, games, movies, music and photos to productivity – making it a versatile device that can be used and enjoyed at home, at work or on the go. Ready to go right out of the box, Encore will feature Xbox Movies, Music and Games entertainment services, Amazon's Kindle e-reading app, as well as the Xbox SmartGlass app which turns the tablet into a secondary screen for the Xbox 360 and Xbox One game consoles. Also included is a full version of Office Home & Student 2013 for convenient viewing and creation of Word, Excel® and PowerPoint® documents.
Equipped with Tablet Essentials
Encore includes 32GB of storage4 and is equipped with essential ports including a Micro USB 2.0 port, Micro HDMI® port and a microSDTM slot for up to 32GB more storage. Ultrafast dual-band 802.11 a/b/g/n Wi-Fi® enables easy wireless media streaming.
Pricing and Availability
The Toshiba Encore tablet will be available for purchase in November at major retailers, e-tailers and direct from Toshiba at ToshibaDirect.com for $329.99 MSRP5.
[/toggle]